Former chief minister Siddaramaiah and a BJP MLA from Karnataka CT Ravi have engaged in a Twitter war over Rahul Gandhi's resignation.
Bengaluru: Putting an end to all speculation, Rahul Gandhi finally put in his papers on July 4. He even published his resignation on Twitter, pointing fingers at the RSS and BJP.
While the search for the new president goes on, former Karnataka CM Siddaramaiah tweeted his reactions, comparing Rahul Gandhi with prime minister Narendra Modi. He even sought Rahul to reconsider his decision.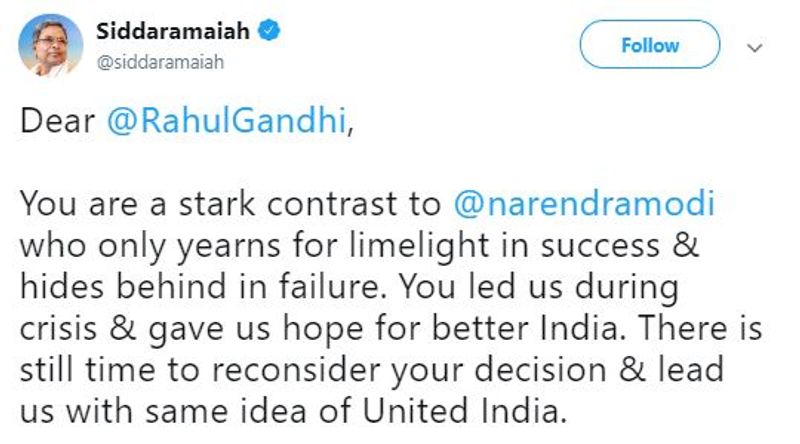 But this tweet apparently did not go down too well with CT Ravi, a BJP MLA from Karnataka. While Siddaramaiah chose to hail Rahul and put down Modi, Ravi was on the offensive.
And Ravi was not the only one who chose to take on Siddaramaiah. Several people questioned Siddaramaiah for his tweet.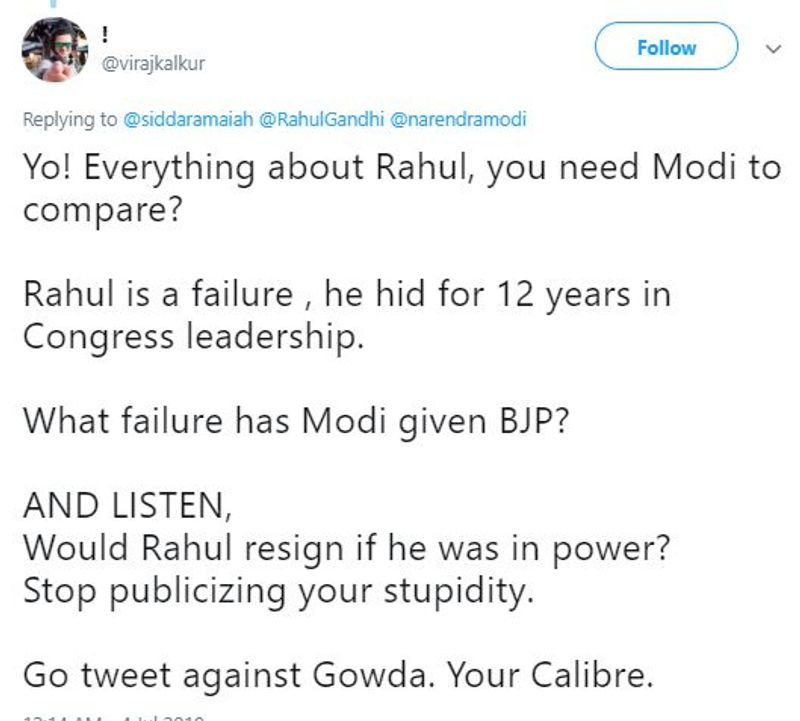 Last year (2018), when Congress did well in the Hindi heartland (Rajasthan, Madhya Pradesh and Chhattisgarh) during the assembly polls, many felt it was a shot in the arm for Rahul Gandhi's leadership. But in the Lok Sabha poll 2019, Rahul Gandhi lost face after his party won only 52 seats.
With no answer at his disposal, Rahul Gandhi chose to quit, in spite of several Congress leaders urging him to soldier on. But the scion has stuck to his guns, taking the loss and blame upon himself.
But he has not minced words when he also blamed other senior Congress leaders, including P Chidamabaram, whom he accused of not backing him during his tenure.
Incidentally, when Rahul went on labelling the prime minister a thief in relation to the Rafale aircraft deal, he didn't have enough facts to back his claims. And in what came as an embarrassment, he had to apologise unconditionally to the Supreme Court.
Meanwhile, Mallikarjun Kharge and Sushil Kumar Shinde (senior Congress leaders) are frontrunners for the post of the president.
Last Updated Jul 4, 2019, 4:52 PM IST