While the Congress chief's last affidavit had political overtones over the Rafale deal, his latest affidavit of "unconditional apology" has no mention of Rafale or PM Modi.
New Delhi: While Congress president Rahul Gandhi has moved up on the scale of cutting a sorry figure from "regret" to "unconditional apology" in the criminal defamation case over attributing his 'chowkidar chor hai' slur to the apex court, he has definitely climbed down in his anti-Modi rhetoric.
A comparison of the two affidavits that he furnished in front of the Supreme Court (SC) in the case shows that Gandhi has finally alighted from his Rafale when faced with the definite possibility facing flak from the SC.
Also read: From 'regret' to 'ignorance', 'chor' to 'hon'ble PM', Rahul Gandhi replies to SC's show cause in criminal contempt case
While his Wednesday's affidavit was a plain apology, sans any iota of political rhetoric — Gandhi said he "unconditionally apologises for the wrongful attributions" to the top court — he was still alleging wrongdoing by the Modi government in the Rafale deal in his last affidavit which was made notorious by his expression of "regret" for the remark.

He had also attributed his regretful remark to his "ignorance" of the SC judgment which he had not studied.
In the present affidavit Gandhi just said, "At the outset, the Deponent [Rahul Gandhi] herein most respectfully submits that he holds this Hon'ble Court in the highest esteem and respect. The Deponent has never sought or intended to, directly or indirectly, commit any act that interferes with the process of administration of justice."

In the last affidavit, fraught with rhetoric against Prime Minister Modi, Gandhi was still trying to score political points. "Moreover, even as Gandhi accepted that the Rafale matter is "sub judice", he also "took the opportunity to reaffirm his stand and belief" that "the Rafale deal is a tainted transaction and a gross and brazen abuse of executive power and a leading example of the corruption of the BJP Government led by Prime Minister Modi, which deserves to be investigated…," he had said.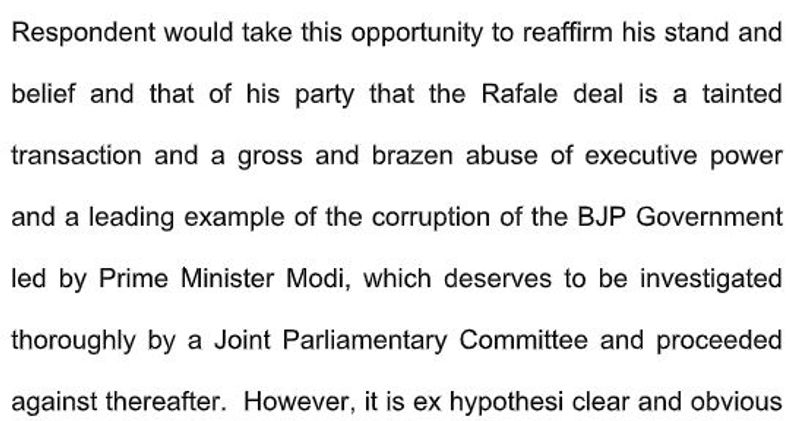 Read Exclusive COVID-19 Coronavirus News updates, at MyNation.
Last Updated May 8, 2019, 12:50 PM IST