AgustaWestland middleman Christian Michel's testimony and dispatches show that the Congress led UPA government had been compromised and matters pertaining to national security had been leaked to a select band of brokers.
New Delhi: The facts emerging from the testimony and dispatches of alleged AgustaWestland middleman Christian Michel James painted a scary picture of how the Congress-led UPA regime was compromised and matters of national security were revealed to a selected band of brokers.
These dispatches, the Enforcement Directorate (ED) said, "were seized by Swiss Police during raids on the premises of Irma Haschke (mother of Guido Haschke) in pursuance to Italian request. It is a matter of record that these dispatches were sent from the Office of Christian Michel James (as evident from the fax number printed on these dispatches)."
While we have earlier mentioned how, according to one of the dispatches, then finance minister Pranab Mukherjee dissented but was later silenced, several other Michel's dispatches showed how Prime Minister Manmohan Singh was "presurrised through his party elite."
Also read: How middleman Christian Michel killed competition to AgustaWestland by manipulating bidding
The ED said that Michel's "liasioning activities with political leaders of the ruling party, bureaucrats and ministers" had helped him "obtain details of record of discussions amongst Air Force Officials, bureaucrats and ministers in advance."
"He also obtained information about file movement in Indian Air Force/ Ministry of Defence/ Cabinet Committee. It is a matter of record that details of discussions held in the Cabinet Committee were also available to Christian Michel James," the ED alleged.
Michel's own dispatches showed how deeply entrenched he was in the government's processes. One of them dated August 12, 2009 said, "The National Security Adviser (NSA) to the PM has received a briefing from RAW (external intelligence) about the threat environment. On top of this all our other contacts are working at the problem. Even the Special Protection Group (SPG) has written to the Cabinet Secretary and NSA."
Further, "This problem will be sorted out. We think on such a high-profile deal there was bound to be one last attack. The problem is this will cost us this week. They consider this is a must stop deal. Our solutions are on track. Two ministers will meet this week, which will free the file to go for C.C.S. next week. Nothing in the article should have been a surprise to A.W. This deal is highly politically charged due to the influence it will give to the winner," he said in the same dispatch.
Also read: ED makes sensational claims in AgustaWestland case involving Gandhi family, UPA ministers
In a dispatch from August, 2009, it becomes clear that India's secrets were revealed to AgustaWestland from the highest levels and that he also knew when the deal would be clinched.
"I told you [sic AgustaWestland] and the Air Attaché in London has confirmed to your company that at the next CCS meeting your project will be cleared. The CCS meeting is scheduled for next Thursday, the 3 October. Within three working days of that meeting you will be given a date to come and finalise.
"We had fixed the CCS for 30th July. We and the team (user, bureaucrat and key political elements) expected it to clear without a problem, at the meeting the PM suddenly states that this is okay but first can all the ministers present who may have questions, please raise them to the Defence Ministry and they will be answered before the file comes back to the CCS again," he added in the dispatch.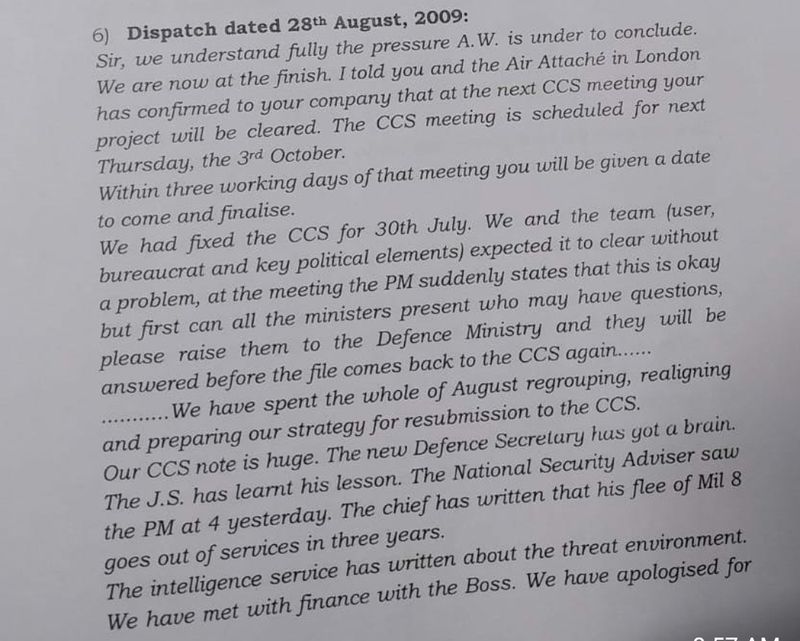 The same draft further said: "We have spent the whole of August regrouping, realigning and preparing our strategy for resubmission to the CCS. Our CCS note is huge. The new Defence Secretary has got a brain. The J.S. has learnt his lesson. The National Security Adviser saw the PM at 4, yesterday. The chief has written that his flee of MI 8 goes out of services in three years. The intelligence service has written about the threat environment."
"We have met with finance with the Boss. We have apologised for not keeping him informed and we have pressurised the PM through his party elite. The Defence minister is 100 per cent behind us. On 24th August the final CCS note was presented to the Defence Minister. It is an excellent note. It was circulated to the Council of Ministers who have agreed to clear it at the next CCS, and the PM has demonstrated to Hillary that he did intervene, but the rule of the Government was-let it go through."