Rahul Gandhi questions the loyalty of longstanding Congressmen, forcing to offer their resignations if proved guilty

Bengaluru: The grand old party of India – Congress – is in tatters! 
During the ongoing Congress Working Committee (CWC) meeting, former AICC president Rahul Gandhi questioned the loyalty of longstanding leaders like Ghulam Nabi Azad and Kapil Sibal. This distrust by Rahul Gandhi has hurt the senior members so much that they have decided to quit if the allegations made by Rahul are true. 
In fact, as sources add, Rahul Gandhi went to the extent of saying that these leaders are in cahoots with the BJP. So Kapil Sibal put out a tweet, expressing his anguish.
 
He said, "Rahul Gandhi says "we are colluding with BJP "Succeeded in Rajasthan High Court defending the Congress Party. Defending party in Manipur to bring down BJP Govt. Last 30 years have never made a statement in favour of BJP on any issue. Yet "we are colluding with the BJP "!"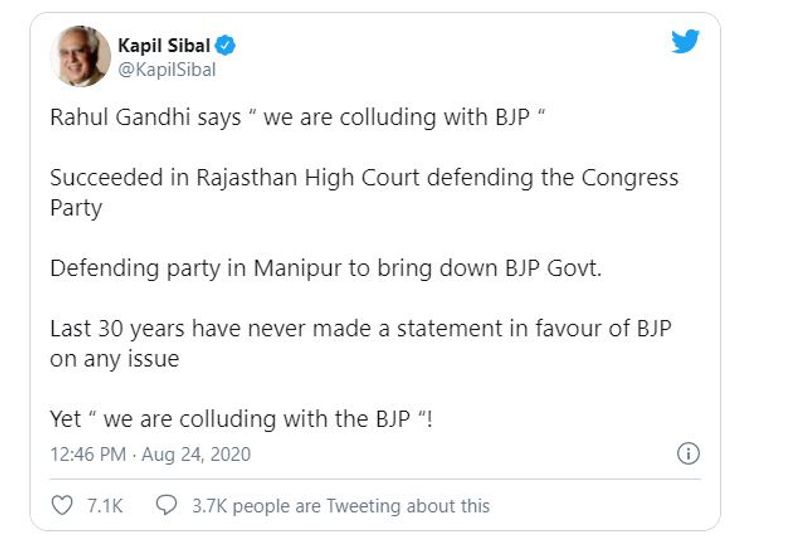 As reported by Republic TV, the Gandhi scion even questioned the timing of the letter written by several leaders to the Congress party chief Sonia Gandhi on the issue of the party president when she was hospitalised and the Congress party was facing rebellion issues in Rajasthan. 
As many as 23 senior Congress leaders had expressed their disgruntlement over how the party leadership has not been performing well. 
But Rahul Gandhi expressed his displeasure over how the details of the letter have been leaked to the media. 
The Congress has been facing massive turmoil ever since it lost the Lok Sabha polls 2019 humiliatingly. Rahul Gandhi, as a consequence, resigned after taking moral responsibility. 
Sonia Gandhi has even announced her resignation and wants someone else to take over the mantle. But senior leaders want her to continue.
They are of the view that the Gandhis are the adhesive that helps the entire unit stay together. 
Read Exclusive COVID-19 Coronavirus News updates, at MyNation.
Last Updated Aug 24, 2020, 2:07 PM IST