Reports stated that forest officials had ordered the cutting of 808 trees in Kodagu. The chief minister has sought a report in this regard and asked the team to stop axing trees with immediate effect
Madikeri: The report of forest officials directing authorities to fell 800 trees has been overturned and axing of trees at K Nidugane in Kodagu district has been stalled after the intervention of chief minister HD Kumaraswamy. Following reports, Kumaraswamy directed officials to abandon the plan immediately and save trees from being axed.
The official Twitter account of the CM of Karnataka put out a post stating: "Following the reports of order to cut 800 trees in Kodagu, chief minister HD Kumaraswamy has directed the officials to stop axing trees with immediate effect and sought a report on the same from the Conservator of Forests.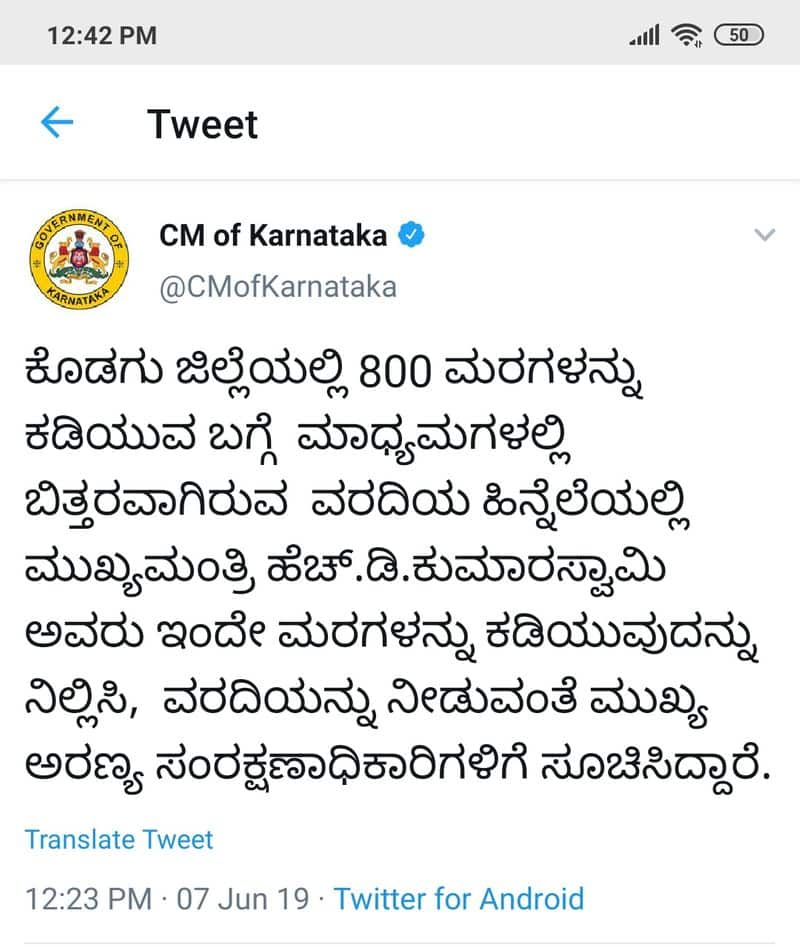 The issue came to the notice when many trees were felled at Nidugane in Madikeri to facilitate building a resort. Environmentalists had staged a protest.
Former minister and BJP leader MC Nanaiah demanded action against the officials who ordered the axing of trees.
Reports say that the order states that on the request of the Housing Board, forest officials, on May 15, ordered to cut 808 trees under various survey numbers to facilitate building of houses. The order also states that the land was converted from agriculture to commercial on November 5, 2011.
Reports in Prajavani claimed that the order also clarifies that the trees that are cut should be shifted to the Anekad Forest Village in Madikeri.
These 808 trees are spread across 80 acres under various survey numbers.
Kodagu faced heavy rains, landslides and flood during the last rainy season. Environment experts had said that cutting of trees and mushrooming buildings (especially resorts) were one of the major reasons for the distress Kodagu faced.