After over 500 students were unable to take up the NEET exam due to the delayed Hampi Express train, the Karnataka chief minister Kumaraswamy has sought the intervention of the Centre.
Bengaluru: Karnataka chief minister HD Kumaraswamy has sought the intervention of the Central government after over 500 students failed to write the NEET exam due to a seven-hour train delay on Sunday (May 5).
Kumaraswamy tweeted, "Hundreds of students from North Karnataka districts have missed the #NEET Exam being held today at Bengaluru due to a 7-hour delay of the Hampi Express. A last-minute change in the exam centres and lack of proper communication of the same has created confusion among students."
He added, "I request PM @narendramodi, Rail Minister @PiyushGoyal, @HRDMinistry , @PrakashJavdekar to intervene and ensure that students who have missed the opportunity today get another chance to write the #NEET2019Exam."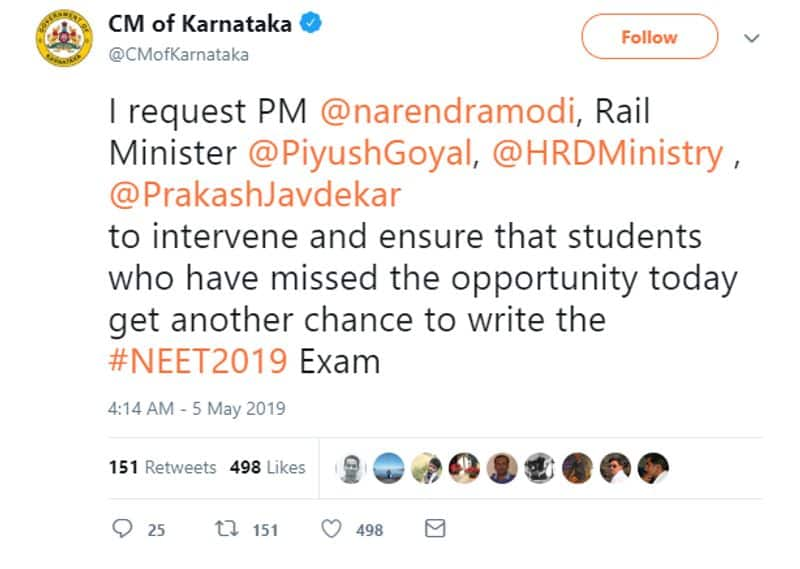 Reports earlier suggested that a seven-hour delay of the Hampi Express had left several students from north Karnataka in the lurch.
The train, which was supposed to reach at 7 am in Bengaluru, only arrived at 2.30 pm. The exam was set to begin at 2pm. All those who reached late were denied a chance to write the exam. While, those denied a chance were angry, the issue has taken a political turn.
Karnataka medical education minister E Tukaram termed the development as unfortunate and said that he will discuss the issue with department officials.
"I will speak with officials from the medical education department and see what can be done so the students can write their exams. It's very unfortunate that these students had to miss the exam due to train delay," the minister was quoted as saying in the media.
In a tweet, the RSS' student wing ABVP said it demands remedial action so that no student suffers academic loss due to circumstances beyond their control.