The three wings of the Indian defence force – Army, Navy and Air Force – will have a head who will be called the chief of defence staff. An announcement in this regard was made by Prime Minister Modi on Independence Day.
Bengaluru: Prime Minister Narendra Modi announced that there would be a chief of defence staff (CDS) in his Independence Day speech.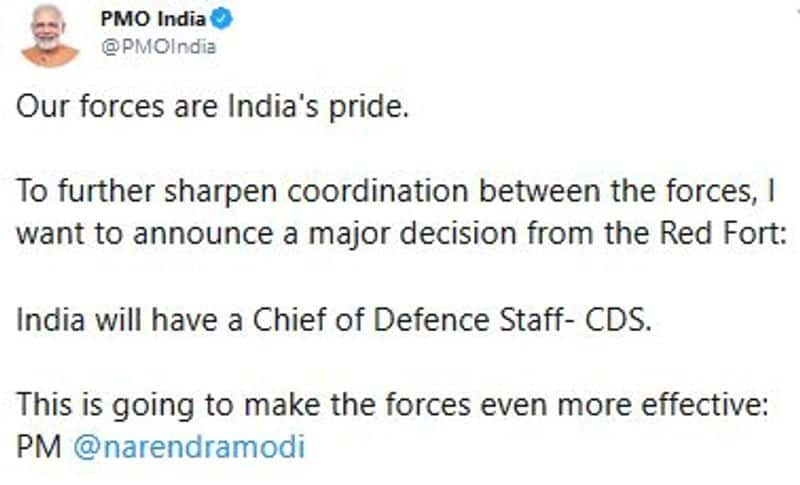 But what does the post of CDS mean?
Also read: Independence Day: PM Modi hoists national flag in Red Fort; set to constitute chief of defence staff
The post is created so that all the three wings of the defence forces (Indian Army, Indian Navy and Indian Air Force) act in harmony.
This officer – a five star military officer – will be the head of all the three services and will act as a facilitator. He will be the one who will be advising the government on issues relating to the three wings.
The need for an officer of this rank found a chorus after the Kargil War in 1999. A committee, which was set up to study the drawbacks which emanated during the war, recommended that a CDS be set up, who would be the sole advisor to the government on issues relating to the three wings.
In 2001, group of ministers also recommended that a CDS be set up, but it is only now that the government has created such a post. So that effectively means, the demand of a creation has been met 20 years after it was sought.
India Today quoted a government's response in this regard:
"Creation of the post of chief of defence staff (CDS) was recommended by group of ministers in 2001. A decision in this regard was to be taken after consultation with political parties. Subsequently, Naresh Chandra Task Force on national security recommended creation of the post of permanent chairman chief of staff committee in 2012. Both the proposals are simultaneously under consideration of the government."
But to the point as to why it took 20 years, it is said that the group of ministers had recommended that political parties be consulted before arriving at a decision. In 2016, the government had informed the Parliament that the consultation with the political parties was not complete and  therefore, could not arrive at a decision.
Read Exclusive COVID-19 Coronavirus News updates, at MyNation.
Last Updated Aug 15, 2019, 11:12 AM IST