A Lorry driver by the name Swamy Sundar Murthy has been arrested en route to Hosur for making a hoax call about terror attacks in India.

Bengaluru: The director general and inspector general of police in the state of Karnataka had issued a notice saying that his control room had received a call from a lorry driver about possible terror attacks in the southern regions of India.
The driver, Swamy Sundar Murthy was later arrested but in his hoax call, he had said that Tamil Nadu, Karnataka, Kerala, Andhra Pradesh, Telangana, Puducherry, Goa and Maharashtra will be hit by terror attacks.
He also claimed that as many as 19 terrorists had already made their way into India and are currently lodged in Tamil Nadu's Ramanathapuram.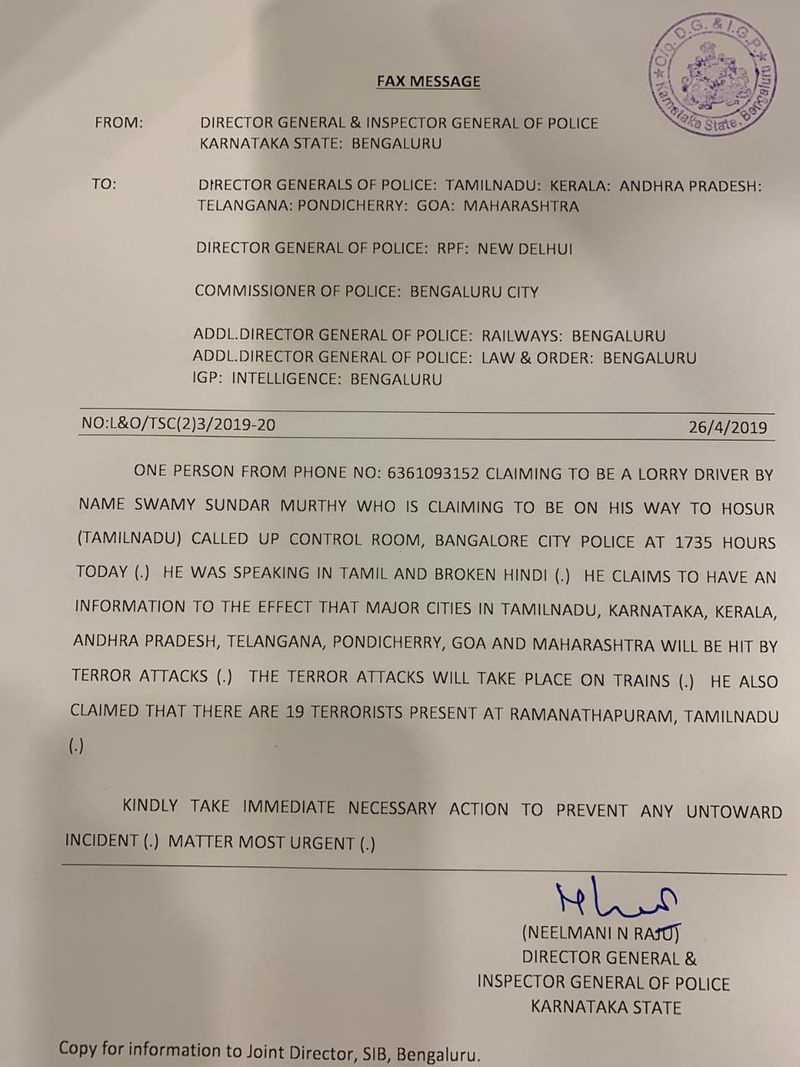 This comes at a time when the island country of Sri Lanka saw coordinated terror attacks on Easter Sunday.
The Bengaluru Police, headed by its commissioner T Suneel Kumar, had earlier held a meeting with city's hotel and mall owners to discuss security issues in the aftermath of the deadly Sri Lankan bomb attacks, which killed hundreds of people. Several deputy commissioners of police (DCPs) were present in the meeting. Earlier, they were asked to collect details about the congregation of devotees spread across different religious places in the city.
Also read: Sri Lanka blasts: Bengaluru Police commissioner asks hotel, mall owners to be more vigilant
The hotel and mall owners were asked to be more vigilant about the whereabouts of their customers and escalate security measures. He added that the establishment of identities was also a very important issue when it comes to security-related topics.
Fresh reports have come in from Sri Lanka where 15 people were found dead in the house following the raid.
Six of them are suspected terrorists and nine are civilians, including six children, major general Aruna Jayasekera said.
Police stated that the Sri Lankan cities of Kalmunai, Chavalakade and Sammanthurai remain under extended curfew until further notice.
Sri Lanka Prime Minister Ranil Wickremesinghe said that authorities are working towards the elimination of "sleeper cells" who could initiate another round of attacks.
Last Updated Apr 27, 2019, 12:21 PM IST