A shop named 'Corona' in Kerala is garnering a lot of attention during the ongoing coronavirus-induced pandemic

Bengaluru: Coronavirus-induced pandemic has made the world topsy-turvy. The word "Corona" is treated with fear. 
But the same word has been used to name a shop in Kerala. 
As reported by India Times, the shop sells plants, pots, lamps, etc.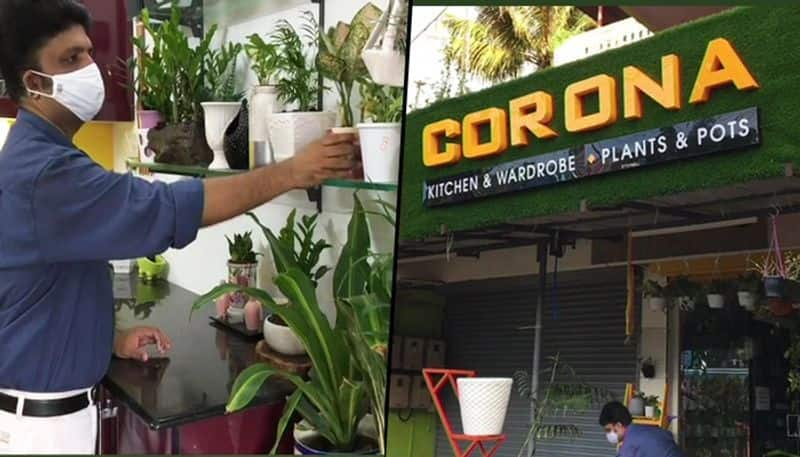 On the choice of the word, the owner George says, "Corona is a Latin word that means crown. I named my shop Corona 7 years back. The name is working good for my business."
While many others complain of a dip in business owing to the pandemic, the owner says his business is doing well with the name. 
He says, "Due to the association of my shop's name to the coronavirus pandemic, I am seeing more and more visitors coming in daily. My business is flourishing because of this." 
In another piece of news, a woman named Corona, who recently tested positive for Corona virus while carrying, gave birth to a female baby. Both mother and the daughter are absolutely healthy.      
The name Corona which, before the arrival of Covid 19, used to substitute for garland, crown etc, is present in the media since the spread of the pandemic across the globe. 
Then the trivia-hungry media started to do stories on people who were named Corona by their parents well before the association of the name with the virus.
"I had never expected her name to catch the media attention when I named her 24 years ago. I was just trying to rhyme with my son's name Coral." Corona's father Thomas said. 
Read Exclusive COVID-19 Coronavirus News updates, at MyNation.
Last Updated Nov 20, 2020, 6:05 PM IST