Chief minister Yediyurappa is yet to expand his cabinet. As he is pussy-footing on the issue, the opposition is criticising him.
Bengaluru: It has been a week since BS Yediyurappa was sworn in as the chief minister of Karnataka. Yet no portfolio distribution has taken place.
 In this regard, Congress MLA from Byatarayanapura, Krishanbyre Gowda lampooned the state BJP, for its inability to form ministries.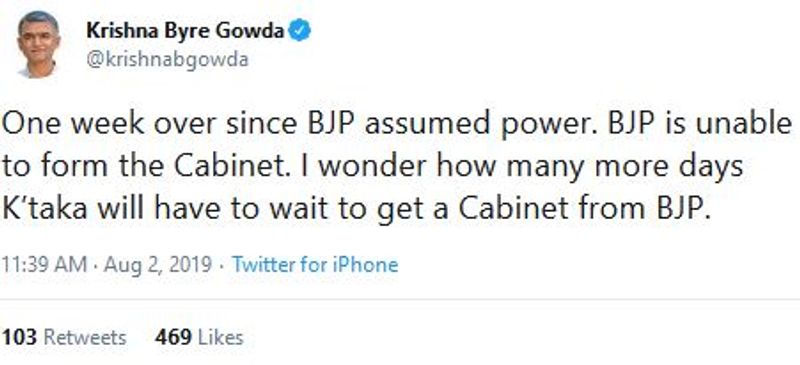 However, he was in for some criticism as a few people questioned him over the absence of a party president for the last 2 months. They asked him to look within before pointing fingers at the BJP.



The BJP is really playing its game well as it knows it will face a lot of rebellion and frayed tempers if the top leaders of the state sit down and allot ministries.  Therefore, it has put the ball in the court of the national leaders.

The cabinet is set to be expanded on either August 8 or August 9.
Late last month, HD Kumaraswamy faced an ignominious defeat after the confident motion, which he moved, was defeated 99 – 100.
As many as 17 MLAs from the ruling coalition put in their papers and flew to a hotel in Mumbai, absenting themselves from the trust vote in the Karnataka Assembly.
The coalition faced a lot of infighting as the disgruntled elements were not happy at not being given ministries. In fact, even those who got ministries decided to swim against the tide and bid goodbye to the coalition.
However, all the 17 rebels were disqualified by the then Speaker Ramesh Kumar for anti-party activities. All these MLAs have approached the Supreme Court, challenging the Speaker's decision.
On the other hand, the Congress and the JD(S) are trying to revive their parties and face the by-polls, slated to take place in the near future.