As river Krishna overflows in Belagavi, Karnataka, the war of words over CM Yediyurappa visiting Delhi on Monday (August 4) to meet the BJP top brass while the region is under stress, has begun.
Bengaluru: "When Rome was burning, Nero was fiddling," is a popular saying. Connect this with the present situation in Karnataka where rain has made lives hellish in Karnataka and you will be left wondering how apt it is.
It's been more than a week since BS Yediyurappa was sworn in as the chief minister of the state, but he is yet to form his Cabinet. While he moves around, dilly-dallying over the issue, the state reels under the effects of merciless rains. And as that happens, he is slated to visit New Delhi on Monday (August 5) to meet the BJP top brass and hold deliberations on Cabinet formation.
This move is precisely what has upset the opposition. HK Patil, a senior Congress MLA from Gadag has urged the CM to cancel his trip and concentrate on relief activities in the affected areas. In a letter he said, "The food situation is grim in Mumbai and Hyderabad-Karnataka region following river Krishna being in spate. Please cancel your political trip to Delhi and visit these places. Please convene an emergency meeting of disaster management authority and urge Prime Minister to visit."
He even tweeted this letter.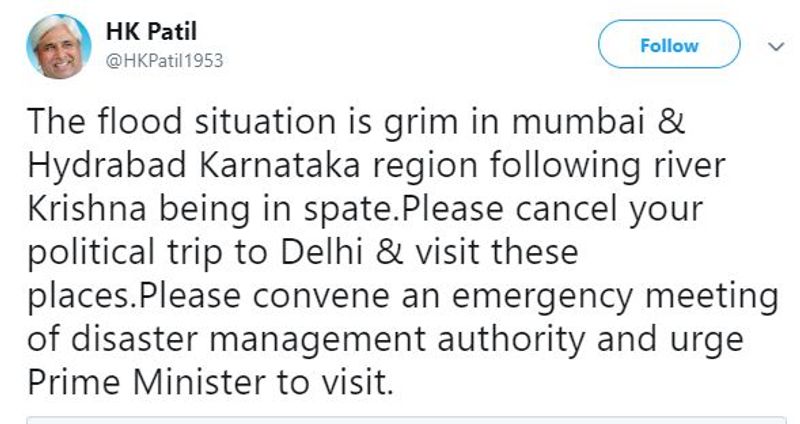 However, the BJP expressed its strong displeasure over the tweet.
Sreenath Sheshadri, a BJP spokesperson said, "The government is a responsible government. It will take the necessary action if required. If it warrants, the CM will take a call on it. The CM is mature enough to deal with things like this. He doesn't need lessons on such matters."
Belagavi has been at the receiving end as Maharashtra has received very heavy rains in the last few days. It has flooded more than 16 villages and thrown life out of gear.
The police department, firefighters, state disaster response force seem to be ready to face any eventuality.
Read Exclusive COVID-19 Coronavirus News updates, at MyNation.
Last Updated Aug 4, 2019, 12:32 PM IST