Several leaders cutting across party lines have welcomed the move to hand over the issue of phone tapping to the CBI for investigation.
Bengaluru: The audio tapes that were allegedly released by a local channel involving police commissioner Bhaskar Rao and his touted conversation with Faraz, a middleman close to Congress high command Ahmed Patel lobbying for the post of police commissioner has now come under the radar of CBI.
Also read: Karnataka: CBI to probe phone tapping allegations surrounding former CM Kumaraswamy
Also read: Karnataka phone tapping case: Amit Shah jumps in, instructs Yediyurappa to go for a CBI probe?
Several political leaders have welcomed the CBI probe.
HD Kumaraswamy, former CM: I am ready for any probe. Let the Central government take the help of US President Donald Trump as well, not just the CBI. The JD(S) will extend all possible help in relation to the probe.
Sumalatha, independent MP, Mandya: I had expressed doubts over phone tapping during the Lok Sabha polls earlier this year. I won't say phone tapping had happened, but I had my own doubts. It is a criminal offence. If people have resorted to it, they must be punished. A thorough probe will throw more light on the issue.
Sriramulu, BJP MLA, Molkalmuru: I welcome it. These leaders (HD Kumaraswamy and others) were acting as if they were sincere to the backbone. In fact, Siddaramaiah and others were seeking a probe in the issue. So, BS Yediyurappa has done the right thing by handing it over to the CBI. Let the guilty be punished. 
Siddaramaiah, former CM:  I welcome the move. But the BJP has used CBI as a puppet to spread its venomous vendetta. Hope BJP leaders do not have similar intentions. (On Twitter)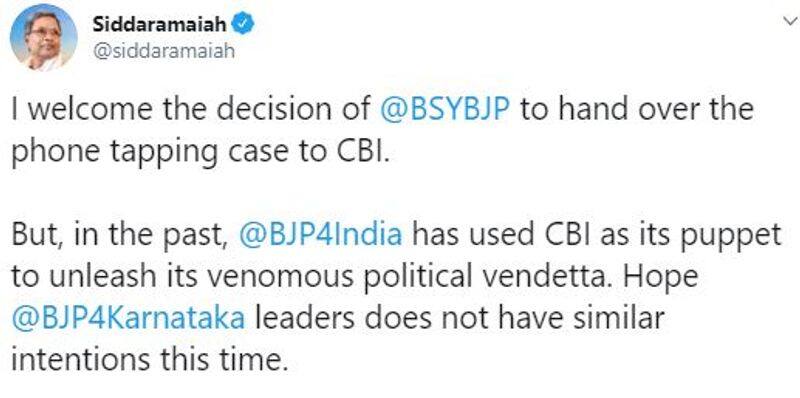 H Vishwanath, disqualified JD(S) MLA: I am so happy. The CM has handed over to the probe to the CBI. The truth will come out ultimately.
More on the phone tapping issue 
It all began with a local channel releasing tapes of a touted conversation between police commissioner Bhaskar Rao and a middleman Faraz over the issue of making Bhaskar Rao the police commissioner.
Later, disgruntled MLAs like H Vishwanath of JD(S) also expressed their doubts over the involvement of chief minister HD Kumaraswamy in the incident.
Read Exclusive COVID-19 Coronavirus News updates, at MyNation.
Last Updated Aug 18, 2019, 2:32 PM IST