S Sasikanth Senthil, a 2009 batch Karnataka-cadre IAS officer and the Deputy Commissioner of Dakshina Kannada has tendered his resignation on the lines that he is unable to express himself freely.
Bengaluru: Just days after Kannan Gopinathan resigned citing lack of freedom of expression, another IAS officer Sasikanth Senthil, has followed suit on Friday. 
S Sasikanth Senthil is a 2009 batch Karnataka-cadre IAS officer and Deputy Commissioner of Dakshina Kannada district and has resigned from the civil services.
Senthil tendered his resignation saying it was unethical to continue as a civil servant when "democracy was being compromised". 
In his resignation, he wrote, "I've taken the decision as I think that it's unethical to continue as civil servants when fundamental building blocks of democracy are being compromised in an unprecedented manner."
He further wrote that he felt that the coming days will bring with it extremely difficult challenges to the basic fabric of the nation. 
"I would be better off outside the IAS to continue with my work at making life better for all," he wrote in his resignation letter.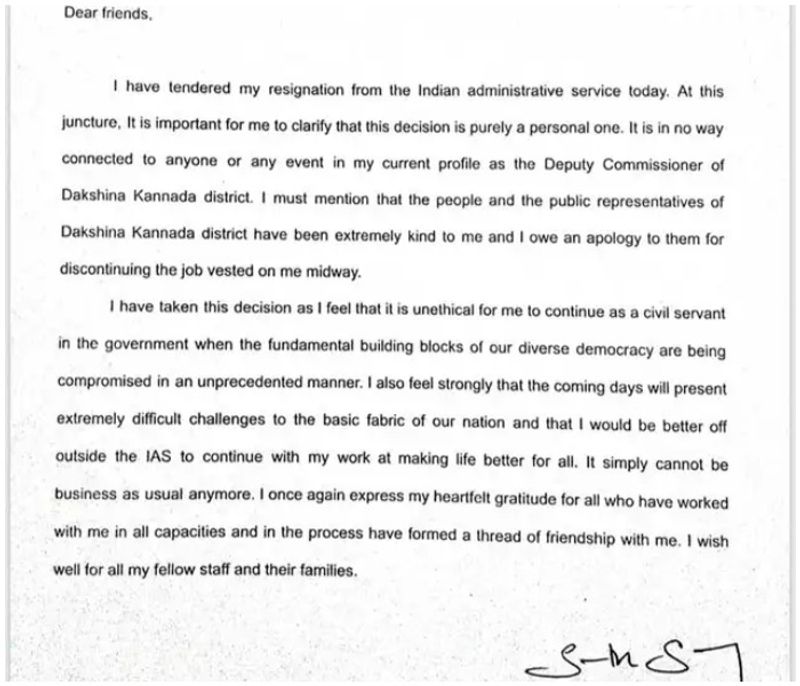 The officer, who is originally from Tamil Nadu, also stated that the people and public representatives of Dakshina Kannada had been extremely kind to him and he owed them an apology for discontinuing his 
The 40-year-old officer is an electronics engineering graduate from Regional Engineering College of Bharathidasan University, Tiruchirapalli. He served as assistant commissioner in Ballari (2009-2012), chief executive officer of Shivamogga Zilla Panchayat for two terms and was also the deputy commissioner of Chitradurga and Raichur districts. 
Senthil, who was the director in the Mines and Geology department since November 2016, was posted to Dakshina Kannada in October 20, 2017.
Senthil's colleague Gopinathan had resigned from service in August to protest "denial of freedom of expression to the people of Jammu and Kashmir", following abrogation of Article 370. Gopinathan, who was the secretary of the power department of the Union Territories of Daman and Diu, and Dadra and Nagar Haveli, submitted resignation to the home ministry on August 21. However, he was asked to resume duty and continue to work till his resignation was accepted.