The Muzrai Department in Karnataka has issued a circular to the temples under its limits, asking them to perform Parjanya, a ritual to appease the "rain god" after most districts in the state were declared drought-hit.

Bengaluru: The state Muzrai Department has directed temples under its purview to conduct religious rituals to appease the "rain god" (Parjanya) as several parts of Karnataka have been reeling under the effect of drought without sufficient water to drink.
Each temple will be given Rs 10,001 to spend on these special prayers for rain. There are over 34,000 temples under Muzrai department in the state.
These religious rituals will begin on June 6, states the Muzrai Department's circular.
The circular states:
"The people and animals in Karnataka have been facing difficulties due to water shortage and withering of crops. The temples under the Muzrai department have been carrying out special rituals to appease the rain god for a long time. Therefore, to bring in rain and greenery in the state, the government has decided that conducting Parjanya-  the ritual to appease the rain god, has become a necessity this year too with most parts of the state facing acute shortage of water.
Parjanya should be conducted in temples that are financially stable that come under the Muzrai Department, at Brahmi Mahoorat on June 6, Thursday. The department gives permission to use not more than Rs 10,001 for conducting rituals in each temple."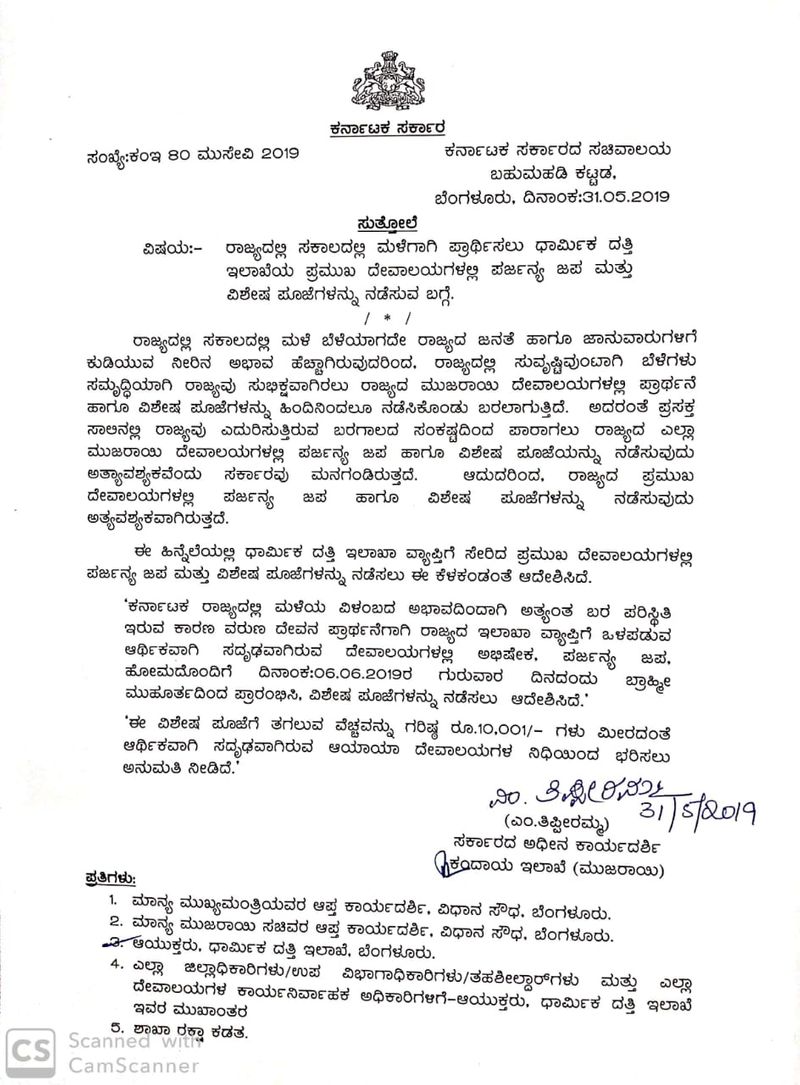 The circular has been signed by the undersecretary of the Karnataka government, Thippiramma.
It is not sure whether rituals will be conducted in all the temples under Muzrai, but if it is the case then the government will spend at least Rs 34 crore on the religious rituals for rain.
Karnataka has been facing acute water shortage and at least 122 districts have been declared drought-hit.
Veerendra Heggade, chief of the Dharmasthala temple, one of the most influential temples in India, had written to the devotees to postpone their visit to the temple in Dakshina Kannada district as the entire district did not have sufficient water.
Schools have reportedly delayed re-opening and few schools in Dakshina Kannada have temporarily stopped the midday meal scheme due to the water crisis.