A lawyer by name Shiva Reddy has filed a complaint against former Karnataka Assembly Speaker Ramesh Kumar for an alleged fraud that took place during his term as health minister, as elucidated in a Comptroller and Auditor General (CAG) report
Bengaluru: A few weeks ago, the then Speaker Ramesh Kumar disqualified as many as 17 Karnataka MLAs for their resignations and anti-party stance. He played the role of a judge, jury and executioner.
Now, in what comes as a role reversal, he turns out to be an accused. Excerpts are shown below.
A lawyer by name Shiva Reddy has lodged a complaint against Ramesh Kumar with the Lokayukta. Excerpts of the complaint are given below.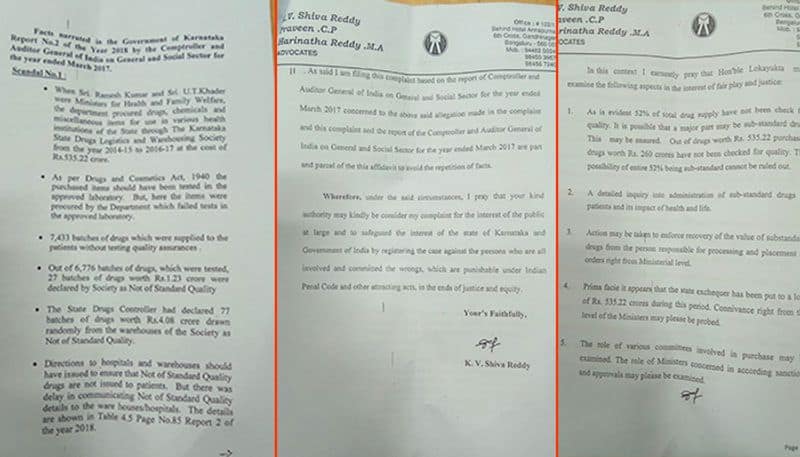 The issue at hand is the alleged corruption in the procurement of medicine and its distribution. At that point in time, that is 2018, Ramesh Kumar was the minister for Health.
In fact, a Comptroller and Auditor General (CAG) report, on the issue has dealt with the issue of corruption at length.
The report states that from the year 2014 to 2017, the medicines purchased were of mediocre quality and the then minister didn't bother to have the quality examined.
Interestingly, 14,209 batches of medicines were procured during this period, but the minister had only 6776 samples examined.
The result of the quality-examination said that medicines supplied by 16 companies were found to short of required standards.
Shockingly, the complainant alleges, the same mediocre medicines were supplied to the patients.
Furthermore, the complainant alleges that Ramesh Kumar maintained a stoic silence despite knowing that the medicines were of sub-standard quality.
He has also spoken about the importance of quality medicines that play an important role in maintaining the health of citizens and said that they therefore must be unblemished.
The complaint letter also makes a mention of another senior Congress leader and health minister UT Khader, but no complaint was filed against him.