12:28 PM IST
Karnataka Assembly adjourned till 5 pm
After Speaker resigned, Karnataka Assembly adjourned till 5 pm
12:26 PM IST
Speaker Ramesh Kumar thanks everyone for the opportunity provided
In hish parting speech, Ramesh thanked everyone and hoped that the state reaching higher echelons under CM BS Yediyurappa
12:14 PM IST
Karnataka Assembly Speaker Ramesh resigns
After serving as the Speaker for Karnataka Assembly for 14 months, Ramesh Kumar has resigned
12:10 PM IST
Karnataka Assembly passes finance bill
Government employees can heave a sigh of relief as Assembly passes finance bill
12:03 PM IST
As he wins trust vote, CM BS Yeddyurappa's govt safe for next six months
CM Yeddyurappa can heave a sigh of relief as he won the trust vote. At least for the next six months, he can be assured of a smooth flow
12:01 PM IST
CM BS Yeddyurappa wins trust vote
Karnataka CM BS Yeddyurappa wins trust vote by voice vote
11:49 AM IST
CM BS Yeddyurappa presents finance bill
CM BS Yeddyurappa presents finance bill for the house to pass it. Leader of opposition Siddaramaiah suggests to CM that the bill has to be passed for 8 months. CM had proposed to get it passed for a period of 3 months.
11:36 AM IST
Former CM HD Kumaraswamy requests BS Yediyurappa to take care of disqualified MLAs
In an apparent dig at CM BS Yediyurappa, HD Kumaraswamy asked him to take care of the disqualified MLAs and even said they didn't have a special flight from Mumbai to return to Bengaluru
11:27 AM IST
Former CM HD Kumaraswamy alleges CM BS Yediyurappa spoke irresponsibly
Adding to what Siddaramaiah said, former CM HD Kumaraswamy said the then opposition leader BS Yediyurappa spoke irresponsibly about his government earlier
11:24 AM IST
Siddaramaiah says he's not sure about CM BSY completing the term
Taking a dig at CM BS Yediyurappa, Siddarmaiah said he won't speak about how BS Yediyurappa became the CM, but added that he does not have the confidence that he would survive the remaining term because of the weak numbers
11:22 AM IST
Ramesh Jarkiholi and Mahesh Kumathalli approach Supreme Court against disqualification
Disqualified MLAs Ramesh Jarkiholi and Mahesh Kumathalli (MLAs from Gokak and Athani respectively) have filed a writ petition at the Supreme Court challenging the order of the Speaker Ramesh Kumar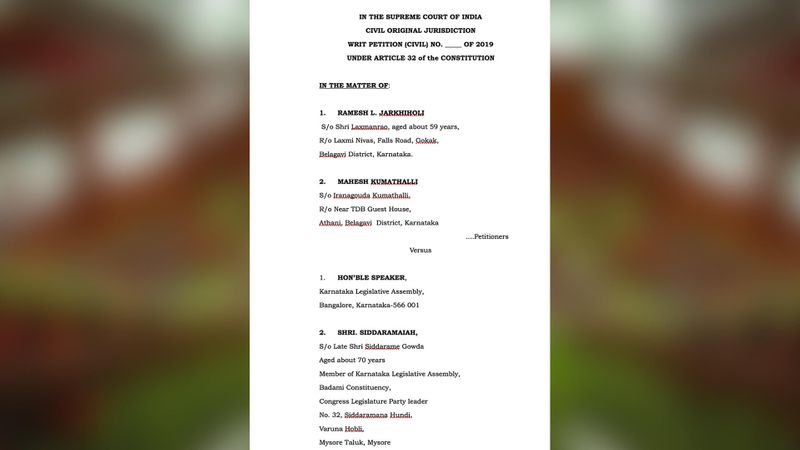 11:08 AM IST
Proceedings begin at the Karnataka Assembly
CM BS Yediyurappa begins his speech in the Assembly, promises that he won't resort to vindictive politics, says he believes in the principle of 'forgive and forget'
10:57 AM IST
Amid disqualification, two rebel MLAs offer to quit politics
ST Somashekar, MLA from Yeshwantpur and MTB Nagaraj from Hoskote have expressed disgust at the way things have transpired in the last few weeks and said they want to quit politics.
10:45 AM IST
Former deputy CM R Ashoka washes hands of the resignation drama
In what comes as a great shock to the rebel MLAs, R Ashoka, senior BJP leader and former deputy CM R Ashoka says they have nothing to do with the resignation of the rebel MLAs
10:26 AM IST
ST Somashekar terms Krishnabyre Gowda 'cunning'
ST Somashekar, the disqualified MLA from Yeshwantpur said MLA Krishnabyre Gowda of Byatarayanapura is a cunning MLA. He went on to say that he would enter the Guinness Book of World Records for his deceit.
10:13 AM IST
Senior Congress leader Ghulam Nabi Azad to arrive in city
Ghulam Nabi Azad, senior Congress leader, will be coming to the city this evening. The leader will have discussions with state Congress leaders to choose the leader of opposition
10:11 AM IST
Congress likely to do a walkout
As BS Yediyruppa takes up the floor test, Congress might stage a walkout with a bid to embarrass the BJP
9:25 AM IST
Election for KMF president postponed
In view of CM Yediyurappa proving his majority on the floor of the house, election for the post of KMF president has been postponed by the Karnataka government
9:16 AM IST
5 disqualified rebel MLAs return to Bengaluru
Five disqualified MLAs (Byrathi Basavaraj, ST Somashekar, Muniratna, MTB Nagraj and Shivaram Hebbar) returned to Bengaluru on July 29 from Mumbai ahead of Karnataka chief minister BS Yediyurappa's floor test
9:02 AM IST
CM BSY to hold meet with MLAs
Ahead of the trust vote, CM BS Yediyurappa will chair a meeting with his MLAs at his office at 10: 30 am.
8:59 AM IST
Rebel Karnataka MLAs approach Supreme Court
Aghast at their disqualification for their anti-party activities, 17 rebel MLAs approached the Supreme Court.
8:56 AM IST
Big day for Karnataka BJP
CM BS Yediyurappa will take up the floor test today. The BJP is sitting pretty with 106 seats while the opposition has 100 seats