As Kamal Haasan's remark about "first Hindu terrorist in independent India" has created a storm across the globe, we give you five other instances to exhibit to what lengths politicians and celebrities go in order to put Hinduism in bad light
Bengaluru: Actor-turned-politician Kamal Haasan has enraged many a Hindu with his remark claiming Nathuram Godse is the first Hindu terrorist in independent India. But truth to tell, he is not the only one who has dared to insult Hindus and Hinduism, but forbid themselves when it comes to other religions. Here is an inventory of how different politicians have heaped affronts and insults on peace-loving Hindus.
1.     Shashi Tharoor's "Hindi, Hinduism and Hindutva" jibe
Known for his diction and fluency, Shashi Tharoor may have earned a lot of admirers, but when it comes to Hindu-bashing, he has earned an equal number of adversaries for his calumnies having the potential to rip through the heart of a Hindu.
In January last, Shashi Tharoor had tweeted that "Hindi, Hinduism and Hindutva" are dividing us. This was in relation to an immigration officer not allowing a boy to pass through as he didn't know Hindi.

2.     Sitaram Yechury's "Why can't Hindus be violent" insult
Sitaram Yechury, the general secretary of the CPI(M) doesn't mince words when it comes to humiliating Hindus and Hinduism. Earlier this month (May 3) he said, "Ramayana and Mahabharata are also filled with instances of violence and battles. Being a pracharak, you narrate the epics but still claim Hindus can't be violent? What is the logic behind saying there is a religion which engages in violence and we Hindus don't?"
3.     Dinesh Gundu Rao's "Hindutva drug" comment
Dinesh Gundu Rao is the president of the Karnataka Congress. In one of his criticisms, he equated Hindutva to a drug!
"BJP's single point agenda is to stoke communal feelings. There is this drug called Hindutva. They're using it like opium. They want to sow communal opium just to avoid debates on real issues."
The same gentleman had also prodded people to slipper UP chief minister Yogi Adityanath.
He had said, "Adityanath is no Yogi, Beat Him With Slippers."
However, sensing massive backlash, he did apologise, but the BJP hit back at him.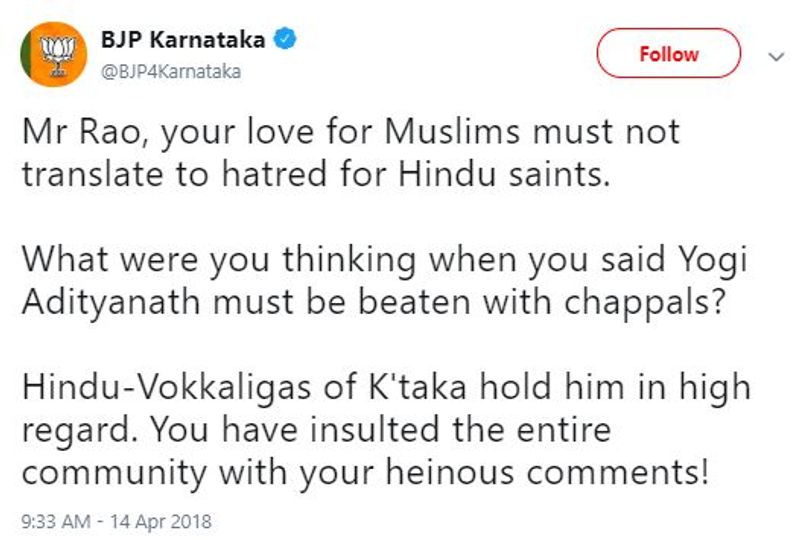 4.     Urmila Matondkar's "Hinduism is the most violent religion" tag
Movie celebrities have admirers and fans cutting across religions. It is the art in them that is respected, which is eternally beyond the realms of religion and the like. But Urmila Matondkar's remarks on Hindu religion, that too on a prime time show on a national television spoke how she had decided to defame Hinduism.
She said, "The religion which has been known for its religion tolerance has turned out to be the most violent religion of them all. What is sad is that this sort of terribly heinous actors have been applauded and are constantly going viral. People are made to believe this is how the society always was."
In reaction to her statements, a vexed lawyer had also filed a police complaint against her and the TV anchor.
5.     Akbaruddin Owaisi's "We will kill Hindus in 15 minutes" threat
Akbaruddin Owaisi is the younger brother of Asaduddin Owaisi of the AIMIM. He was caught on tape intimidating Hindus that he would kill all of them if the police force was removed for 15 minutes.
He said, "We 25Cr Muslims will kill all 100 cr Hindus if police is removed just for 15Min."
These were the 5 instances we could glean through as many say secular lobby feels Hinduism is easy prey.
Read Exclusive COVID-19 Coronavirus News updates, at MyNation.
Last Updated May 14, 2019, 3:49 PM IST