As per Axis My-India exit polls, the BJP will get a seat share of 22-32 while the Cong+ will get a seat share of 38-50
Bengaluru: The exit polls for the Jharkhand elections are out.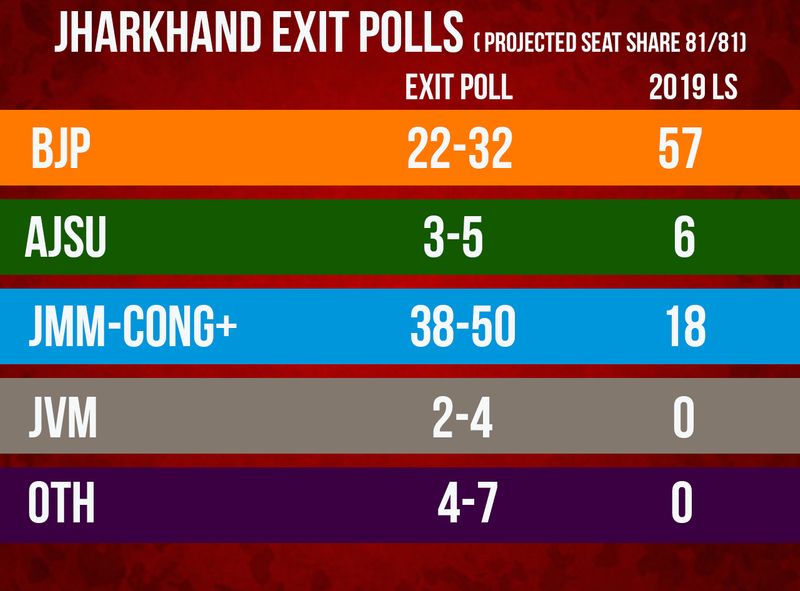 The results have predicted a seat share of 22-32 for the BJP, 3-5 for the AJSU, 38-50 for JMM and Cong+, 2-4 for the JVM, 4-7 for the Others. 
Jharkhand has a total of 81 seats, with a half-way mark of 41. The BJP has projected incumbent CM Raghubar Das as the CM candidate while the opposition has projected Hemant Soren as its candidate.  
If the numbers, as displayed by Axis My-India, do turn out to be true, it means the Jharkhand electorate have been swept away by an anti-incumbency wave against the BJP, not necessarily that they have decided to support the Congress. 
On the other hand, there are talks that Rahul Gandhi, who did just 5 rallies in the state, is becoming less relevant. The election campaign was headed by another Congress leader RPN Singh. 
GVL Narasimha Rao, a BJP spokesperson was circumspect. He said, "I have a word of caution. I am doubtful if they will get the numbers as quoted by the exit polls." 
He further added, "In combination with the AJSU, we have a combined vote share of 43%. This is good." 
Jharkhand had a five-phase poll which went on from November 30 to December 20 and the results will be out on December 23. 
Assembly polls are different from general polls. The BJP had done phenomenally well in the Jharkhand general elections. It had earned 12 seats. 
Considering that the local issues take more importance in the assembly polls compared to that of issues related to national elections and there is anti-incumbency drive, the BJP will be hunting for better partners if the results as predicted by exit polls turn out to be true. 
 
Read Exclusive COVID-19 Coronavirus News updates, at MyNation.
Last Updated Dec 20, 2019, 8:13 PM IST