The Indian armed forces are all set to have 30 General Atomics MQ-9B Guardian drones

Bengaluru: With border tensions with China escalating, the ministry of defence, headed by Rajnath Singh, is all set to buy 30 General Atomics MQ-9B Guardian drones from the United States (US), as reported by India Today.
The entire value of the purchase is touted to be worth $3 billion or roughly Rs 22,000 crore. In this regard, as the website adds, n 'acceptance of necessity' (AON) for 30 drones is expected to be placed before the Defence Acquisition Council (DAC).
It is needless to say that the Indian armed forces will get a massive boost with this move. 
More on the deal: 
The website adds that the contract is being broken up into two parts—six MQ-9s worth approximately $600 million (Rs 4,400 crore) are to be purchased outright and delivered in the next few months. The remaining 24—eight drones for each service—will be acquired over the next three years under an 'option clause' in the contract. The deal has been in the pipeline for the past three years, first as the sale of 22 Sea Guardians (an unarmed maritime variant of the MQ-9) for the Indian Navy in 2017. This was then converted into a tri-services acquisition by the government in 2018 when the armed version of the MQ-9 was cleared for sale to India by the US.
A note on MQ-9 satellite: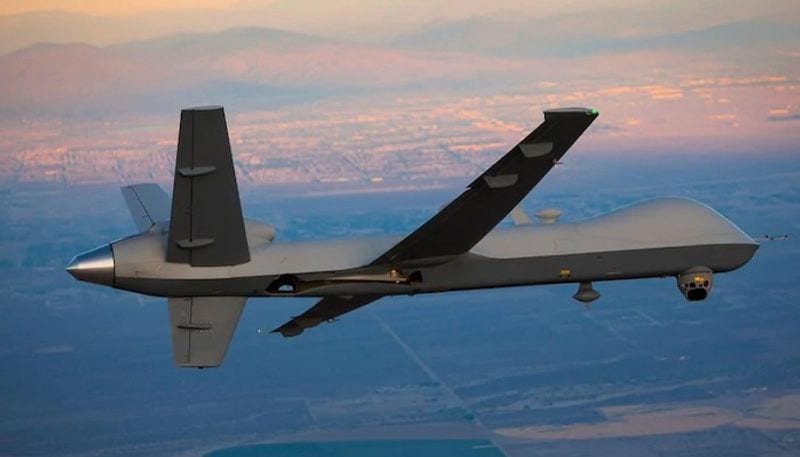 The MQ-9 is a satellite-steered drone which can float in the air as high as 45,000 feet, and stay in continued service for as long as 35 hours in a single stretch. It uses radar and electronic support to locate the enemy.
Read Exclusive COVID-19 Coronavirus News updates, at MyNation.
Last Updated Sep 23, 2020, 2:07 PM IST