Sreedharan, the BJP's chief ministerial candidate in Kerala is a man of accomplishments and extraordinary integrity
Bengaluru: Many, at the age of 88 years, would prefer to lead a retired life, renouncing and relinquishing worldly responsibilities. 
But here is a man who dares to be different. 
Meet E Sreedharan, the octogenarian whose political debut, incidentally, takes place at 88. 
He is the chief ministerial face of the BJP, which is seeking to make massive inroads in the upcoming Kerala assembly elections. 
Pamban bridge renovation:
The expert civil engineer rose to prominence during the restoration work of Pamban bridge in Kerala in the year 1964. The bridge had sustained massive damage owing to a cyclone. Sreedharan was asked to take up the renovation work and was given just 6 months for it. Incidentally, his senior reduced it further to just 3 months! 
But an unfazed Sreedharan was ready to take up the task. In a matter of 46 days, he repaired the bridge, much to the amazement of all!          
The Kolkata metro: 
By now, Sreedharan had etched his name in creating impressive infrastructural projects. In the year 1970, he was tasked with the implementation of Kolkata metro. Putting his shoulder to the wheel, he successfully completed the project, earning plaudits for his meticulous execution and technological wherewithal. 
Konkan Railway: 
The roughly 800-km railway connecting the states of Karnataka, Maharashtra and Goa is Sreedharan's brainchild. It has over 2000 bridges and 90 tunnels. The challenges involved not just acquisition of land, but also loose soil, flash floods and even landslides. But none of these calamities could deter the man and he successfully completed it.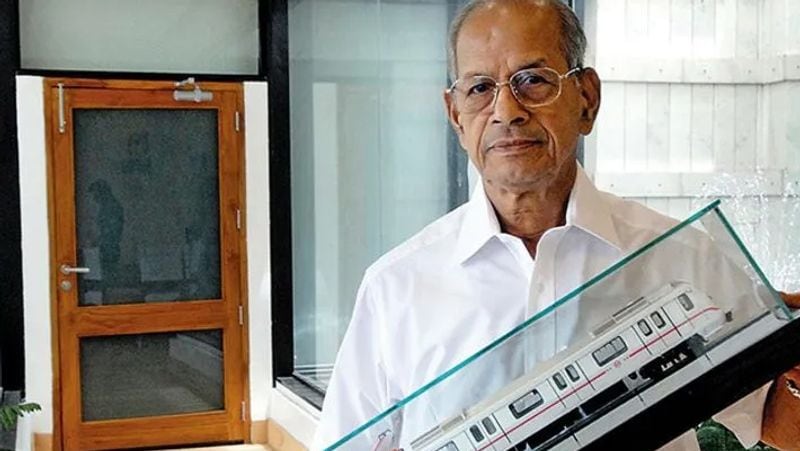 Delhi Metro: 
Sreedharan also has to his credit the successful completion of the Delhi metro in record time. 
What  sets him apart from others was his knack to insulate himself from political pressures and deliver success impeccably. 
It is needless to say that he has been honoured with a plethora of awards. The cry for a Bharat Ratna is also hard to ignore, but we can safely say that he is a Ratna that Bharat is blessed with! 
   
 
Last Updated Mar 4, 2021, 4:36 PM IST