Roshan baig's lawyer filed a petition in the karnataka high court against the Special Investigation Team questioning the basis on which Roshan Baig was detained. The SIT that is probing the I Monetary Advisory (IMA) scam detained Roshan Baig when he was about to leave the city on a chartered aircraft.

Bengaluru:  Minutes before taking off on his private chartered aircraft, Roshan Baig was detained at the airport by the Special Investigation Team. Baig's lawyer has now filed a petition asking how he could be detained when the notice served to him expects him to appear before them on July 19. 
Baig, who is an MLA from Shivajinagar, Bengaluru, was being taken to an undisclosed location, now believed to be Mumbai, on a private chartered aircraft on Monday evening (July 15). Sleuths at the Kempegowda International Airport (KIA) in Bengaluru detained the former Karnataka minister.
"Baig was detained for questioning at the Kempegowda International Airport when he was about to take off in a private aircraft to an unconfirmed destination from Bengaluru," joint commissioner of police (crime) BR Ravikanthe Gowda said in a statement late on Monday night.
The investigation team had granted Baig time till July 19 to appear before them for questioning.
SIT officials suspected that Baig would abscond if given an opportunity, and hence decided to detain him.
Calling Baig's alleged attempt to flee a ploy by the BJP to destabilise the coalition government by indulging in horse-trading, Karnataka chief minister HD Kumaraswamy said, "BJP MLA Yogeshwar was present at the time there (at the time of Baig's detainment). It's a shame that BJP is helping a former minister escape, who is facing a probe in the IMA case. This clearly shows BJP's direct involvement in destabilising the government through horse-trading."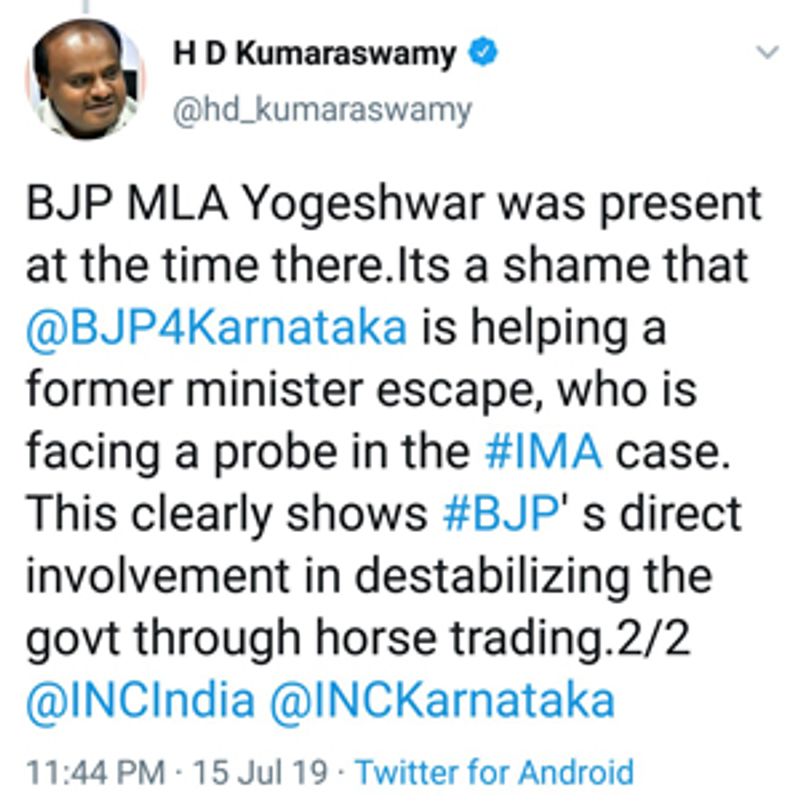 Kumaraswamy also alleged that NR Santhosh (Karnataka BJP chief BS Yeddyurappa's personal assistant) fled the spot when the SIT arrived at the airport to detain Baig. The BJP has also put out a tweet highlighting their point.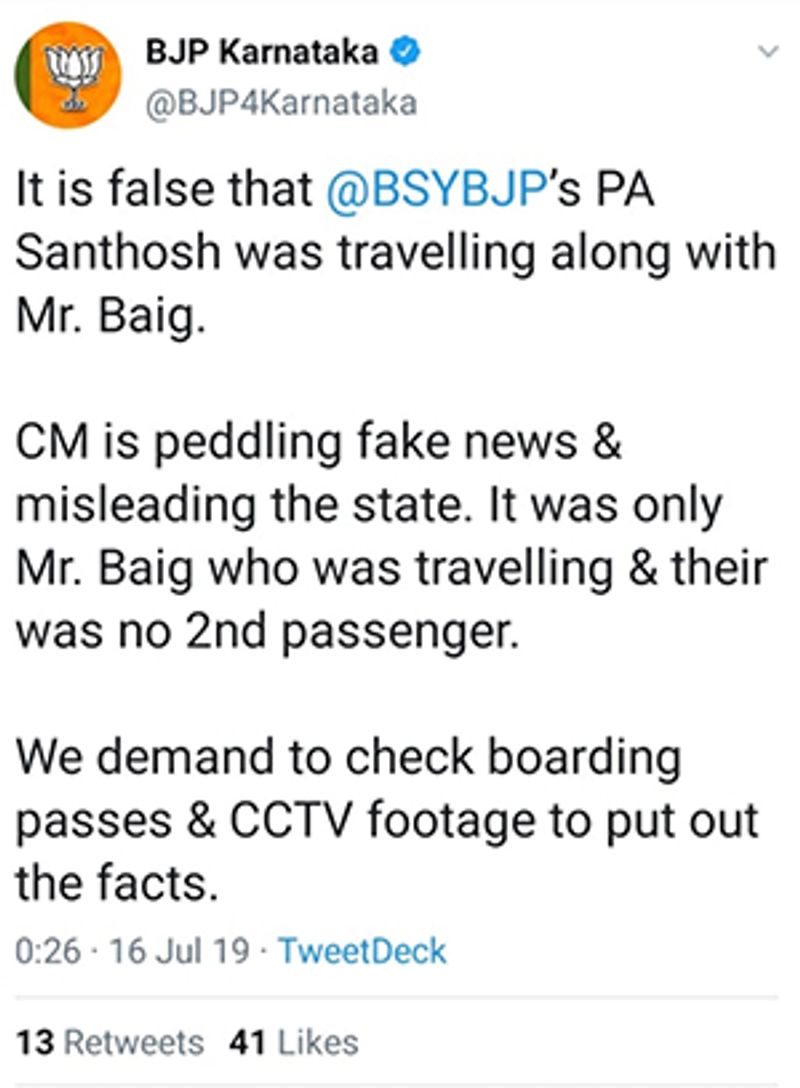 In June, Baig was suspended by the Congress for anti-party activities. Prior to his suspension from the party, Baig had blamed former chief minister Siddaramaiah, Karnataka Pradesh Congress Committee (KPCC) president Dinesh Gundu Rao and Congress national general secretary in-charge of Karnataka, KC Venugopal, for the alleged failure of the Congress-JD(S) coalition government.
Just after that, Baig's name surfaced in the IMA scam in the audio clips left behind by one of IMA's founders, Mohammed Mansoor Khan, when he absconded.
Soon after the news of the scam broke out, Karnataka revenue minister RV Deshpande stated that Baig had requested officials from the revenue department to grant Mansoor Khan a no-objection certificate for a Rs 600 crore bailout. However, Deshpande had stated that the revenue officials had not complied with the demand.
Contrary to Deshpande's claims, earlier this month, the SIT arrested the deputy commissioner of Bengaluru urban district Vijay Shankar, the assistant commissioner (revenue) LC Nagaraj and an executive engineer with the Bangalore Development Authority (BDA), PD Kumar Nayak, for allegedly accepting crores of rupees as bribe to write a favourable report for IMA in a Reserve Bank of India (RBI) inquiry.
Last Updated Jul 16, 2019, 12:13 PM IST