Sisola, a village near Meerut has made a mark for itself for its prowess in making footballs
Bengaluru: Sisola is a village in Uttar Pradesh. The village has left an indelible mark on the football map. 
No, not because it has produced famous footballers, but because of the footballs it produces!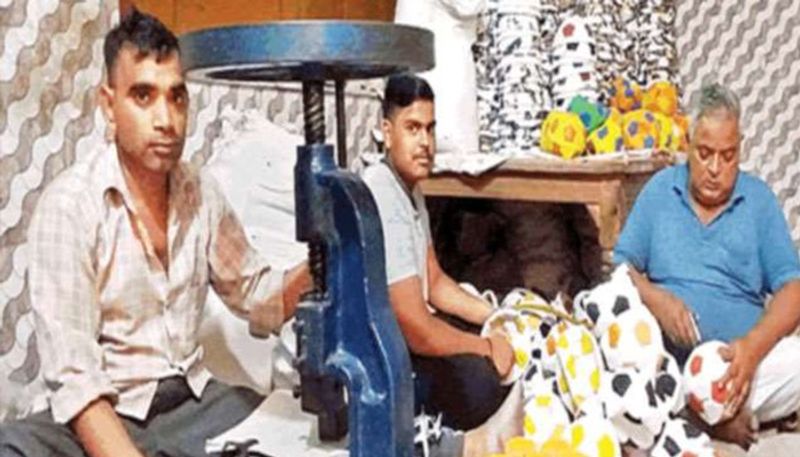 A few thousand families reside here. And all these families are adept in stitching footballs. 
For making one football, a sum of Rs 15 is earned. So a family, on an average, makes around Rs 500 per day. 
In this way, the families have been sustaining themselves. What's more praiseworthy about this village is that even during the lockdown, no family has had to face any consequences. The orders for footballs have been pouring in, giving them constant employment. 
Deepak, hailing from this village, says, "If you find a source of income after schooling, then nothing could be better. Wherever I earn by doing a job, I earn it by making a football while sitting at home. Now this is my job, I own it. Like me, other people are of the same view." 
Kapil Kumar, the biggest football producer in the village, says, "Today our village has become self-sufficient due to football-making. This is the reason that even in lockdown, when people were worried for livelihood in other places, everyone had work in this village. Everyone got together from that crisis. Even after unlocking, no one in the village is sitting empty for a single day." 
It is all thanks to another senior village Dhaniram, who came to this village four decades ago, learning the trick of football-making and selling it. 
Once he learnt it, he passed on the knowledge to others in the village. In this way, everyone learnt the tricks and contributes enough to financial stability. 
Interestingly, as families in toto engage themselves, they have enough time to teach the skills to neighbouring villages as well. 
While great footballers get a name for themselves, these stitchers are the real heroes, who stay behind the curtains. 
 
Read Exclusive COVID-19 Coronavirus News updates, at MyNation.
Last Updated Oct 21, 2020, 2:38 PM IST