At a time when the state of Tamil Nadu has been up in arms against the Centre after the latter proposed a three-language formula where non-Hindi speaking states were to learn Hindi, Oscar winning music director AR Rahman took to Twitter to post a rather cryptic message
Chennai: Music director AR Rahman, who often steers clear from anything controversial, has made a strong statement, with just a single word. The Oscar-winning music director tweeted, "AUTONOMOUS" and posted the link that defines it.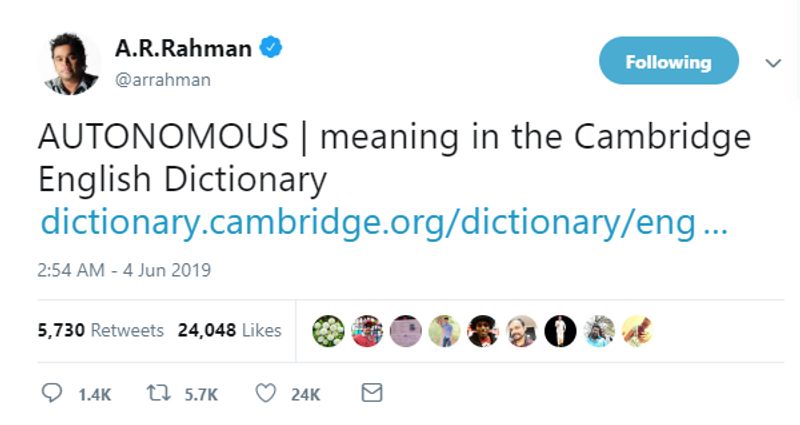 The tweet came just after protests broke out last week by the DMK, AIADMK and other parties along with the people of Tamil Nadu, against what they described as the imposition of Hindi as a mandatory third language in schools, which led to a change in the National Education Policy (NEP) 2019 draft.
AR Rahman had earlier tweeted on the issue calling the centre's revision on the NEP a "beautiful solution". The tweet was in Tamil and the translation of it reads, "Hindi is not mandatory in Tamil Nadu. Draft policy corrected. Beautiful solution."
The revised draft now states: "In keeping with the principle of flexibility, students who wish to change one or more of the three languages they are studying may do so in Grade 6 or Grade 7, so long as they are able to still demonstrate proficiency in three languages...". The reference to Hindi has been deleted.
Also read: Hindi imposition row: Palaniswami deletes tweet asking Tamil to be made optional language in other states
The Hindi language caught steam after the draft prepared by ISRO chief Krishnaswamy Kasturirangan was released.
The draft read, "In keeping with the principle of flexibility, students who wish to change one of the three languages they are studying may do so in Grade 6, so long as the study of three languages by students in Hindi-speaking states would continue to include Hindi and English and one of the modern Indian languages from other parts of India, while the study of languages by students in the non-Hindi speaking states would include the regional language, Hindi and English."
Also read: National Education Policy 2019 draft: Tamil Nadu opposes 3-language formula
The state of Tamil Nadu was up in arms against the recommendation and several politicos came together to express their dissent. This, all the while, with the state BJP and AIADMK reiterating that it was just a draft and that nothing had been finalised.
However, the AIADMK said that the state would only follow the two-language policy of learning Tamil and English and would boycott the new policy. The DMK, meanwhile, said it was opposed to the concept of a three- language formula.
Also read: DMK wants Tamil as official language in Central govt offices; AIADMK terms it 'egoistic statement'
Union Ministers S Jaishankar and Nirmala Sitharaman, whose families hail from Tamil Nadu, had attempted firefighting on behalf of Prime Minister Narendra Modi's government. Both ministers had tweeted, in Tamil, that draft education policy would be reviewed before implementation.
Tamil Nadu is a state that has a history of anti-Hindi protests between 1937 and 1940 and again in 1965.