From government measures to various ministries and employees of the government coming together, here is how the nation stands united to survive and emerge victorious in this battle against COVID-19
Bengaluru: Amid rising spread of coronavirus and a lockdown in the country, the Modi government announced a 1.7 lakh crore relief package under Pradhan Mantri Garib Kalyan Yojana for the poor to help them survive in the fight against coronavirus. 
Finance minister Nirmala Sitharaman also gave the battered economy a boost. With this package of Rs 1.7 lakh crore, the Modi government will help the weaker sections of the society in this era of crisis. 
Some of the important benefits that the government announced for the common man, poor, farmers, and health workers are as follows: 
Health workers have emerged as Gods during the corona epidemic. The government and the country realised this, and the entire nation stands in support of them. On March 22, as per the request of Prime Minister Modi the whole country thanked these frontline warriors at 5pm in the evening from balconies and rooftops.
Apart from thanking them, the government has announced an insurance cover of Rs 50 lakh to every health worker "fighting COVID-19" i.e. treating COVID-19 patients. Any health professional, who, during the course of the COVID-19 pandemic, suffers ailment would be insured up to Rs 50 lakh under the scheme. Sweepers, ward boys, nurses, ASHA workers, paramedics, technicians, doctors and specialists and other health workers are covered by this special insurance scheme.
All government health centres, wellness centres as well as hospitals in the states will be covered under this scheme. Insurance cover will be provided to about 22 lakh health workers during the fight against this epidemic.
The most affected section of the corona epidemic is the poor and daily wage workers of the country. Due to this lockdown, 80 crore poor people will get 5 kg wheat or rice and 1 kg pulses of choice every month for three months.
.@HMOIndia writes to States/UTs to ensure smooth disbursal of money to beneficiaries of #PradhanMantriGaribKalyanYojana (PM-GKY) while observing norms of #SocialDistancing#IndiaFightsCorona

▶️ https://t.co/OW8WMckpRw pic.twitter.com/CYiPWhn6t5

— PIB India #StayHome #StaySafe (@PIB_India) April 2, 2020
Each of these people will be given twice as much grain as the existing scheduled grain during the three months. This extra grain will also be available free of cost. 
#IndiaFightsCorona
Distributing free rice to all the BPL and AAY card holders of Lumla circle in Tawang district today under #PMGKY scheme by the DFSO, Lumla branch.
Shri Pasang Khandu, essential commodities distributer of Lumla explaining about distribution of 5 kg rice. pic.twitter.com/EheKSO5KW6

— PIB in Manipur (@PIBImphal) April 16, 2020
20 crore women Jan Dhan account holders will get Rs 500 every month for the three months from the Finance Ministry.
प्रधानमंत्री गरीब किसान पैकेज 19.86 करोड़ महिला जनधन खातों में भेज गये 9930 करोड़ रुपये।#SocialDistancing
@PIB_India@PMOIndia@myogiadityanath
@UPGovt
@PIBHindi pic.twitter.com/eDVZOktlxp

— PIB in Uttar Pradesh (@PibLucknow) April 15, 2020
Smt Satyavati of #Jagtial district #Telangana thanked the central government & PM @narendramodi for depositing Rs. 500/- in her account amid the #lockdown.@PIB_India#IndiaFightsCorona #PMGareebKalyanYojana#GareebKalyanForCOVID19 pic.twitter.com/fpaY9grhxy

— PIB in Telangana 🇮🇳 #StayHome #StaySafe (@PIBHyderabad) April 16, 2020

At the same time, under the PM Garib Kalyan Yojana, 8 million poor families will be given gas cylinders for free in the next three months. Apart from this, other government schemes that are in place will continue to run.
Mrs. Lalengmawii from Luangmual, Mizoram has got money credited to her bank account to refill LPG cylinder under PM Ujjwala Yojana. She appreciates welfare initiatives of #Centre under #PMGKY .
Via@FoBAizawl @PIB_India @PIB_Guwahati @PIBImphal @PetroleumMin @MIB_India pic.twitter.com/vd15AUGokv

— PIB in Mizoram (@PIBAizawl) April 16, 2020

According to an estimate of the government, companies which have less than 100 workers, especially those getting less than Rs 15,000 per month, are at risk of losing their jobs. Therefore, the government has also made arrangements to support them.
Under this package, the government has proposed to pay 24% of their monthly remuneration to their PF accounts during the next three months, thereby preventing their employment disruption or danger.
Under MGNREGA wages have been increased from Rs 182 to Rs 202 per day. 13.62 crore families will be benefited. There are about 3 crore elderly widows and people with disability category who are vulnerable due to economic disruption caused by COVID-19. The government will give them an additional Rs 1,000 during the next three months to deal with difficulties. Their money will be sent directly to their accounts.
Old age, Divyang, pensioners: 3 crore people covered, one-time amount of additional Rs 1000 in two installments through DBT (hence no middlemen) over 3 months to be given,announces FM Sitharaman pic.twitter.com/8PCSokKzrb

— ANI (@ANI) March 26, 2020

Under the Pradhan Mantri Garib Kalyan Yojana scheme, the government has set a total of eight categories which includes farmers, MGNREGA, poor widow pensioners, Divyang, Jan Dhan Yojana, Ujjwala Scheme, Self Help Group (Women), organized sector workers, construction workers etc. The Modi government is going to give people the benefit of DBT. The elderly, Divyang and widows will be given help; a sum of Rs 1000 in two instalments.
At the same time, it has decided to support farmers and food donors, who are considered to be the backbone of India's economy. The government decided to add Rs 2,000 to the farmers' accounts in the first week of April under the current 'PM Kisan Yojana'. 
This decision will benefit 8.7 crore farmers.
#राजस्थान के #बाड़मेर जिले के धनाऊ गांव के किसान रामाराम के खाते में #PMGaribKalyanYojana में दो हज़ार रुपये आने से उन्हें बड़ी राहत मिली है।@PMOIndia @PIBMumbai @PIB_India @arjunrammeghwal @PIBHindi @PIBBhopal @PIBRaipur @DDNewsRajasthan @PIBAhmedabad @girirajsinghbjp pic.twitter.com/1yE9TQbXVx

— PIB in Rajasthan (@PIBJaipur) April 16, 2020
प्रधानमंत्री गरीब कल्याण पैकेज - पीएम किसान की पहली किस्त के रुप में 7.47 करोड़ किसानों के खाते में भेजे गये 14,946 करोड़ रुपये ।#SocialDistancing @PIB_India@PMOIndia@myogiadityanath
@UPGovt
@PIBHindi pic.twitter.com/rp8j0tF1HK

— PIB in Uttar Pradesh (@PibLucknow) April 15, 2020
Sh Vijaya Bahadur Yadav resident of village Sadi district Azamgarh is happy on the financial assistance given by the Govt under PM KISAN in PMGKY.@PMOIndia @PIBHindi @myogiadityanath pic.twitter.com/j3vV7accJf

— PIB in Uttar Pradesh (@PibLucknow) April 16, 2020
The Central Government has ordered the state governments to use the 'Building and Construction Workers Welfare Fund' to provide relief to construction workers. 
MNREGA wages will be increased by Rs 20 from April 1, 2020, under the 'PM Garib Kalyan Yojana'. The increase in wages under the MGNREGA would provide an additional benefit of Rs 2, 000 annually to each worker. About 62 crore families will be benefited from this.
With a view to providing relief and support to the recession and rural economy, small and medium scale industries due to lockdown, the government through 63 lakh self-help groups (SHGs) will give necessary support to 85 crore families. And the collateral-free lending limit will be increased from Rs 10 lakh to Rs 20 lakh so that once again the operations and production can be increased. It will help strengthen the economy which is already reeling under economic recession and demand.

The government has decided to amend the Employees' Provident Fund regulations to include 'epidemics' for the reasons that can be used by workers living in the organised sector and those belonging to middle class families. A non-refundable advance of 75% or remuneration of three months, whichever is less, will be allowed. Families of four crore workers registered under EPF can avail this facility. 
Apart from these, the government is facing many issues such as scholarships and superannuation given by various ministries, harvesting of Rabi season crops, and the government is looking at them one by one. The Prime Minister formed 10 highly empowered groups to consider various aspects. One of these groups was given the task of suggesting economic measures. An informal ministerial group headed by Defence Minister Rajnath Singh is also considering various aspects of the lockdown.

How various ministries are fighting the corona crisis?
Railway
The Indian Railways, which did not stop even during the war period, is not only going to fight coronavirus spread along with government step by step, but will contribute the most resources, money, force and are taking very concrete measures against corona spread through innovative techniques.
The railway passenger service has been closed since March 23 and will remain closed till May 3.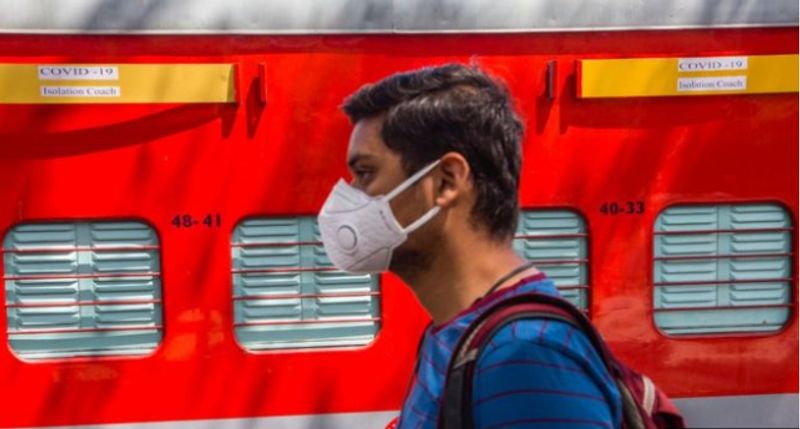 The railway has converted about 15 thousand bogies into Isolation wards across the country. Railway says that it can convert thousands of such coaches into isolation wards if needed. Work is underway to prepare 40,000 beds of coaches of 5,000 railway trains.
Indian Railways has contributed Rs 151 crore to the PM CARES Fund. Railway Minister Piyush Goyal and Minister of State for Railways Suresh Algeria have donated one month of their salary and a day's salary of 13 lakh staff to the PM CARES Fund. Apart from this, Railways will cut 30% of their employees' wages for the next few months to contribute to the improvement of the economy.
These Isolation coaches located in a total of 150 locations in the country will be used at the time of need.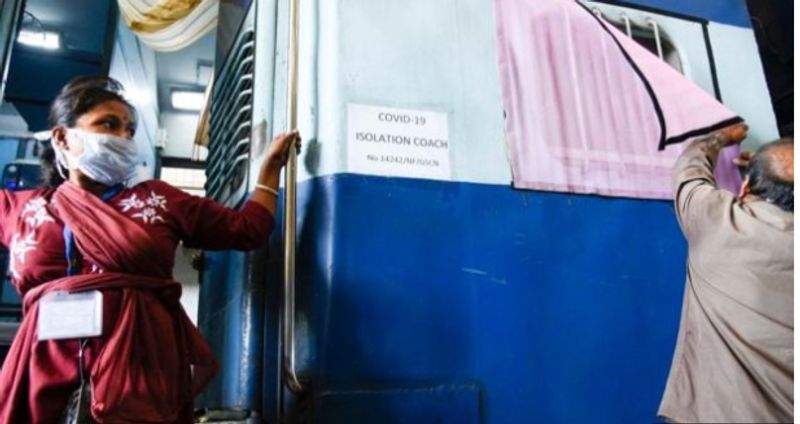 Indian Railways have produced a total of 287704 masks and 25806 litres of sanitizers by April 1, 2020 in its zonal railways, production units and PSUs. 
 
Ministry of Petroleum
Government under the ministry of petroleum has announced a contribution of Rs 1031.29 crore to the PM Cares Fund. While the employees working in the companies in this sector contributed Rs 61 crore.
In addition, the power sector PSU NTPC has dedicated all its hospitals to all the people suffering from the disease in the fight against COVID-19. NTPC has 45 small and large hospitals and health units. A separate isolation ward has also been made for COVID-19 patients at all these medical centres. NTPC has also ordered separate ventilators for its hospitals. Arrangements are being made to purchase separate ventilators for some district administrations as well. State-run NMDC has also announced assistance of Rs 150 crore.
At the same time, under the PM Garib Kalyan Yojana, 8 million poor families will be given gas cylinders for free in the next three months. Apart from this, other government schemes are running as-is.
 
Home Ministry
To combat the corona crisis, on the appeal of Prime Minister Narendra Modi, personnel of all paramilitary forces contributed one day's salary, i.e. a total of Rs 116 crore to the PM CARES fund.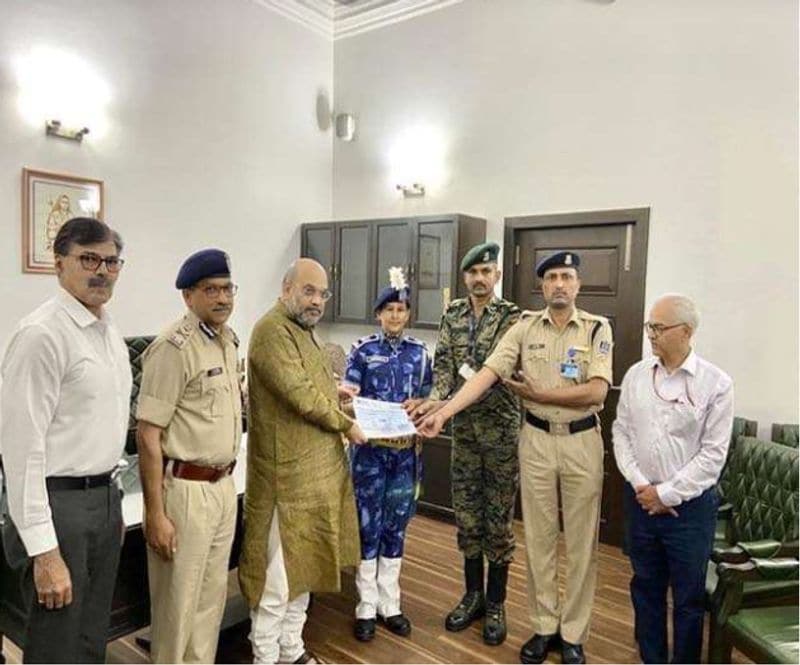 Ministry of Revenue
The Income Tax Department, which comes under the ministry itself, resolved to provide relief to small, micro and medium enterprises (MSMEs) in view of the situation arising due to COVID-19. CBDT issued an income tax refund of Rs 5204 crore to 8.2 lakh small businessmen.
Agriculture-
To deal with the corona crisis, NCDC and Bharatiya Potash Limited gave Rs 11 crore to the PM CARES Fund. At the same time, NAFED has contributed Rs 5 crore to the PM CARES Fund in the form of financial support in the fight against corona.
Ministry of Rural Development- 
The Ministry has released an amount of Rs 500 per woman to Pradhan Mantri Jan Dhan Yojana (PMJDY) account holders for April 2020 till April 2, 2020 under the PM Garib Kalyan Package.
Ministries of Defense- 
Military forces working closely with general departments in the fight against COVID-19. The military forces are operating six quarantine centres in Mumbai, Jaisalmer, Jodhpur, Hindon, Manesar and Chennai. It was the Army and ITBP that built the first quarantine centres in the country.
Hindustan Aeronautics Limited (HAL), a public sector defence unit, has set up a separate ward with three beds in the intensive care unit and 30 beds in the wards. In addition, a building with 30 rooms has also been prepared. In total, 93 persons can be accommodated in this facility centre of HAL.
HAL has manufactured 25 PPEs and distributed them to physicians in various hospitals authorised to treat COVID-19 patients in Bengaluru. HAL has also produced 160 aerosol boxes which have been distributed to various government hospitals in Bengaluru, Mysuru, Mumbai, Pune, Uttar Pradesh, Telangana, Andhra Pradesh and Tamil Nadu.
Ministry of New and Renewable Energy
The Ministry of New and Renewable Energy (MNRE) has started working extensively towards setting up new hubs (centres) for manufacturing renewable energy equipment in the country to meet domestic as well as global demand. Keeping this objective in mind, the ministry has written to the various state governments and port authorities for identification of 50-500-acre plots for setting up such parks. The Tuticorin Port Trust, the states of Madhya Pradesh and Odisha have already expressed their interest in setting up RE manufacturing parks.
Ministry of Civil Aviation
274 flights have been operating under Lifeline flights for essential medical supplies across the country. 274 flights have been operated by Air India, Alliance Air, IAF and private airline companies under Lifeline Udaan. 175 of these flights are operated by Air India and Alliance Air. The cargo carried so far has been around 463.15 tonnes. The airplane flight distance so far has been more than 2,73,275 km.
Ministry of Science and Technology
Working on three of the five categories prepared by the Council of Scientific and Industrial Research (CSIR), the Central Drug Research Institute (CDRI) in search of sequence of virus strains from COVID-19 patients in Uttar Pradesh, King George Medical University (KGMU) has entered into an agreement (MoU).
Initially, the Lucknow-based laboratory will create a sequence of virus strains derived from samples taken from COVID-19 patients.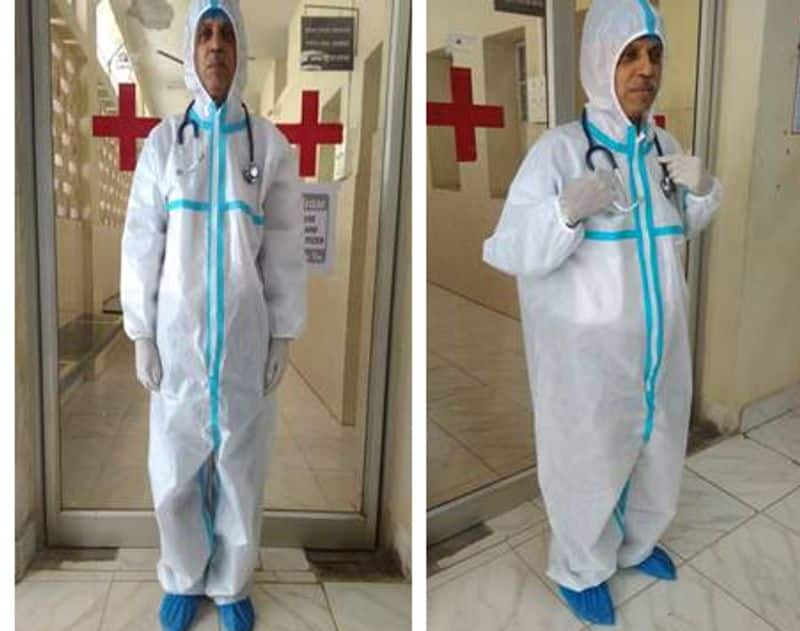 Read more: 
 
Ministry of Communications
Post offices are also supplying COVID-19 kits, food packets, ration and essential medicines, etc. across the country with help of local state administration and police officers.
Thus, post offices are also serving departmental duties as well as social purpose in times of crisis of COVID-19.
In view of the status of COVID-19 crisis, it has been decided that all postal employees, including Gramin Dak Sevaks (GDS), will be paid a compensation of Rs 10 lakh if they get sick during duty. These guidelines will come into effect soon and will remain in force for the entire duration till the end of the COVID-19 crisis.
Read Exclusive COVID-19 Coronavirus News updates, at MyNation.
Last Updated Apr 22, 2020, 4:52 PM IST