For the last 75 years, Nanda Prasty has been educating children and adults free of cost
Bengaluru: When you have the will to do good for the society and zeal to face all odds, age certainly doesn't matter! 
Meet Nanda Prasty. He is an exemplar of offering oneself to the society for its betterment. 
For the last 75 years, this old man has been teaching children under a tree. And he doesn't charge a penny for it!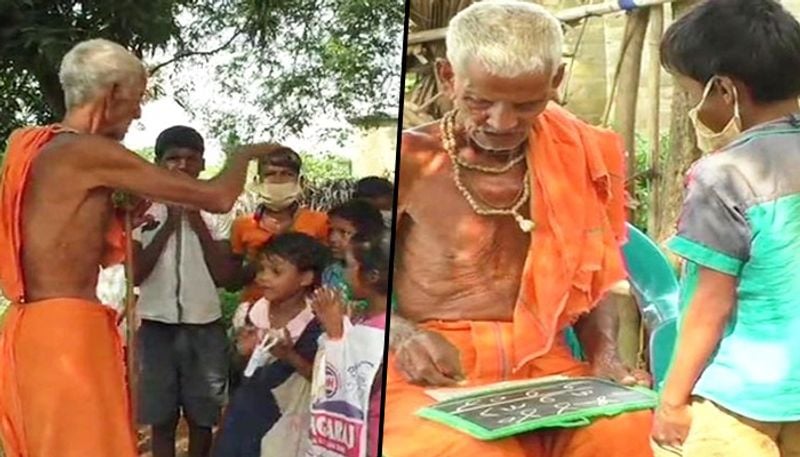 While he renders teaching services in the morning to these kids, when the sun sets in, he teaches elders. So the entire day is gone in educating the masses, literally!
 
Prasty hails from Bartanda village in Odisha. He loves teaching and it is needless to say it is his passion. 
As reported by The Logical Indian, he said, "I used to work on the farmlands and saw that there are too many people in our village who were illiterate. They were not even able to sign their names and were limited to thumb impressions. I called them just to teach them how to sign but many showed interest and started to read the Bhagawad Gita. I now teach the great grandchildren of the students of my first batch." 
Prasty has gained a huge fan following for his altruistic work. Though he has gained much fame for this work of his, he refuses to seek any grants or help from the government. He continues to teach as he loves it and is indifferent to praise. 
But the village sarpanch has come forward to help him. He said, "He has been teaching for the last 75 years. He refuses any support from the government as teaching is his passion. But we've decided to build a facility where he can teach children in comfort," as quoted by The Logical Indian. 
It is people like him who earn our praise and instil a sense of selflessness, as also a responsibility that we must work together to make the society a better place to live in. 
Read Exclusive COVID-19 Coronavirus News updates, at MyNation.
Last Updated Oct 13, 2020, 2:48 PM IST