Asansol mayor and TMC MLA Jitendra Tiwari filed a complaint against Minister of State for Environment, Forest and Climate Change, Babul Supriyo alleging that he used abusive language.
New Delhi: An FIR has been lodged against Union minister Babul Supriyo at Asansol South Police station. The complaint was filed by Asansol mayor and TMC MLA Jitendra Tiwari.
Tiwari lodged a complaint stating that he received a phone call at around 1:09 PM, by a person claiming to be Asansol constituency MP Babul Supriyo. Tiwari said that Supriyo used abusive language and threatened him with dire consequences.
Paschim Bardhaman Zilla Parishad Karmadaksha Md Arman was also present and witnessed the incident, stated the complaint copy.
"This is to bring to your kind notice that at 13.09 PM I received a call on my mobile number displayed as private number, and when I received the call the caller, claiming himself to be the Member of Parliament, Asansol Constituency and honourable minister of government of India, Sri Babul Suprio abused me in filthy languages and threatened me with dire consequences," the complaint copy stated.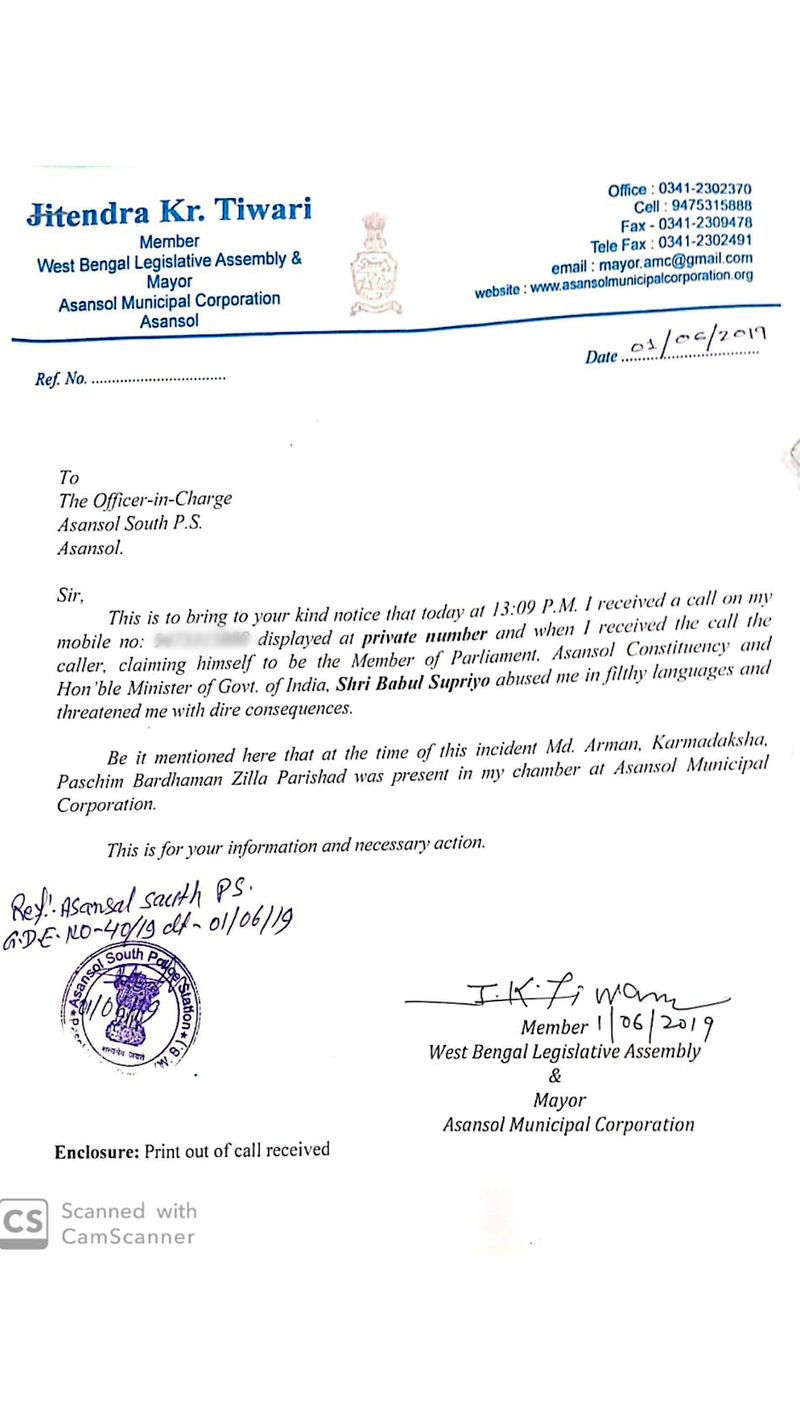 However, it is not clear as to why Supriyo was threatening Jitendra Tiwari (if it was indeed him).
Earlier, Supriyo was also charged with violation of model code of conduct when he played the party theme in the state, when code of conduct was in effect on April 7.
Supriyo is a playback singer, live performer, television host, actor-turned politician. Supriyo took oath as the Minister of State for Environment, Forest and Climate Change in Modi Cabinet 2.0.
He joined the BJP in 2014.
In the recent Lok Sabha election, Supriyo retained his MP seat in Asansol constituency by defeating Moon Moon Sen by a margin of 1.97 lakh votes. He secured 6.32 lakh votes.
With inputs from Anil Giri