After the tragic building collapse in Dharwad in March that took the lives of 19 people and injured many more, the accused Gangappa Shintri and Basavaraj Nigadi had appealed for bail. However, a district sessions court in Dharwad has rejected the bail plea

Dharwad: Two main accused in the Dharwad building collapse incident have been denied bail. Gangappa Shintri and Basavaraj Nigadi had appealed for bail but a district sessions court rejected the bail plea on Monday.
The advocate representing the accused claimed that the duo had health issues that needed to be monitored continuously by medical experts. The advocate further stated that the accused would follow any rules and restrictions set forth by the court, and that they would cooperate with the investigating team.
Also watch: Andhra Pradesh: 2 dead as wall collapses at Jaganmohan Reddy's rally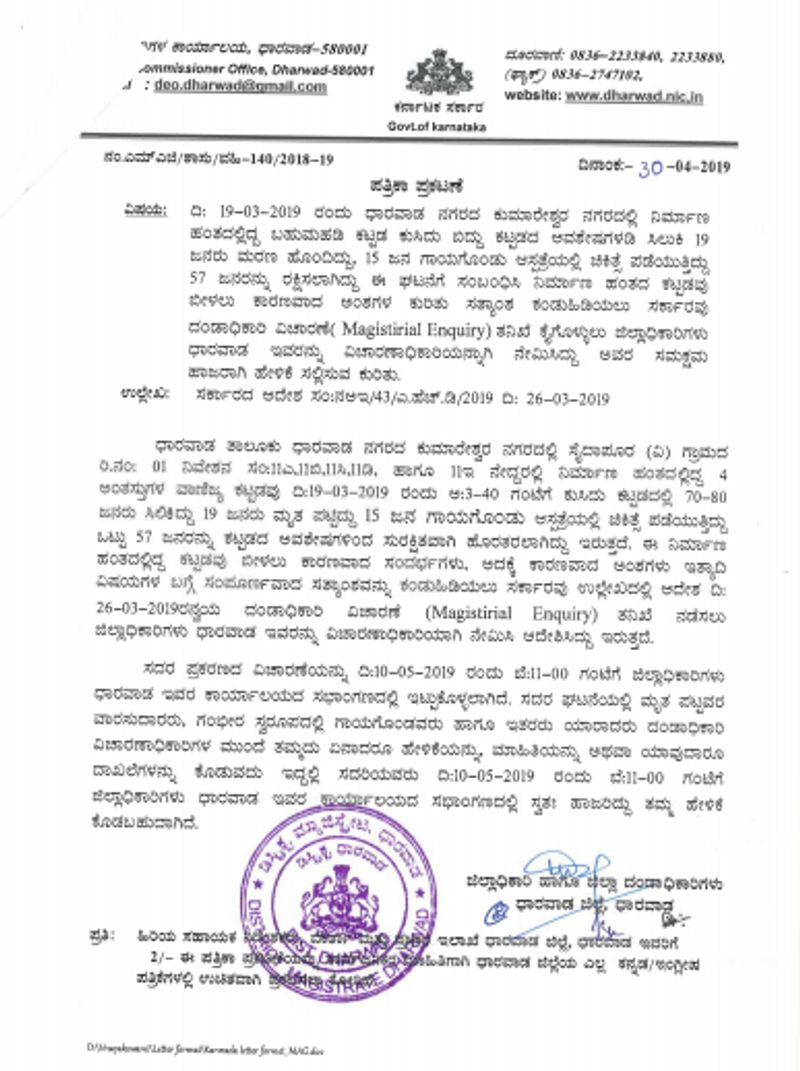 However, the advocate for the victims and complainant reportedly said that the accused, if granted bail, could use their influence to intimidate witnesses. Gangappa and Basavaraj had been arrested after an under-construction building in Dharwad collapsed.
The incident took place on March 19 and many as 19 people lost their lives and scores of others were left severely injured.
For many days, rescue operations were underway and the teams had to rummage through the rubble to find corpses. Survivors were taken to the Civil Hospital in Dharwad district.
A team of NDRF officials had also been flown in from Lucknow to aid rescue efforts. Apart from that, the rescue teams used 10 ambulances, five earthmovers and over 20 fire officials.
Also read: Dharwad building collapse: Rescue operations end, death toll at 19, 5 people arrested
Gangappa is the father-in-law of Congress leader Vinay Kulkarni and is one of the owners of the building. The owners had obtained a partial completion certificate from the Hubballi-Dharwad municipal corporation.
Following the incident, seven officials from Hubli-Dharwad municipal corporation had been suspended. This also includes town planning officer Mukund Joshi, town planning cell assistant director Ashok Gadag, zonal officer Prabhakar Doddmani, executive engineer V Sridhar, assistant executive engineer Chandrappa, town planning cell deputy director BV Hiremath and assistant commissioner (zone-3) Santosh Anishettar.
Five people have been named in the FIR registered in the case and have been arrested. A case had been filed under section 304 (punishment for culpable homicide not amounting to murder) of the IPC against the owners of the building.
Last Updated Apr 30, 2019, 3:24 PM IST