A chef, who used to get paid handsomely on an international cruise lost his job due to the pandemic. But here is how inspiringly he used this crisis to start life afresh

Bengaluru: A chef whose life was going on smoothly had to face the worst of fate, all thanks to the lockdown as a consequence of coronavirus. 
Akshay Parkar of Mumbai started his career at Hotel Taj. He worked there for four years. Then, he got an offer from an international cruise. There, he used to get a handsome salary. But the onset of the pandemic hit him hard. 
But even as he lost his job, he did not lose his confidence. As he kept wondering how to improve his life, his friends suggested to him to start his own biryani shop as he had made a name for himself cooking it. 
So as his friends suggested, he began preparing himself to start his own business. But where would he? That was the problem he had to face.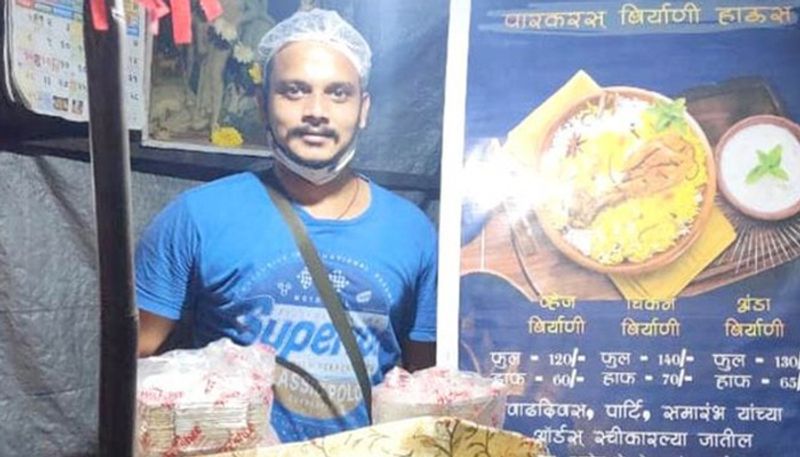 Fortunately, another friend of his, who had a vada-pav store on the roadside offered him some space. 
Using this genuine offer, Akshay began to sell more plates of biryani. Slowly but surely, the number of customers increased. 
Akshay had to spend Rs 10,000 to Rs 15,000 start his own business, but he has earned good enough to sustain himself. 
Now, he also takes order when he is at home. He cooks delicious mutton biryani, chicken biryani and veg as well. 
Fortunately, his customers also gave him a lot of promotion. Some of them even posted about him on their social media accounts. 
In this way, he has been able to sustain himself while selling biryani. 
With this success, Akshay doesn't want to go back to the cruise. 
He now wants to expand his business and ensure his customer base expands. 
Sometimes, crisis one faces in life is nothing but an opportunity offered by god to change direction for the better. 
Akshay's life exemplifies this!