BJP MP Rajeev Chandrasekhar has pointed out that the Congress-JD(S) coalition in Karnataka has only themselves to blame for whatever has happened with their coalition government. He has expressed that the Karnataka government has only been caught in a web of lies and corruption.
New Delhi: Rajya Sabha MP, Rajeev Chandrasekhar, has tweeted out to the Congress-JD(S) in Karnataka asking them not to blame anyone else for their issues but themselves. The tweet came in response to allegations that the BJP had been involved in the MLAs submitting their resignations and flying off to Mumbai.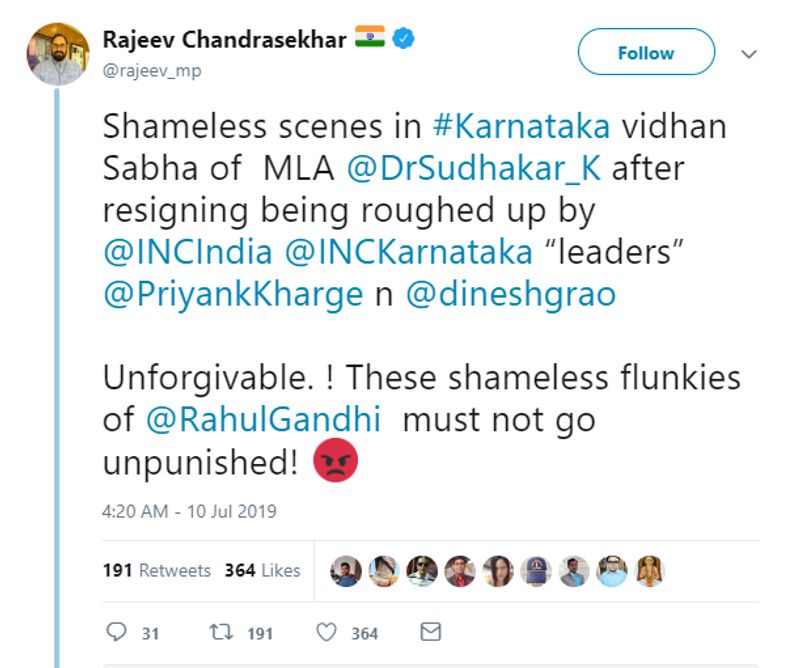 10% government:
PM Narendra Modi, while addressing a mammoth rally in Bengaluru ahead of Lok Sabha elections, had listed out schemes including housing, 'Swachh Bharat Abhiyan' and smart cities, where he stated that the Siddaramaiah government had not spent the funds allocated. He further went on to say that this was because "some people said it is a 10% commission government". 
Tax offenders:
The Income Tax department had accused DK Shivakumar of transporting huge amounts of unaccounted cash on a regular basis through hawala channels and that he had set up an extensive network of persons and premises across Delhi and Bengaluru to transport and utilise unaccounted cash.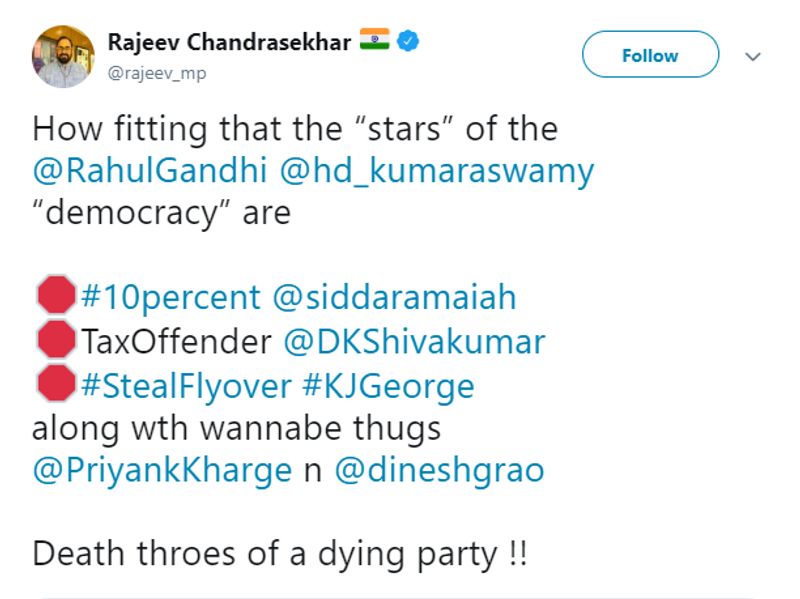 Steel flyover:
Former chief minister Siddaramaiah and the then minister of Bengaluru development and town planning, KJ George had pushed for a steel flyover that was supposed to connect Hebbal flyover to Basveshwara circle at a cost of Rs 1800 crores. The move led to massive protests and citizens forming a human chain. Although they dropped the idea after several protests, KJ George had defended the steel flyover, saying it was the only solution for Bengaluru's traffic problems.
IMA scam:
IMA scam brought to light that Roshan Baig, a Shivajinagar MLA in Bengaluru, was allegedly involved in the ponzi scam. The ponzi scheme operator and owner of IMA jewels Mohammed Mansoor Khan, who has fled to an unknown destination, had in an audio message accused Baig of taking Rs 400 crore from him without refunding it. The Special Investigation Team (SIT) probing the alleged IMA group ponzi scam served a notice to the suspended Congress leader Roshan Baig, asking him to appear before it on Thursday.
The Lingayat row:
Ahead of  the 2018 Assembly elections in Karnataka, the Siddaramaiah-led Congress government had sent a recommendation to the Union home ministry for a separate religion tag to the Lingayat community in the state. This move received a lot of flak from many and eventually, the Congress went on to suffer a mortifying defeat in the elections. BJP however had expressed that this was not even required as it was part of Hindu anyway.