The 14 Karnataka Congress MLAs who were disqualified by the Speaker Ramesh Kumar have formally been expelled by The All India Congress Committee (AICC)
Bengaluru: The All India Congress Committee (AICC) has given its consent for the expulsion of the 14 MLAs who were disqualified by Ramesh Kumar, the Speaker of Karnataka Assembly. It released a note in this regard, signed by KC Venugopal, the state in-charge of the Congress.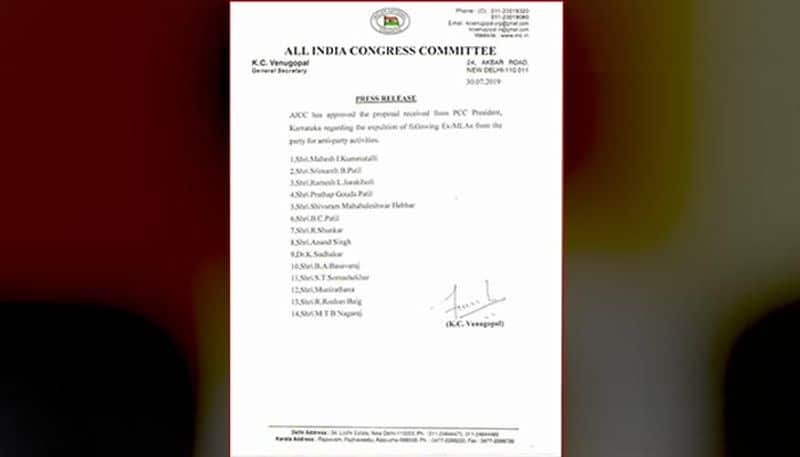 In the last few weeks, the resignation of these 14 MLAs and three JD(S) MLAs had created a lot of instability in the state government. While the number of the ruling coalition plummeted to 100, it opened up doors for the opposition BJP to smell a realistic chance of forming government.
 
Though the coalition government kept on procrastinating the trust vote in spite of calling for it by the then chief minister HD Kumaraswamy himself, the members resorted to filibustering, an intentional speech with a view to keep pushing the trust vote forward.
 
However, on July 22, the coalition had to accede and the motion was put to vote. It garnered only 99 votes as compared to the BJP's 105.
 
Later that week, BS Yediyurappa, after elaborate discussions with the top brass, approached the Governor Vajubhai Vala and staked claim. He was sworn in and given a time of one week to prove his majority, which he did.
 
Meanwhile, these aggrieved MLAs have approached the Supreme Court, challenging the order of the Speaker to disqualify them till the end of the current session (May 2023).
 
The order of the Speaker to disqualify them in the first place and the added decision to keep them suspended till May 2023 has opened room for a lot of debates and discussions.
 
While the Speaker said he is well within his rights to disqualify them, several lawyers have said that the decision is blatant misuse of powers. There were also talks that the Speaker was playing to a script.
Last Updated Jul 31, 2019, 10:38 AM IST