Protests against China and its regime have taken place in different cities of Canada.

Bengaluru: Protests against China and its regime have taken place in different cities of Canada. 
As reported by a popular website, Hong-Kong, Bangladesh, Indian, Tibetan, Vietnamese and Taiwanese migrants organised the protest. 
The website adds that they held flags of India, USA, Tibet etc and also raised slogans for PM Narendra Modi. The protestors held placards and banners criticising the Chinese Communist Party and the Chinese regime for its expansionist and oppressive activities.
The protest also saw participants raise slogans in favour of Uighur Muslims who have been treated unacceptably by the China regime. 
Posters that read "Help stop Uyghur Forced Labour" and "Fight for democracy" were common.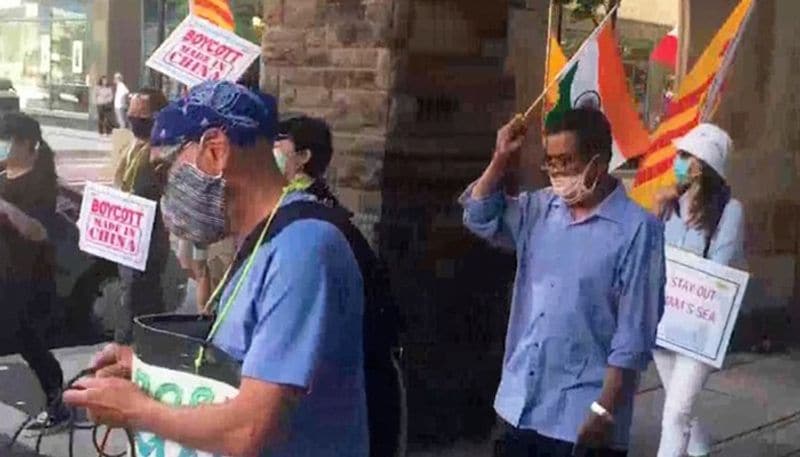 India gets support: 
The website quoted a protester as saying, "India the greatest democracy on the face of the Earth. India the shining light to the world. I want to thank Prime Minister Modi for setting an example to the world on how to confront evil China."
Another protester said, "We stand with people of Taiwan, Hong Kong, Vietnam and India. We stand with countries around the world which have been under Chinese oppression."
Protest in Montreal:
A protest against China for the pandemic was also held in Montreal. 
Slogans like "China lied, people died," "Covid-19 made-in-China," "Ban Huawei Now" and "Free Hong Kong" slogans were raised at the protest site. The protestors also urged people not to buy Chinese products.
In the wake of Galwan clashes, India decided to punish China. 
The decision by the Narendra Modi government to ban as many as 59 Chinese apps in the wake of Galwan clashes has sent a strong message to China that India will not kowtow to its demands and will offer stiff resistance to its aggressive attempts.
Weeks after this phenomenal move by the Indian government, as many as 25 US Congressmen had written a letter to the President Donald Trump to follow in the footsteps of India.