Taking a leaf out of a veteran US general James 'Mad-dog' Mattis' book, former Indian cricketer Gautam Gambhir has exhorted those disrespecting the national flag to serve the army.
Bengaluru: On the pitch, his cuts, his pulls and his drives have always impressed his fans. And off it too, he has continued to mesmerise his fans. 
We are talking of former cricketer Gautam Gambhir, known for his daring approach and a man who doesn't mince his words when it comes to country and its affairs. 
The latest episode from the former southpaw is his espousal of army jobs for those who insult the national flag. 
Till now, many had advocated that those who disrespect the national flag should be behind bars, but Gautam thinks they should be made to serve the army. 
But where did he get his idea from? 
Republic TV quoted that the East Delhi MP borrowed a significant solution from a veteran US general who had a befitting reply to those who burnt or disrespected the American flag. A retired United States Marine Corps general, James 'Mad-dog' Mattis served in the Persian Gulf War, the War in Afghanistan, and the Iraq War, had at once instance suggested that anyone who disrespects the American flag should be asked to join the Army and not be jailed. Mattis reasoned that after their stint with the Army, they will be cured of the desire to burn the flag ever again.
The MP also put out a post on his twitter handle.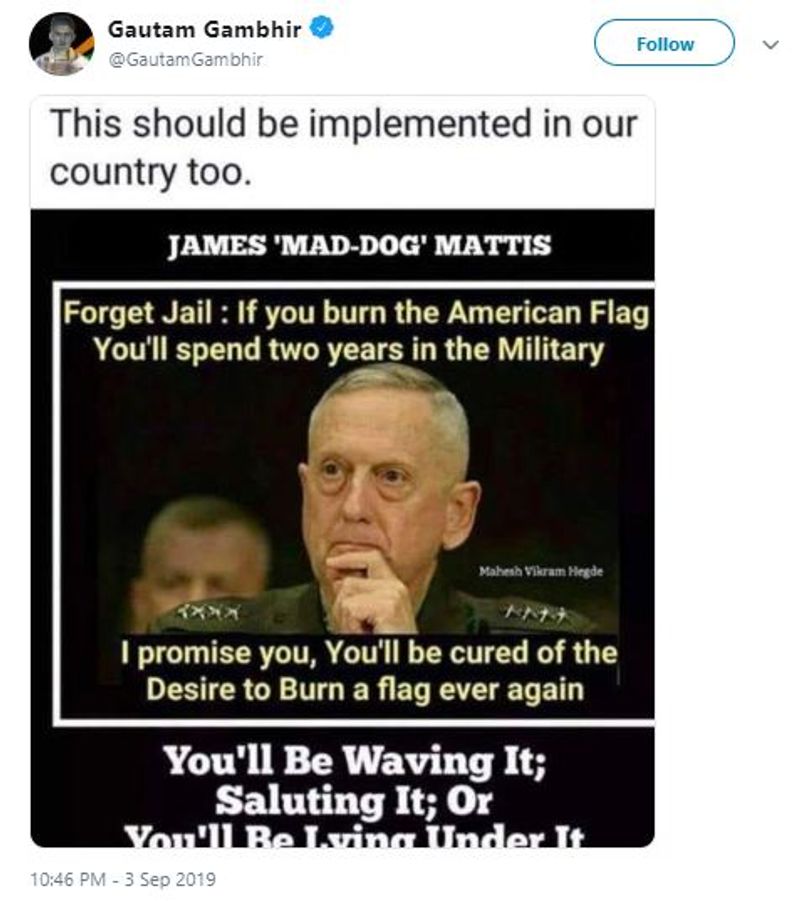 On an earlier occasion, he had given his own meanings to the colours of the national flag. 
In 2017, he had said saffron in the Tricolour indicated the anger of the country, while white indicated that it was a trap for jihad and its followers. The colour green Gambhir said indicated the country's attitude towards terror. 
 

On the field, Gambhir was famous for his spats, especially with Pakistani cricketer Shahid Afridi and Australian Shane Watson.