Rahul Gandhi along with opposition leaders had visited Srinagar on August 25 despite the fact that Kashmir has not returned to normalcy after abrogation of Article 370. Mayawati said that this visit has given the Governor and Centre a chance to do politics over the issue

Patna: Bahujan Samaj Party (BSP) chief Mayawati criticised Congress MP Rahul Gandhi and other leaders for visiting Srinagar and said that their visit only gave the Centre and Jammu and Kashmir Governor Satya Pal Malik a chance to do politics.
Rahul and opposition leaders were in Srinagar on August 25 to take stock of the situation after the withdrawal of the special status of Jammu and Kashmir by abrogating Article 370 on August 5.
In a three-part tweet, Mayawati said, "As everyone knows, Baba Saheb Ambedkar had always proposed policies of equality and integrity and thus were not in favour of providing special status to Jammu and Kashmir through Article 370. This is why in the Parliament BSP had justified abrogation of Article 370.
In another tweet, she wrote, "However, it took 69 years to end Article 370 after the Constitution came into effect. So, it will naturally take some time for the situation to come back to normal. It is better if people wait till the situations become normal, even the court has upheld this opinion.
The third part of the tweet said, "In these conditions, visit of leaders of Congress and other political parties to Kashmir without permission only gives the Centre and Jammu and Kashmir Governor a chance to do politics. The leaders should have at least given it a thought before visiting Kashmir."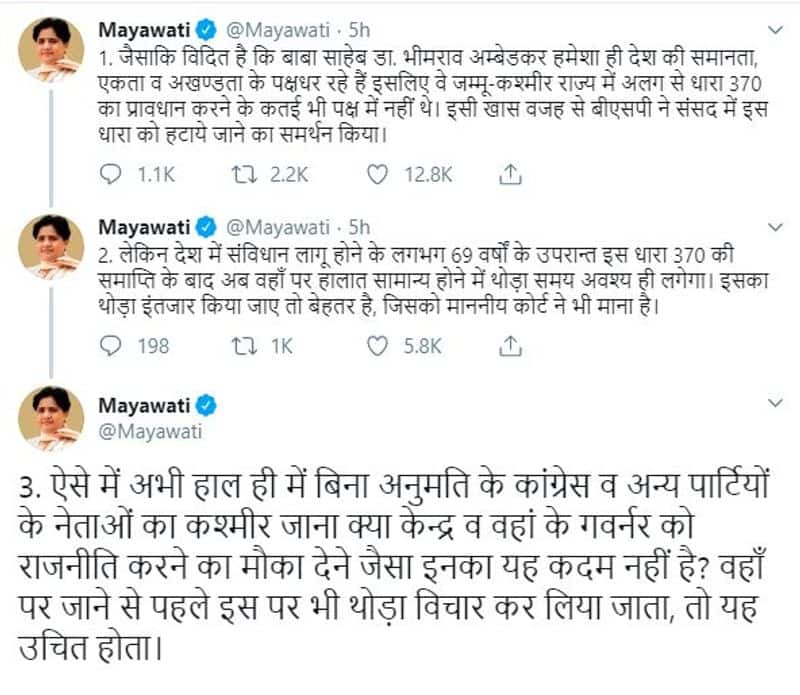 Mayawati justified her stance of supporting the cancellation of special status to Jammu and Kashmir but said that the Congress and opposition party leaders should have waited till the situation turned normal to visit any part of Kashmir.
However, after the visit, Rahul had tweeted that he was invited by Governor Malik to visit Srinagar.
"It's been 20 days since the people of Jammu & Kashmir had their freedom & civil liberties curtailed. Leaders of the Opposition & the Press got a taste of the draconian administration & brute force unleashed on the people of J&K when we tried to visit Srinagar," Rahul had tweeted.
Read Exclusive COVID-19 Coronavirus News updates, at MyNation.
Last Updated Aug 26, 2019, 2:30 PM IST