In letter to Rahul Gandhi, Binod Sharma said he was ashamed of being called a Congressman due to lack of nationalism in the party and that it was shameless and childish to ask for proof of air strikes on Pakistan and list of dead terrorists.
New Delhi: In a big jolt to the Congress's plans for 2019 polls in Bihar, spokesperson Binod Sharma, who is a former general secretary of Bihar Pradesh Congress Committee (BPCC) resigned from the party, citing the "shameless and childish act of asking for the proof of air strikes at Pakistan and the list of the dead terrorists".
"The people have started looking at the Congress as the agent of Pakistan," he said in his resignation sent to party president Rahul Gandhi on Saturday.
Sharma also cited that he had written several letters and mails to Gandhi but to no avail. "I have earlier also written many a letter and e-mails to you to convey the sentiments rife among the people and the party workers, but unfortunately you have ignored all that," a frustrated Sharma told Gandhi.
The nation is restive and sad over the Pulwama terror attack and the Indian Air Force has struck at terrorist training camps in Pakistan, including at Balakot and created history, he said, adding that "several hundred" terrorist were killed.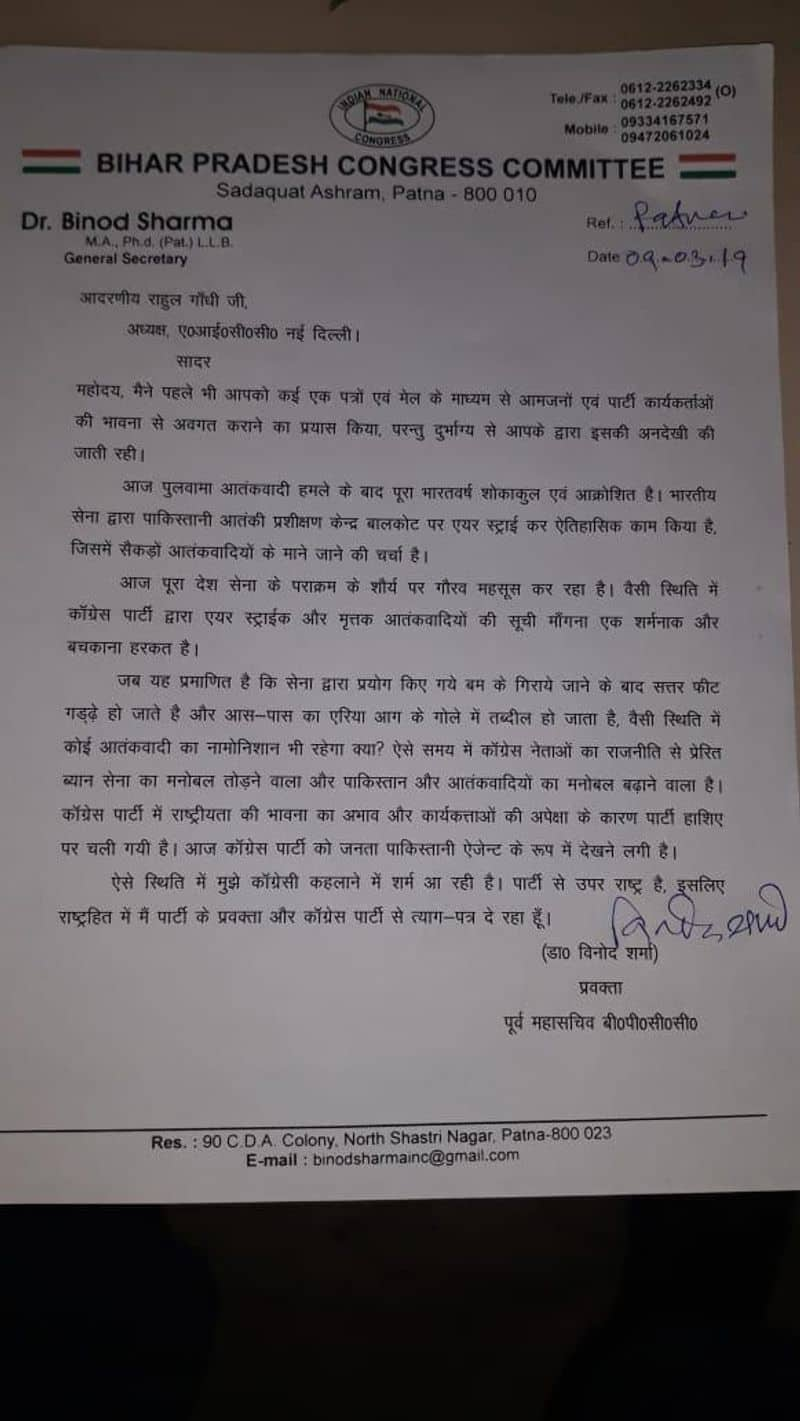 Questioning the party over asking for proof of the strikes and the number of terrorists slain, Sharma said it was "shameful and immature".
"At such a juncture, the politically motivated stand of the Congress will break the morale of the Indian forces and embolden that of Pakistan and terrorists," he said.
In a hard hitting ending to the letter, Sharma said: "Due to the deficiency of the feeling of nationalism in the Congress and the neglect of the workers, the party has been pushed to the brink of national politics. Today, people see the congress as an agent of Pakistan. In such a scenario, I am ashamed to be called a Congressman. The nation is above the party, and in the interest of the nation, I resign from the party and as its spokesperson."