The Union government has given a written reply on the issue of awarding Bharat Ratna to freedom fighter Veer Savarkar stating that no formal recommendation is required for awarding the honour.
Bengaluru: In what can be considered a step closer to awarding freedom fighter Veer Savarkar the Bharat Ratna, the central government, headed by PM Narendra Modi, has given a reply in writing (in Lok Sabha) that there is no need for a formal recommendation on such issues. 
Also Watch: A Ratna that Bharat was blessed with
The response was in relation to four questions asked by house member Gopal Chinnaya Shetty about proposal of Bharat Ratna to Savarkar.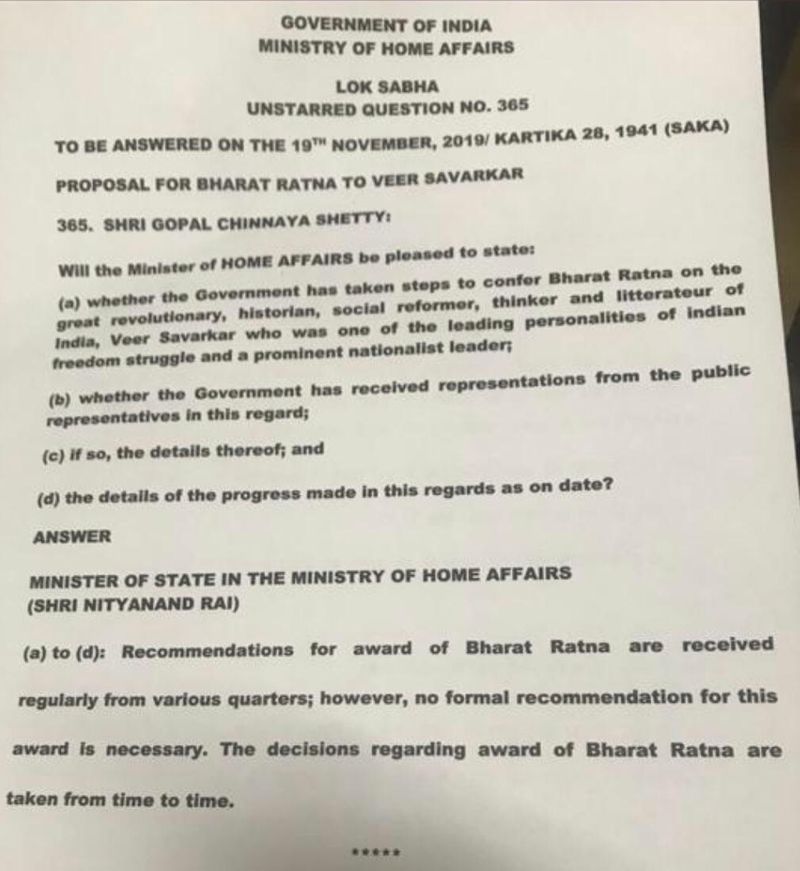 Just days before Maharashtra went to polls, the BJP-Sena combine had promised that they would prevail upon the Centre to award Bharat Ratna to Veer Savarkar. While the issue gained more traction, opposition parties cried foul, saying Savarkar had ignited the two-nation theory and wanted a Hindu India. 
Incidentally, Veer Savarkar's grandson Ranjeet Savarkar, has reiterated that the Uddhav Thackeray-led Shiva Sena would ensure Savarkar would be bestowed with the Ratna. He also added that irrespective of the party Sena would join hands with, Uddhav would not compromise on Bharat Ratna to Savarkar. 
Speaking to news agency ANI, Ranjeet Savarkar said, "I'm confident that Uddhav Thackeray will never change his stand on Hindutva and Veer Savarkar. I think he will still try to defend him tooth and nail if Congress tries to attack him."
It is pertinent to note that the Congress party had a very rude and aggressive stance in the issue. 
However, getting the pulse of the Hindu voters, the party did a volte face, with top leaders like former PM Manmohan Singh and Abhishek Singhvi batting for Savarkar. 
Perhaps, the change in Congress's stance stems from the fact that Indira Gandhi herself had praised Veer Savarkar for his contributions to the Indian Freedom Struggle. A letter, in which, she purportedly praises the leader and called him a "remarkable leader" is doing the rounds on social media. This letter is dated May 20, 1980.
There are several allegations against Savarkar, including the fact that he apologised to the British for his release and played a role in Gandhiji's assassination.
To counter these allegations, it has been pointed out that Savarkar did seek amnesty, but never apologised for his actions.
After release, he is said to have fought caste divisions, untouchability in Hinduism. It is said Ambedkar and Subhash Chandra Bose were in praise of Savarkar for his efforts to eradicate social evils.