Two articles on Congress's mouthpiece National Herald question the verdict of the supreme court on the Ayodhya issue and wonder how gods can reside in a temple built by force, violence and bloodshed.
Bengaluru: For years together, India prayed for a good verdict on the controversial Ayodhya issue. And as an answer to it, the wise men of the supreme court delivered a splendid verdict, awarding 2.77 acres of land to Hindus and 5 acres to Muslims. 
The BJP found the verdict welcome, Hindus and Muslims also welcomed with both hands (of course, barring a few who dissented). And not to mention the Congress party. 
Hours after the verdict, the Congress said it welcomes the verdict and favours the construction of Ram temple. 
Also Read: Congress threatened SC judges over Ayodhya?
Now, a day later, two articles were published on its mouthpiece National Herald. One article said the supreme court verdict on Ayodhya reminded it of the supreme court of Pakistan.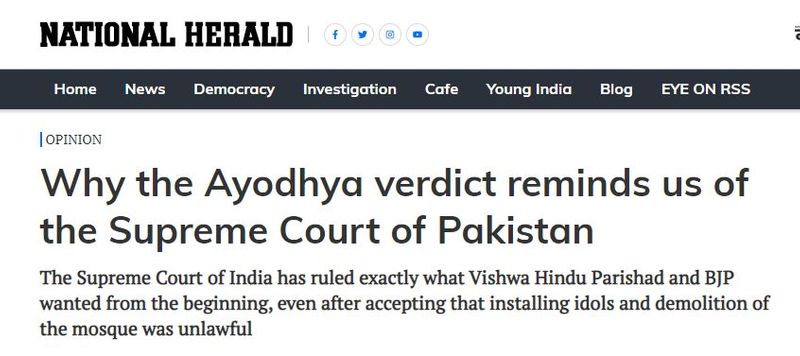 The other article was on how Bal Thackeray wanted a school or a hospital at the dispute site. It is also painful to know that this article had a paragraph in it, delineating on how can God reside in a temple built by force, violence and bloodshed.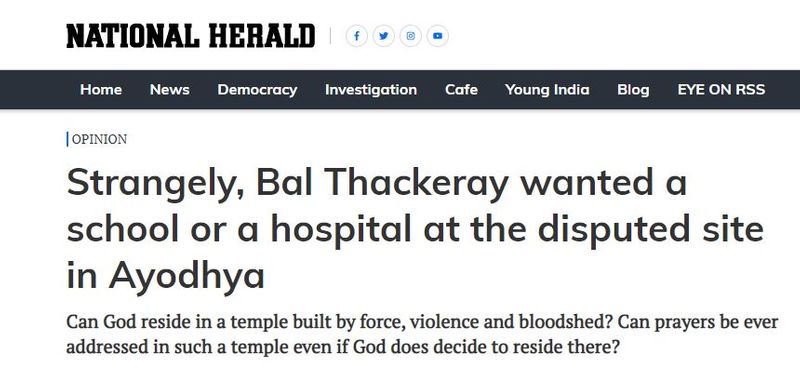 Now to the dilemma. When the Congress party issues a statement saying it welcomes the construction of a building on the disputed site, how can Congress blabber such insinuations on its mouthpiece? 
CT Ravi, a Karnataka BJP MLA too expressed his displeasure. 
Another brutal attack on Supreme Court by the Italian Sonia Gandhi's mouthpiece.

CONgress under the Fake Gandhis is a thorn in the flesh for India's progress and Hindus. It should be removed from the roots at the earliest. https://t.co/UZIgcqpwc5

— C T Ravi 🇮🇳 ಸಿ ಟಿ ರವಿ (@CTRavi_BJP) November 10, 2019
Another BJP spokesperson Vivek Reddy said, "This Congress is up to its old wicked tricks. It not only has a double tongue, but it has several mouthpieces. For Sonia Gandhi to welcome the judgement and to use Aakar Patel and Sujatha to spew venom on Hindu gods is sheer hypocrisy. The supreme court judgement is a restoration of justice. It is no wonder that truth and justice have prevailed."  
Well, at a time when the nation is thankful that no violence has taken place and both the communities are at peace, this is the last thing that the Congress should have done. 
At the time of publishing this article, reports came in that the Congress has apologised for the article.