The Lok Sabha election in Bengal has been dotted with violence, but the fifth phase witnessed unprecedented attacks on journalists
New Delhi: After days of intimidation, violence and life-threatening attacks on journalists, The Editors Guild of India has finally woken up, after facing much criticism for its silence. In a statement, the Guild said, "Journalists belonging to organisations including NeswX, ABP Ananda and Zee News were attacked, allegedly by workers of the Trinamool Congress (TMC)."
" Physical attacks on journalists are always reprehensible, but particularly so during elections, as they undermine fair media scrutiny of an election." The Guild urged the election commission to take necessary action while expressing concern over the law and order situation in the state.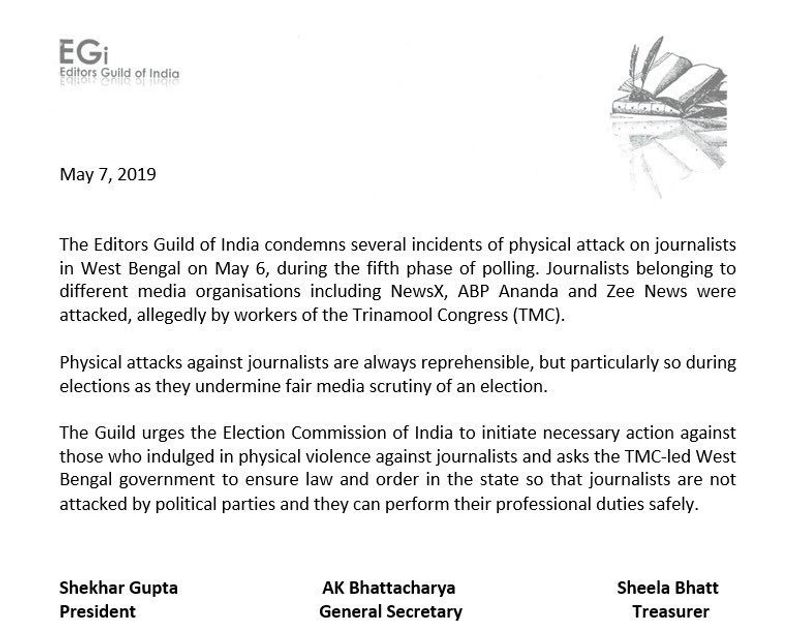 The Lok Sabha election in Bengal has been dotted with violence, but the fifth phase witnessed unprecedented attacks on journalists. The TV crew of NewsX was attacked in Barrackpore, which had witnessed violence from early in the morning, on Monday. In a story published by the news organisation it claimed, "Trinamool Congress goons attack NewsX crew in West Bengal, journalist sustains a head injury. Tapas Sen said that they were trying to discover the truth and it infuriated the people. Tapas has sustained head injuries, and cameraperson has also received injuries on his hand. Their car was also vandalised." The journalist has received five stitches, say sources.
@NewsX journalist #TapasSengupta attacked by #Trinamool Congress toughs in #Barrackpore #NewsXCrewAttacked #WestBengalhttps://t.co/bIAMv0MK4m

— NewsX (@NewsX) May 6, 2019
On Sunday, the crew of Sangbad Pratidin, a hugely popular newspaper in Bengal was allegedly attacked. The newspaper claims that both their reporter and cameraman were not only subject to thrashing, but their camera was also broken in Dhanekhani area which falls under the Hoogly parliamentary constituency. 
The reporter Nabyendu Hazra narrated the tale in a first-person account to the newspaper, and it made to the front page of the paper in Monday's edition. Hazra claims they had to hitch a ride on a tempo to save themselves. According to him, the incident took place when they tried to capture the TMC-BJP clash in the Maidupur area. The reporter also alleged that the attack was primarily perpetrated by TMC cadres who were approximately 150 in number. Not only was their camera broken but their car windshield shattered and their spectacles crushed. 
Also read: Attack after attack: Bengal the most dangerous place for journalists
"In spite of repeated pleas to let us leave, they didn't allow us to. The car was attacked from both sides. Then we were beaten black and blue", writes Nabyendu.
Bengal has been part of the hall of shame this entire election season, with spiralling violence and never-ending intimidation. Many were left stunned with the silence maintained by the Editors Guild which drew huge criticism online.
Editors Guild has broken the deafening silence on sponsored violence in the West Bengal polls. It was unavoidable because the violent attacks on journalists themselves made it impossible to eulogise the street fighter virtues any further

— mamta mansingka (@akgnisnam) May 7, 2019
When a @BJP4India karyakartha gets brutally beaten up or is killed and hung from tree, there is no shame or shock. Guess, this is reserved only for exalted 'journalists'. BTW, Editors Guild chief @ShekharGupta has hailed @MamataOfficial for letting loose cannibals in West Bengal.

— Chowkidar Suresh Kochattil (@kochattil) May 6, 2019
She is treasurer of Editors' Guild of India and her colleague Tapas of @NewsX has been attacked by @AITCofficial goons in West Bengal. Let's see if @IndEditorsGuild and @ShekharGupta will issue a statement against @MamataOfficial
or will save the democracy by remaining silent. https://t.co/BQLiZK5R9d

— Vijay K. Tyagi (@vijaytyagi31) May 6, 2019
TMC goons attack a journalist days after Editors Guild chief Shekhar Gupta 'praised' Mamata for 'fighting fire with fire' https://t.co/doSxH6MJXj

— OpIndia.com (@OpIndia_com) May 6, 2019
Last Updated May 7, 2019, 4:21 PM IST