Supporter Yishtalinga heartily invited Prime Minister Modi to contest from Bagalkot, whereas Congress, in what can be described as a sarcastic expression, invited the Prime Minister to contest from Karnataka

Bagalkot: An ardent supporter of Prime Minister Narendra Modi, Yishtalinga Naregall had tweeted, requesting the Prime Minister to contest from Bagalkot, to boost the morale of fans in South India.
"Dear PM, I request you to contest from southern India also, from Karnataka, Bagalkot MP Lok Sabha constituency along with North India. It will boost south part of India and help Modi fans, lovers," Yishtalinga tweeted.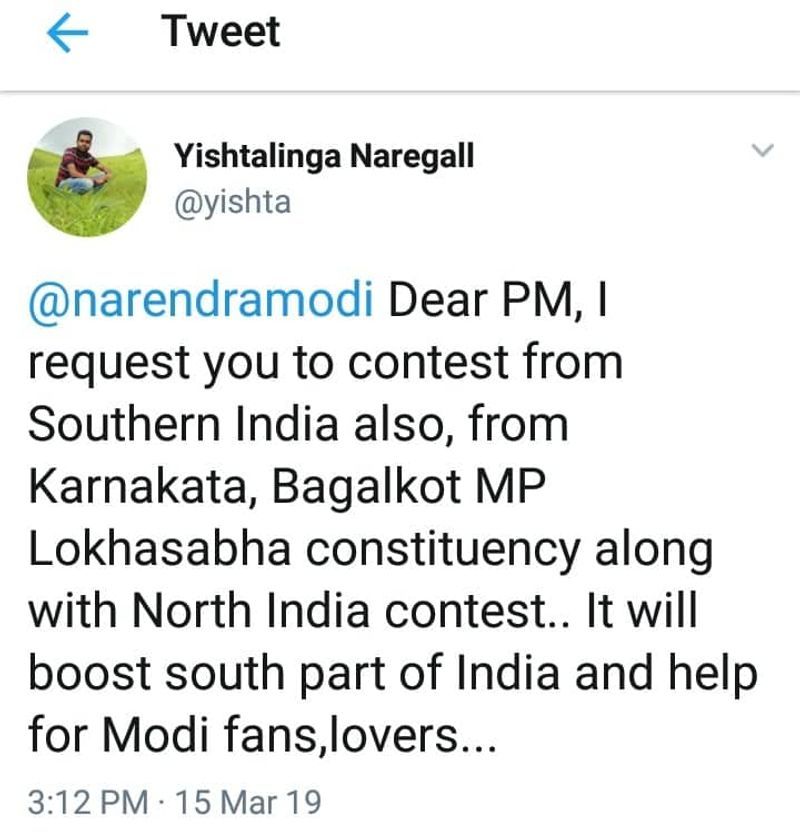 A television news reports on Friday echoed the questions on the minds of the public; "Will the PM will contest from Bagalkot?"
The Congress resorted to sarcastic commentary on the request. Health minister Shivananda Patil, invited (challenged) PM Modi to contest from Bagalkot.
The Congress leader stated, "The Congress party invites PM Modi to contest from Bagalkot. Through this let him understand the strength of Congress party workers and disappointment of people towards the BJP."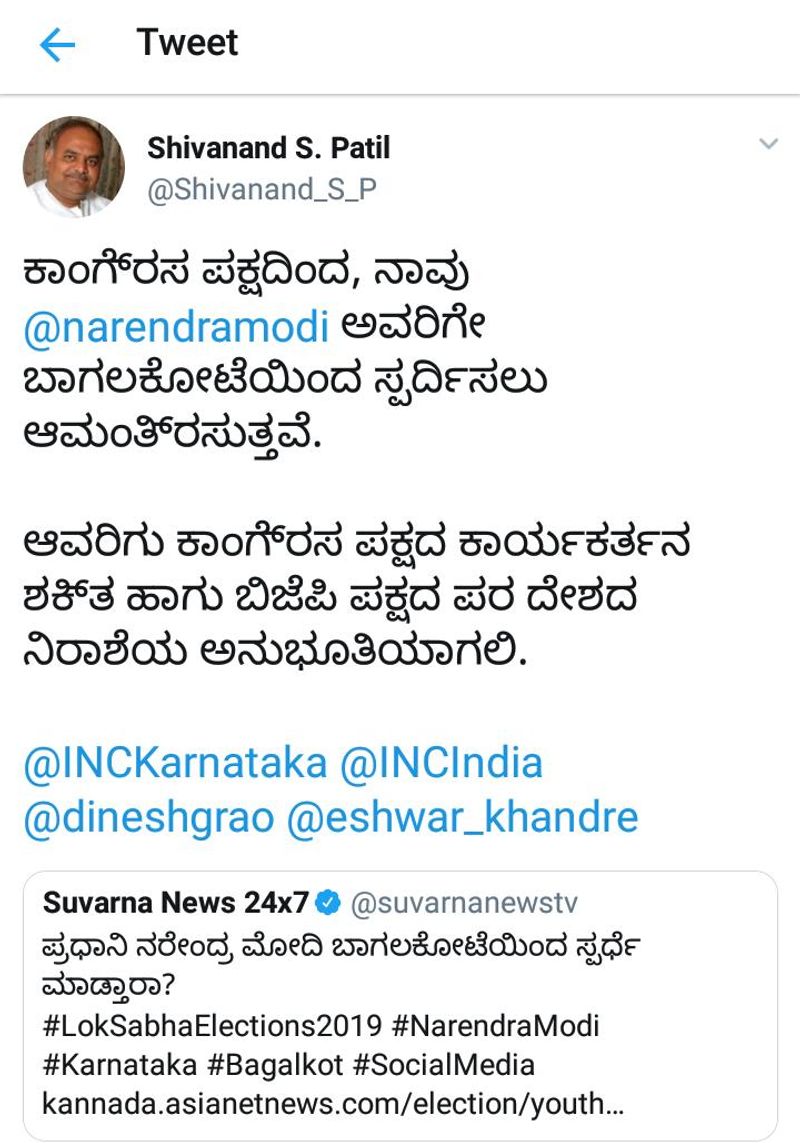 However, PM Modi has abstained from responding to the same thus far.
The Bagalkot Lok Sabha constituency came into existence in 1967. Since then till 1991, Congress candidates won the MP seat. In 1996, HY Meti of Janata Dal was elected as MP; in 1998, Ajaykumar Sambasadashiv Sarnaik of Lok Shakti was elected and in 1999, Congress made a comeback with RS Patil winning the election.
However, since 2004, BJP has been the ruling party in Bagalkot for three consecutive terms. PC Gaddigoudar of BJP won the MP election in 2004, 2009 and 2014 in the constituency.
It looks like Karnataka is one of the favourite states for national leaders to contest elections. In 1978, when Indira Gandhi was facing tough time in politics due to her decision to impose emergency, she contested from Chikkamagalur constituency and won against Veerendra Patil of Janata Dal by 70,000 votes. In 1999, the then AICC president Sonia Gandhi contested from Ballari. BJP leader Sushma Swaraj contested against Gandhi. Sonia Gandhi won the election.
A Twitter war ensued after Karnataka Congress invited Rahul Gandhi to contest from the State. The BJP also invited Rahul Gandhi to taste defeat. 
Read Exclusive COVID-19 Coronavirus News updates, at MyNation.
Last Updated Mar 16, 2019, 1:00 PM IST