Here's a different diya that burns 24 hours
Bengaluru: It's Diwali time! All of us will be buying diyas to light up our houses. 
But diyas don't burn forever. One has to keep adding oil to it to keep it aflame. 
That really becomes a headache. 
However, just like every cloud has a silver lining, here too, there is a solution. 
A Chhattisgarh potter named Ashok Chakradhari has revived a traditional lamp that can burn for at least 24 hours, as reported by the India Times.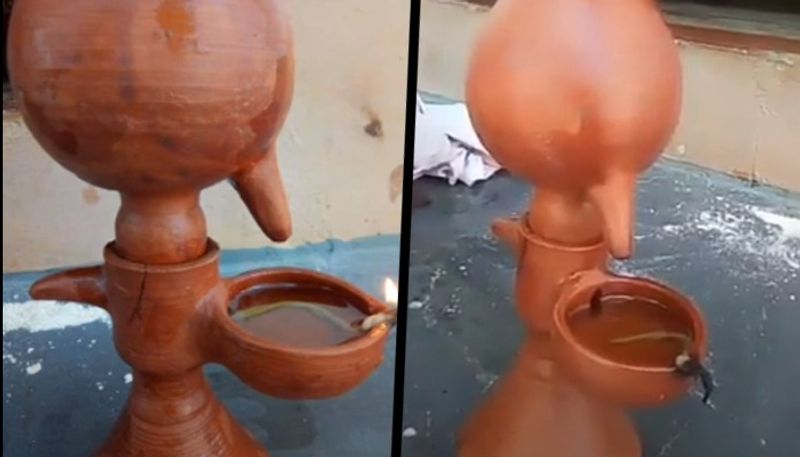 Notably, the earthen pot is designed in such a way that oil circulates all the time, thereby leading to the flame being kept alive. 
As reported by ANI, he said, "I learnt making this lamp watching several techniques online. I've received a good number of orders for making more such lamps." 
For Ashok, pottery runs in his blood. 
As reported by Better India, he said, "Pottery is a family business that I learnt from my father. I have been practising the art since childhood and have been earning from it all my life. I have three daughters, two of them are studying while my oldest is helping me with the business. She also does a bit of pottery."  
Always on the lookout for something unique and special, Ashok thought of an idea of a reservoir that has a huge stock of oil. 
This reservoir supplies oil to the lamp slowly and steadily, thereby ensuring it is burning all the time. 
After putting hard work, he manufactured 100 such lamps last year during Diwali. 
This year too, he has manufactured the same number of lamps. However, this year, apart from Diwali, he had also done it for Durga puja as well. 
Apart from earthen lamps, he also makes elephants and other decorative items. 
Kudos to this man for having engineered something new. Hope such talents grow.