Sadiq Basha's death made headlines as he had died under mysterious circumstances just days after telling police about Stalin's association with an accused in the 2G spectrum case
New Delhi: S Rehanabanu, the wife of Sadiq Basha, an associate of 2G spectrum case accused former Union minister A Raja, has written to President Ram Nath Kovind demanding a re-investigation into her husband's death. Rehanabanu alleged her life is still under threat.
In her letter, Rehanabanu stated, "Every year, on the occasion of my husband's death anniversary, I issue condolence advertisements in vernacular newspapers in his memory. This year also I issued an advertisement. The advertisement included a Tamil proverb which meant 'unwanted friendship leads to harmful sequences'."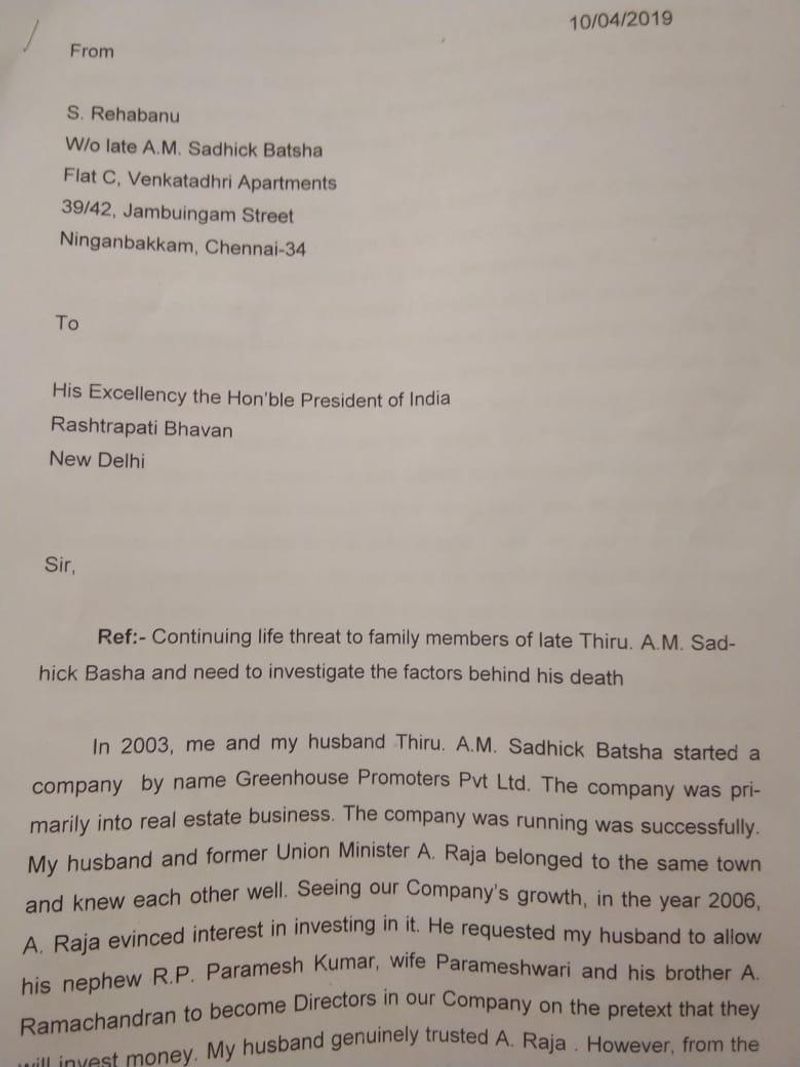 She alleged that following this advertisement, her car was attacked with swords and stones when she was travelling with her brother.
She wrote that the only reason they escaped was because her brother, who was driving the car, continued to drive on without stopping.
"The fact that my life is still under threat shows that my husband's death was a result of external factors," she claimed while asserting that it is absolutely essential for the investigation authorities to take a relook at the case.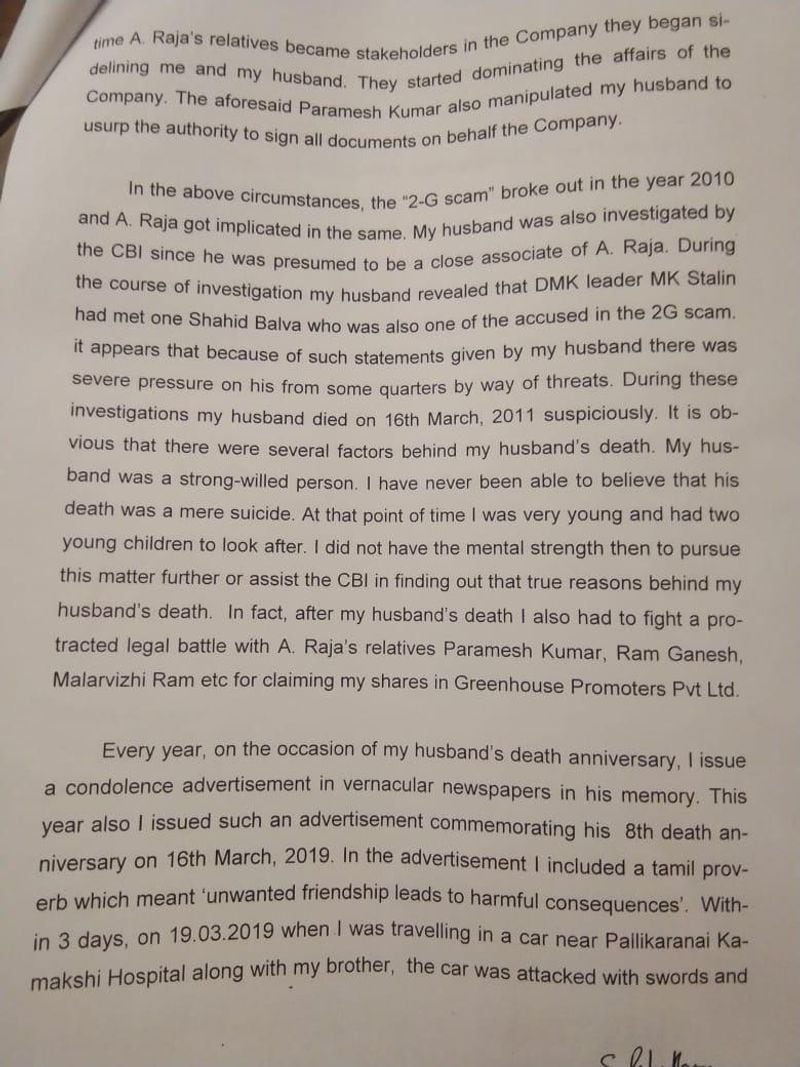 "More specifically, they should reinvestigate the statements given by my husband during the course of the investigation and identify who all he spoke about, including MK Stalin and A Raja," she demanded.
Elaborating on the 2G scam she said, "My husband was investigated by the CBI since he was presumed to be a close associate of A Raja. During the course of the investigation, he revealed that DMK leader MK Stalin had met one Shahid Balwa who was also one of the accused in the 2G scam."
Rehanabanu stated that it was because of such statements made by her husband, there was severe pressure on him from some quarters.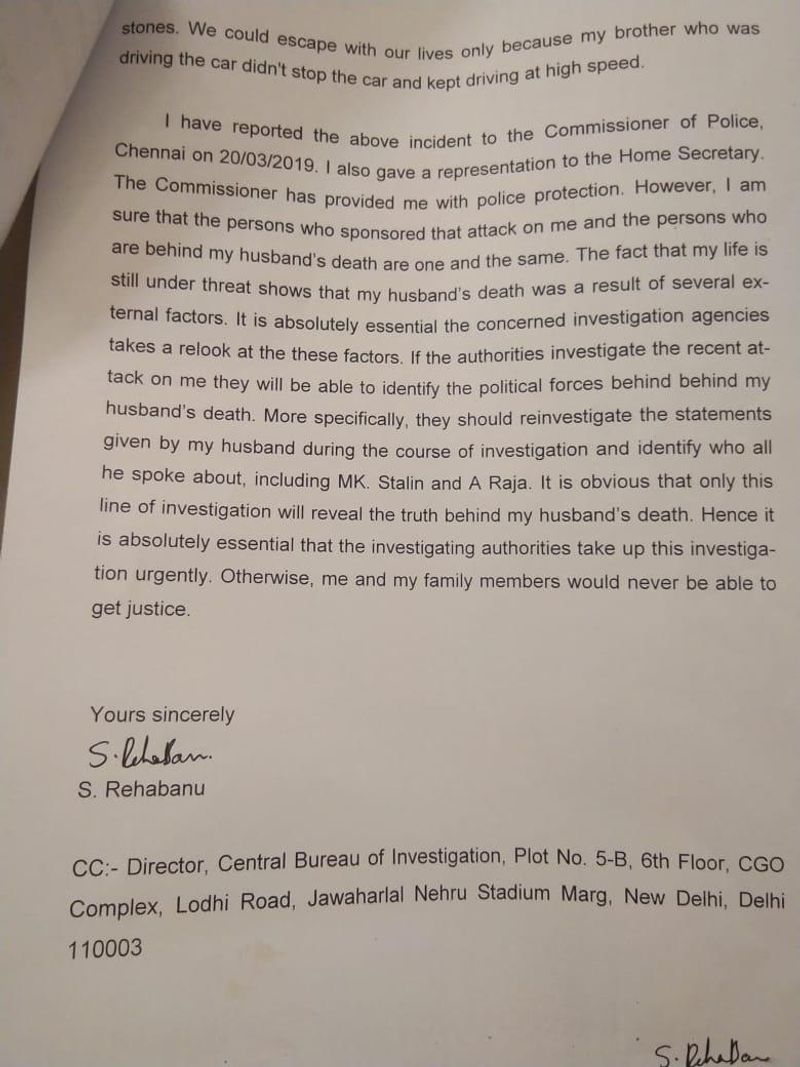 "During these investigations, my husband died mysteriously on March 16, 2011. My husband was a strong-willed person. I have never been able to believe that his death was a mere suicide," she said in the letter.
Tamil Nadu chief minister Edappadi K Palaniswami on Thursday announced that after the Lok Sabha elections he would order a comprehensive probe into the death of Basha.
Read Exclusive COVID-19 Coronavirus News updates, at MyNation.
Last Updated Apr 12, 2019, 10:48 AM IST