A Twitter user Alok Bhatt has once again exposed news peddler Rajdeep Sardesai as he posted pictures of how he went on to apologise for trying to spoil the reputation of a personality living dignifiedly in the society in the Sohrabuddin fake encounter case
Bengaluru: News peddler masquerading as an epitome of fair and ethical journalism Rajeev Sardesai has been the butt of all jokes after India Today's sting operation JNU Tapes, which wantonly wanted to put ABVP in a bad light, ended up being a piece of garbage.
In simple words, India Today has unmasked, stung and exposed itself in its tearing hurry to besmirch the reputation of the ABVP students.
Now that Twitterati have destroyed, demolished and deracinated the sting as it has unlimited faux pas (from time code gaffe telecast in Aaj Tak to the photo published as proof by Rahul Kanwal) it is now time to indict and incriminate Rahul Kanwal's partner in crime Rajdeep Sardesai.
A twitter user going by the name Alok Bhatt has massively embarrassed Rajdeep Sardesai. In fact, as Rajdeep and his coterie keep patting their backs as champions of investigative journalism, it is people like Alok Bhatt who are real harbingers of truth. They are indeed real investigators!
And this fake news peddler has a program at prime time and that too with @aroonpurie run @IndiaToday - if this is NOT travesty of Journalistic Ethics in India, then wonder what else will you call it! @IndEditorsGuild https://t.co/csLLx6sNE5

— Alok Bhatt (@alok_bhatt) January 11, 2020
The case pertains to how Vanzara and Pandiyan nabbed Sohrabuddin and Kauserbi in Bidar with help from Sri Rajiv Trivedi (IPS) of Hyderabad.
The complainant Trivedi had alleged that the programme (30 minutes – Sohrabuddin, The Inside Story) run by Rajdeep Sardesai, on CNN-IBN on 13/05/2007 with lies as the driving factor, had severely tarnished the image of Trivedi.
So Rajdeep and his team of liars tendered unconditional apology for telecasting fake news and even expressed regrets.
He also goes to urge the court to close the case.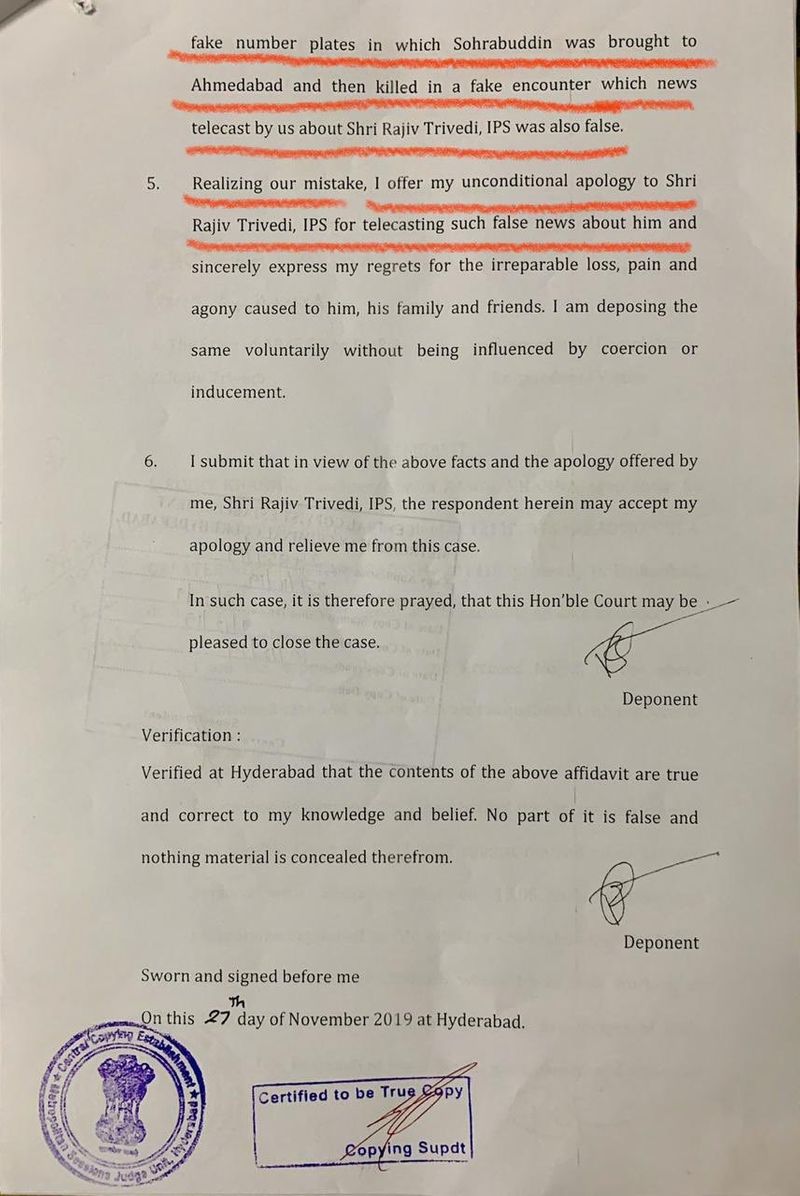 Even after apologising, a recidivistic Rajdeep Sardesai continues to peddle lies without an iota of shame. Though he keeps issuing long lectures and harangues on ethics and principles of journalism, he himself is found wanting in all these principles.
Do also remember that he got into fisticuffs with Indians living in the US when PM Narendra Modi had gone there to address the Indian diaspora at the Madison Square.