Bangladesh Defeat India; Win Maiden U19 WC Title - As It Happened In Pictures
First Published Feb 9, 2020, 3:48 PM IST
Bangladesh have done what has looked unthinkable for at least the last three years at U-19 level. They have beaten India in an absolute humdinger at the U19 World Cup final at Senwes Park in Potchefstroom, South Africa. This is Bangladesh's first World Cup at any level.
Early on in the day, Bangladesh won the toss and opted to field. India managed to reach a respectable total of 177 after losing quick wickets in the middle overs. After a flying start, India's Ravi Bishnoi's superb spell threatened Bangladesh's chances of victory, however, captain cool Akbar Ali scored a gritty 43 not out to help his team win their maiden Under 19 World Cup.
Brief scores: India 177 all out (Yashasvi Jaiswal 88, Avishek Das 3-40) lost to Bangladesh 170/7 (Akbar Ali 43*, Ravi Bishnoi 4-30) by three wickets (DLS).
Here's all the action from this nail-biting game.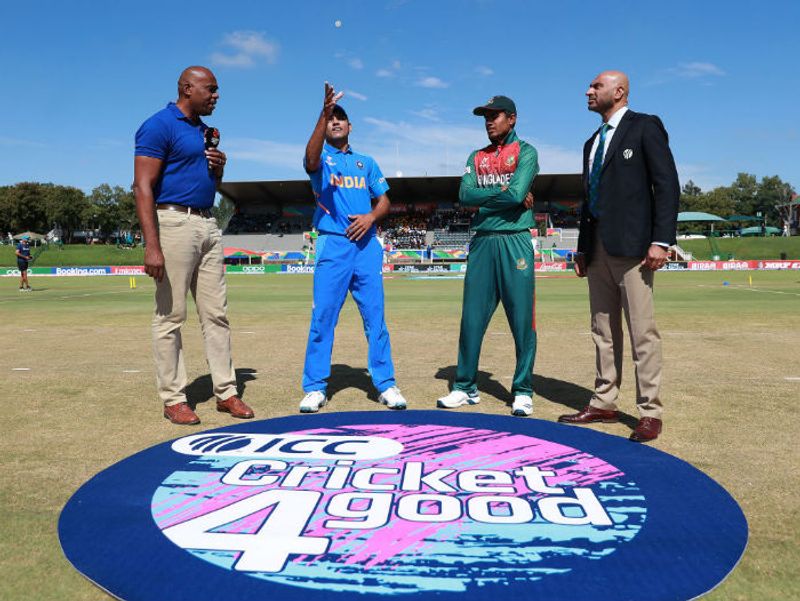 Priyam Garg of India and Mohammad Akbar Ali of Bangladesh pictured during the coin toss ahead of the ICC U19 Cricket World Cup Super League Final match between India and Bangladesh at JB Marks Oval on February 09, 2020 in Potchefstroom, South Africa. (Photo by Matthew Lewis-ICC/ICC via Getty Images)
India walk with Bangladesh ahead of the ICC U19 Cricket World Cup Super League Final match between India and Bangladesh at JB Marks Oval on February 09, 2020 in Potchefstroom, South Africa. (Photo by Matthew Lewis-ICC/ICC via Getty Images)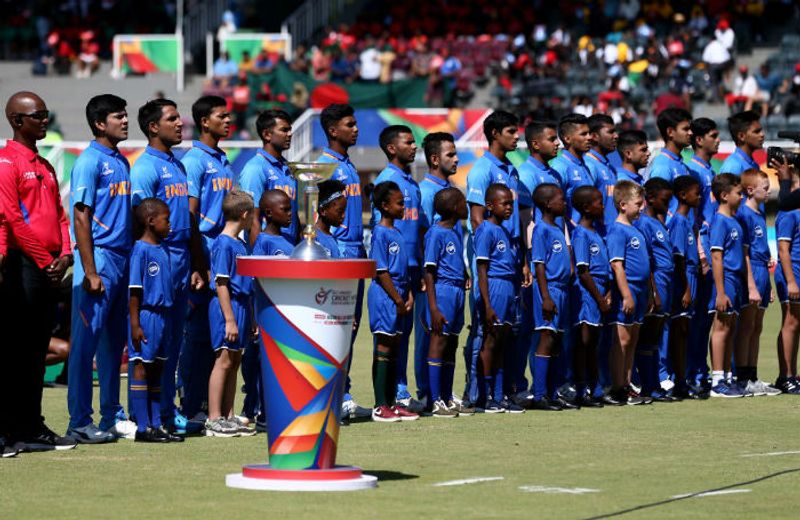 India players sing their national anthem during the ICC U19 Cricket World Cup Super League Final match between India and Bangladesh at JB Marks Oval on February 09, 2020 in Potchefstroom, South Africa. (Photo by Jan Kruger-ICC/ICC via Getty Images)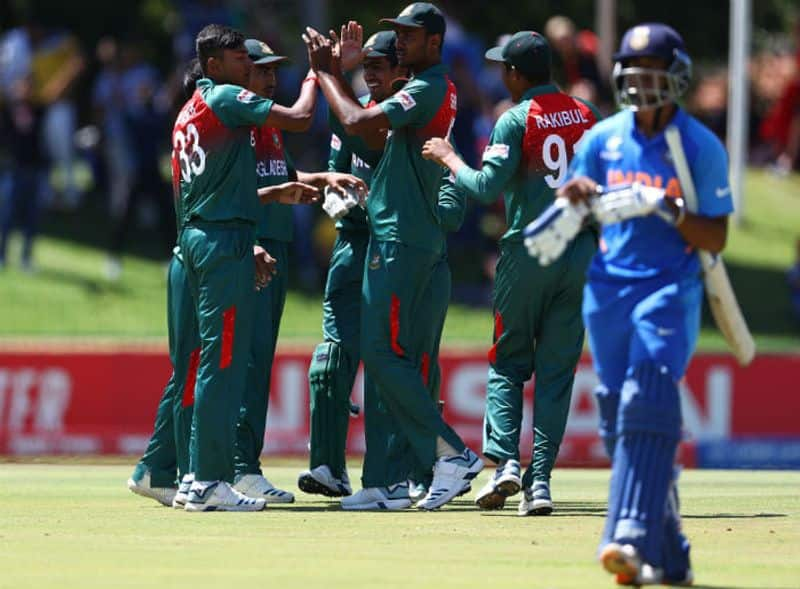 Avishek Das of Bangladesh celebrates the wicket of Divyaansh Saxena of India during the ICC U19 Cricket World Cup Super League Final match between India and Bangladesh at JB Marks Oval on February 09, 2020 in Potchefstroom, South Africa. (Photo by Matthew Lewis-ICC/ICC via Getty Images)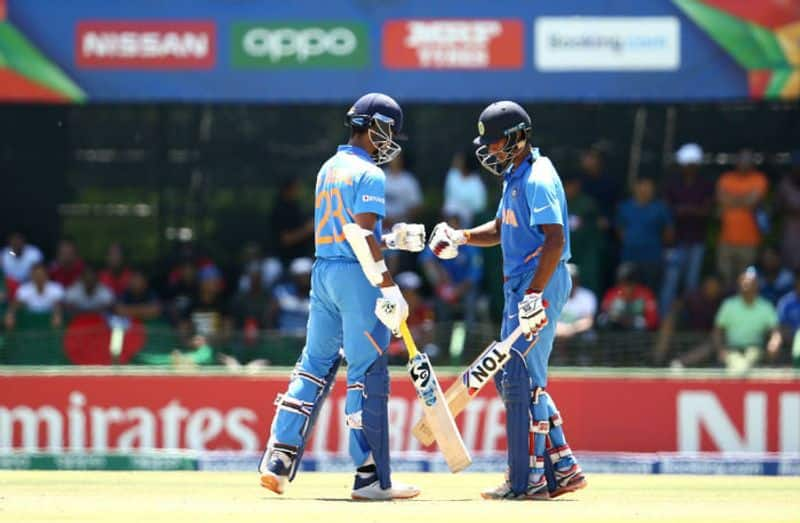 Yashasvi Jaiswal and Tilak Varma of India celebrate their partnership during the ICC U19 Cricket World Cup Super League Final match between India and Bangladesh at JB Marks Oval on February 09, 2020 in Potchefstroom, South Africa. (Photo by Jan Kruger-ICC/ICC via Getty Images)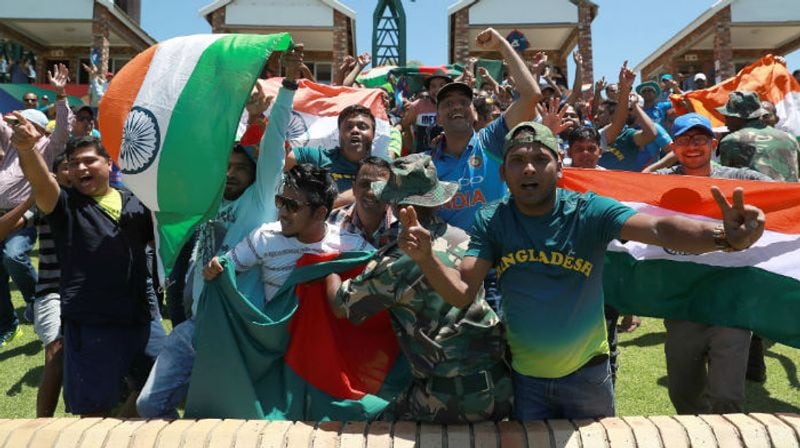 India and Bangladesh fans show their support to thier teams during the ICC U19 Cricket World Cup Super League Final match between India and Bangladesh at JB Marks Oval on February 09, 2020 in Potchefstroom, South Africa. (Photo by Matthew Lewis-ICC/ICC via Getty Images)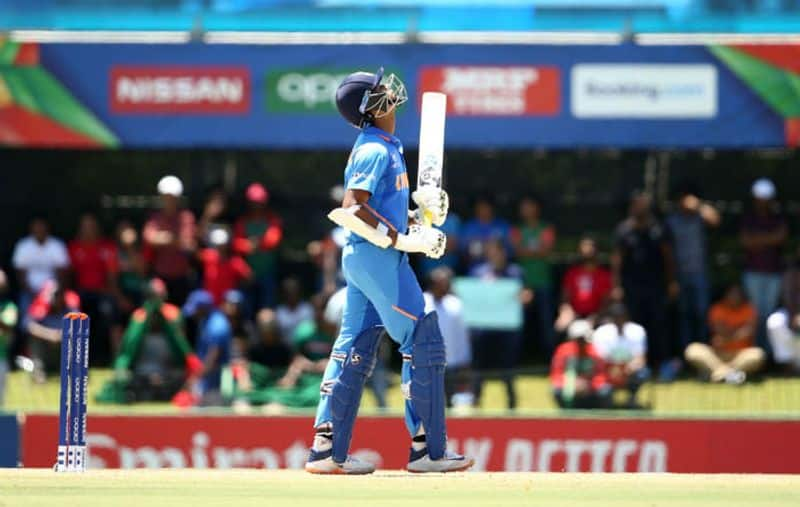 Yashasvi Jaiswal of India celebrates his half century during the ICC U19 Cricket World Cup Super League Final match between India and Bangladesh at JB Marks Oval on February 09, 2020 in Potchefstroom, South Africa. (Photo by Jan Kruger-ICC/ICC via Getty Images)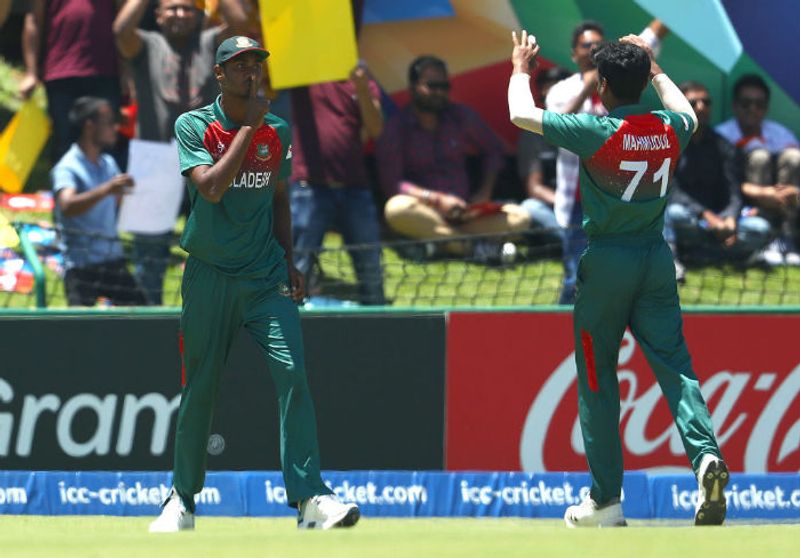 Mohammad Shoriful Islam of Bangladesh celebrates catching Tilak Varma of India during the ICC U19 Cricket World Cup Super League Final match between India and Bangladesh at JB Marks Oval on February 09, 2020 in Potchefstroom, South Africa. (Photo by Matthew Lewis-ICC/ICC via Getty Images)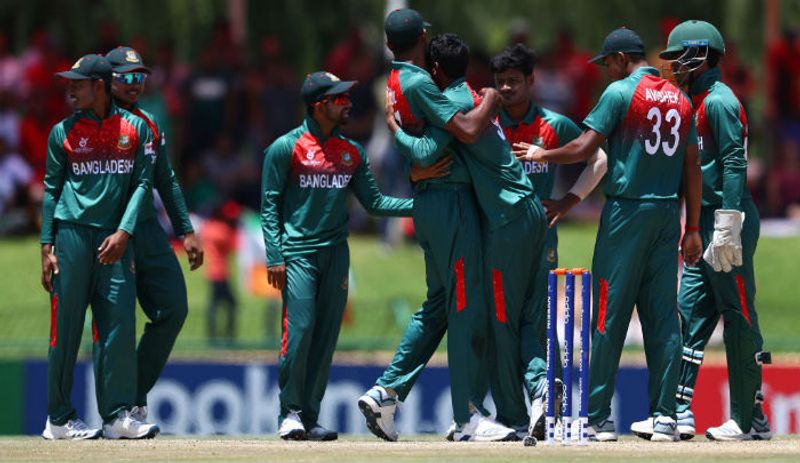 Mohammad Shoriful Islam of Bangladesh congratulates Rakibul Hasan of Bangladesh on the wicket of Priyam Garg of India during the ICC U19 Cricket World Cup Super League Final match between India and Bangladesh at JB Marks Oval on February 09, 2020 in Potchefstroom, South Africa. (Photo by Matthew Lewis-ICC/ICC via Getty Images)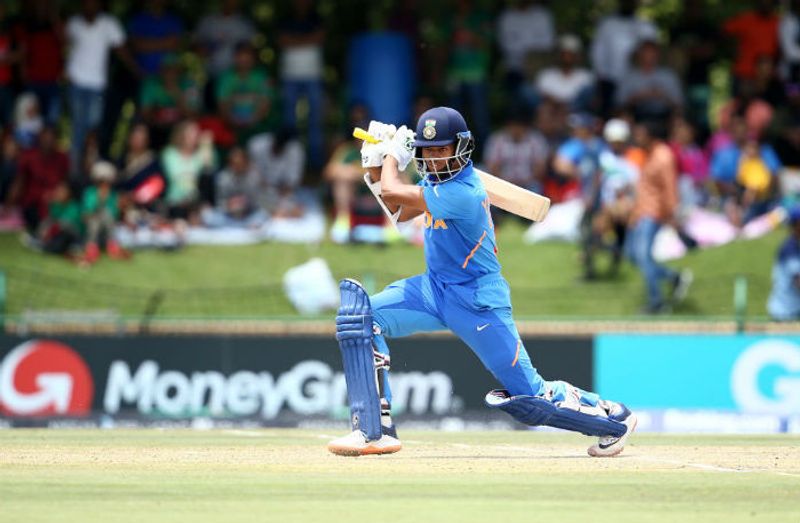 Yashasvi Jaiswal of India bats during the ICC U19 Cricket World Cup Super League Final match between India and Bangladesh at JB Marks Oval on February 09, 2020 in Potchefstroom, South Africa. (Photo by Jan Kruger-ICC/ICC via Getty Images)
Mohammad Shoriful Islam of Bangladesh celebrates taking the wicket of Yashasvi Jaiswal of India during the ICC U19 Cricket World Cup Super League Final match between India and Bangladesh at JB Marks Oval on February 09, 2020 in Potchefstroom, South Africa. (Photo by Jan Kruger-ICC/ICC via Getty Images)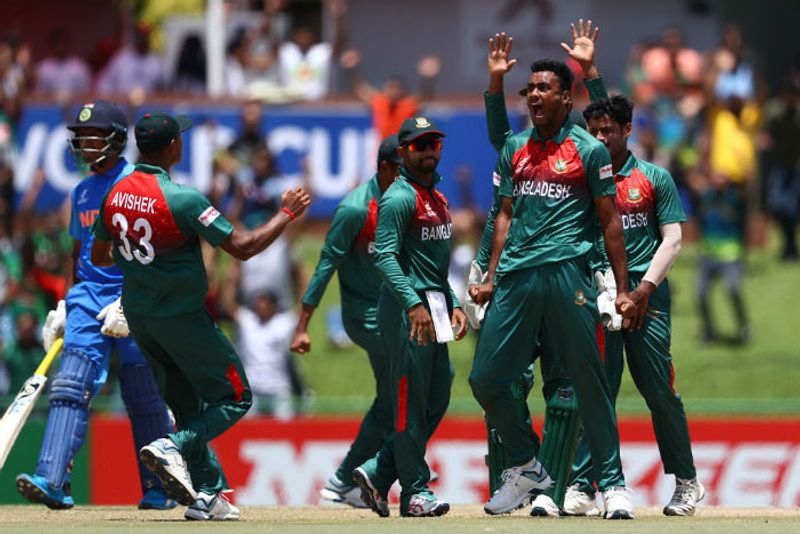 Mohammad Shoriful Islam of Bangladesh celebrates the wicket of Siddhesh Veer of India, after he was bowled LBW during the ICC U19 Cricket World Cup Super League Final match between India and Bangladesh at JB Marks Oval on February 09, 2020 in Potchefstroom, South Africa. (Photo by Matthew Lewis-ICC/ICC via Getty Images)
Rakibul Hasan of Bangladesh is congratulated on the wicket of Dhruv Jurel of India during the ICC U19 Cricket World Cup Super League Final match between India and Bangladesh at JB Marks Oval on February 09, 2020 in Potchefstroom, South Africa. (Photo by Matthew Lewis-ICC/ICC via Getty Images)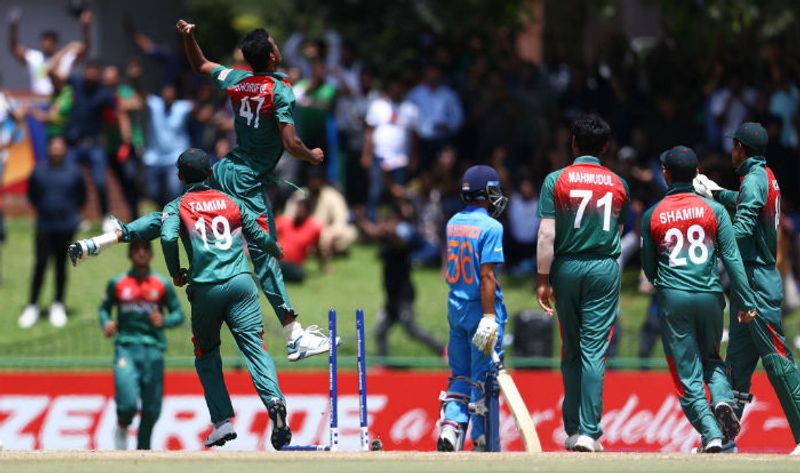 Mohammad Shoriful Islam of Bangladesh celebrates running out Ravi Bishnoi of India during the ICC U19 Cricket World Cup Super League Final match between India and Bangladesh at JB Marks Oval on February 09, 2020 in Potchefstroom, South Africa. (Photo by Matthew Lewis-ICC/ICC via Getty Images)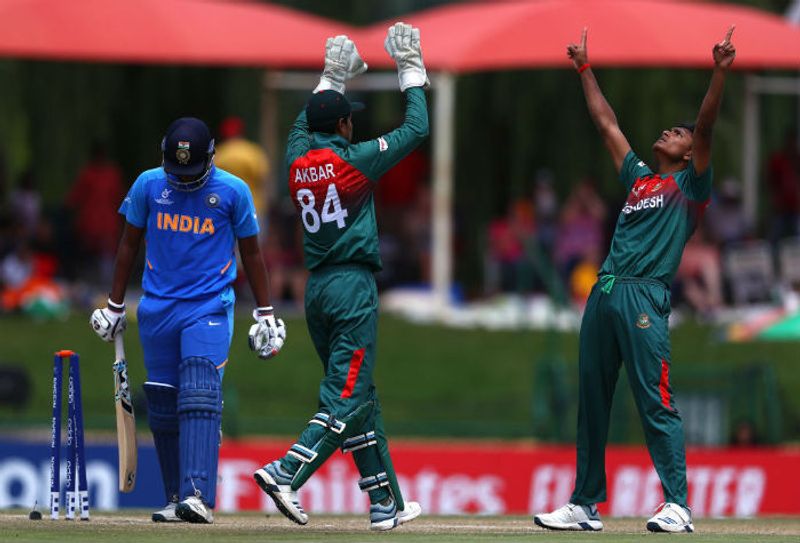 Avishek Das of Bangladesh celebrates bowling Atharva Ankolekar of India during the ICC U19 Cricket World Cup Super League Final match between India and Bangladesh at JB Marks Oval on February 09, 2020 in Potchefstroom, South Africa. (Photo by Matthew Lewis-ICC/ICC via Getty Images)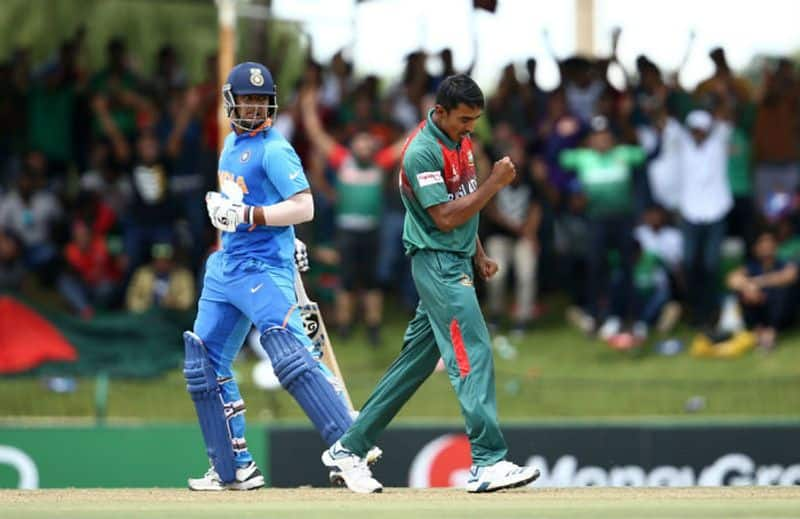 Mohammad Tanzim Hasan Sakib of Bangladesh celebrates taking the wicket of Sushant Mishra of India during the ICC U19 Cricket World Cup Super League Final match between India and Bangladesh at JB Marks Oval on February 09, 2020 in Potchefstroom, South Africa. (Photo by Jan Kruger-ICC/ICC via Getty Images)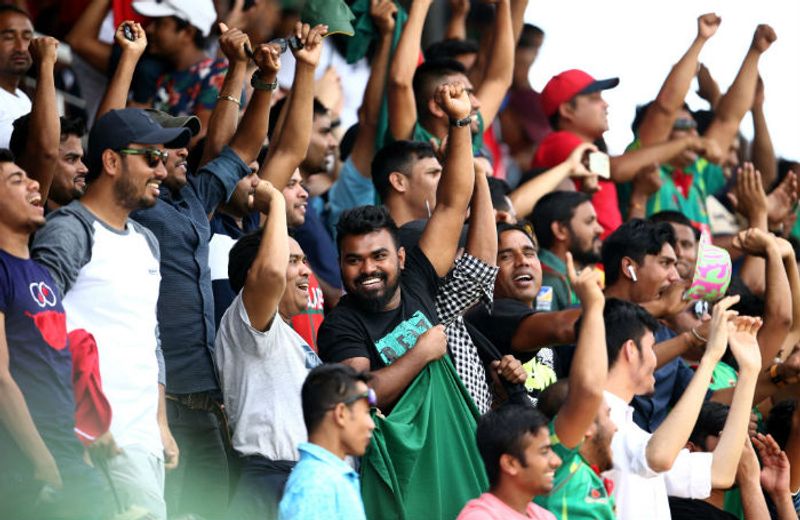 Bangladesh fans celebrate a wicket during the ICC U19 Cricket World Cup Super League Final match between India and Bangladesh at JB Marks Oval on February 09, 2020 in Potchefstroom, South Africa. (Photo by Jan Kruger-ICC/ICC via Getty Images)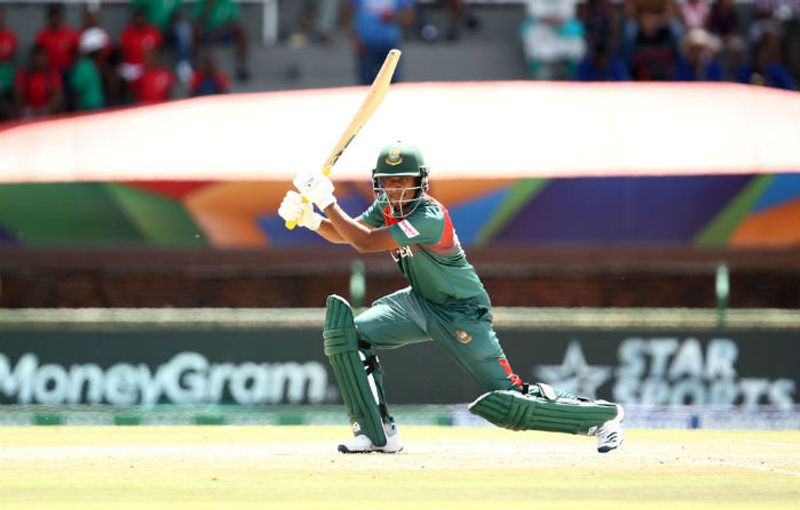 Tanzid Hasan Tamim of Bangladesh bats during the ICC U19 Cricket World Cup Super League Final match between India and Bangladesh at JB Marks Oval on February 09, 2020 in Potchefstroom, South Africa. (Photo by Jan Kruger-ICC/ICC via Getty Images)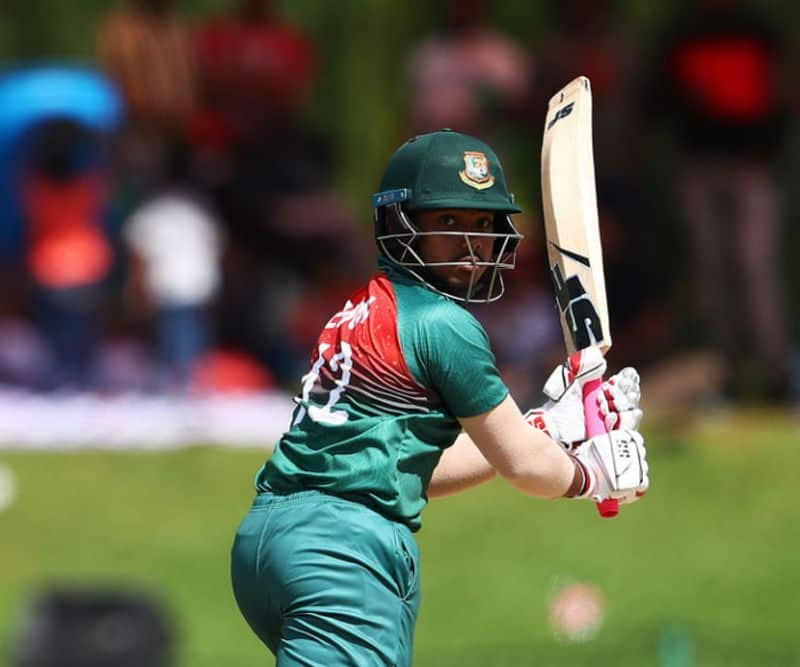 Mohammad Parvez Hossain Emon of Bangladesh edges the ball away towards the boundary during the ICC U19 Cricket World Cup Super League Final match between India and Bangladesh at JB Marks Oval on February 09, 2020 in Potchefstroom, South Africa. (Photo by Matthew Lewis-ICC/ICC via Getty Images)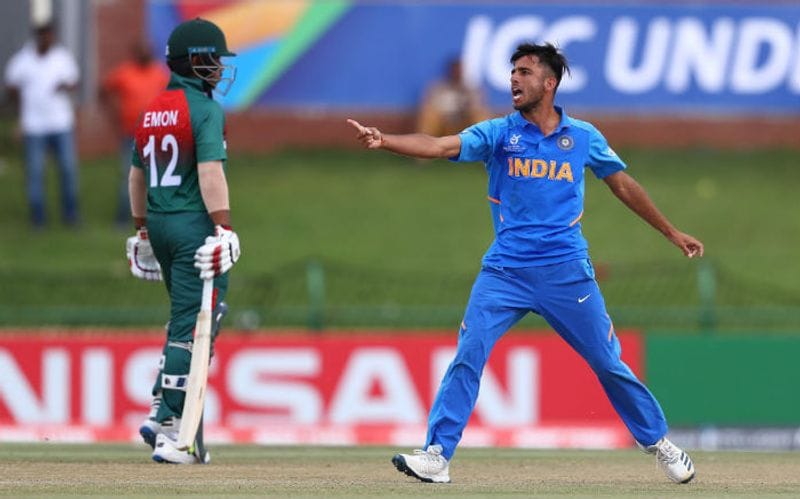 Ravi Bishnoi of India celebrates the wicket of Mohammad Parvez Hossain Emon of Bangladesh during the ICC U19 Cricket World Cup Super League Final match between India and Bangladesh at JB Marks Oval on February 09, 2020 in Potchefstroom, South Africa. (Photo by Matthew Lewis-ICC/ICC via Getty Images)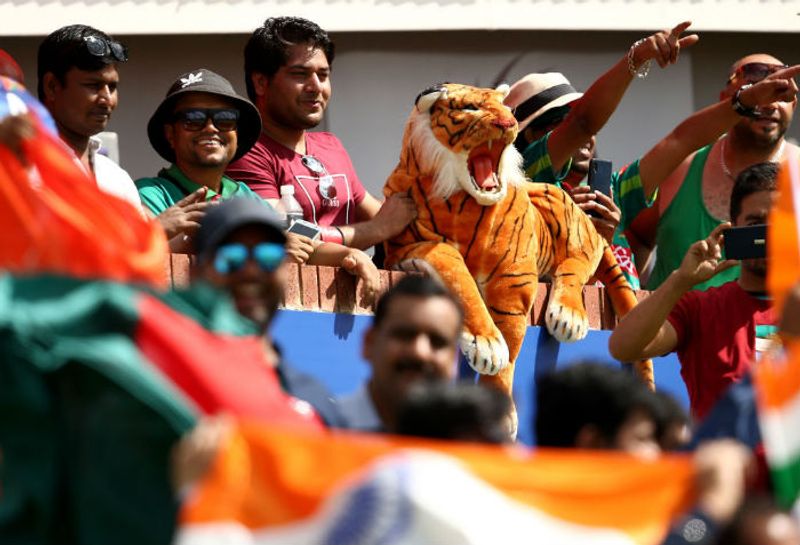 A Bangladesh mascot sits on a wall during the ICC U19 Cricket World Cup Super League Final match between India and Bangladesh at JB Marks Oval on February 09, 2020 in Potchefstroom, South Africa. (Photo by Jan Kruger-ICC/ICC via Getty Images)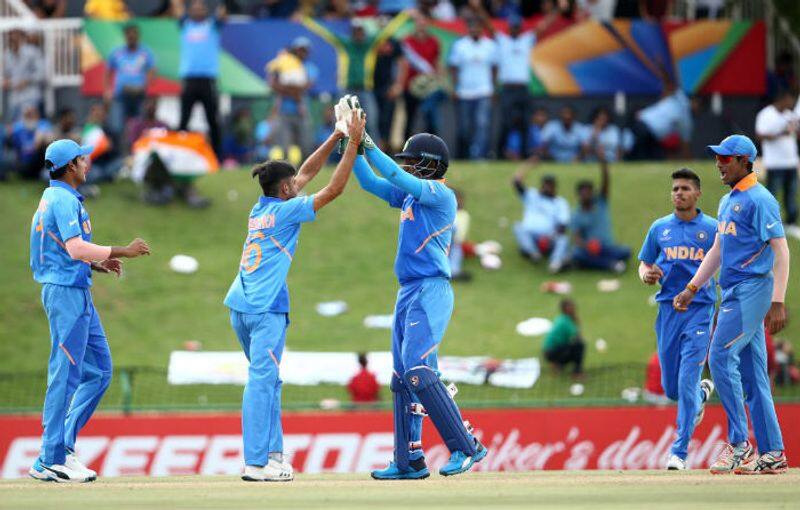 Ravi Bishnoi of India celebrates the wicket of Mahmudul Hasan Joy of Bangladesh during the ICC U19 Cricket World Cup Super League Final match between India and Bangladesh at JB Marks Oval on February 09, 2020 in Potchefstroom, South Africa. (Photo by Jan Kruger-ICC/ICC via Getty Images)
Ravi Bishnoi of India celebrates taking his 3rd wicket during the ICC U19 Cricket World Cup Super League Final match between India and Bangladesh at JB Marks Oval on February 09, 2020 in Potchefstroom, South Africa. (Photo by Jan Kruger-ICC/ICC via Getty Images)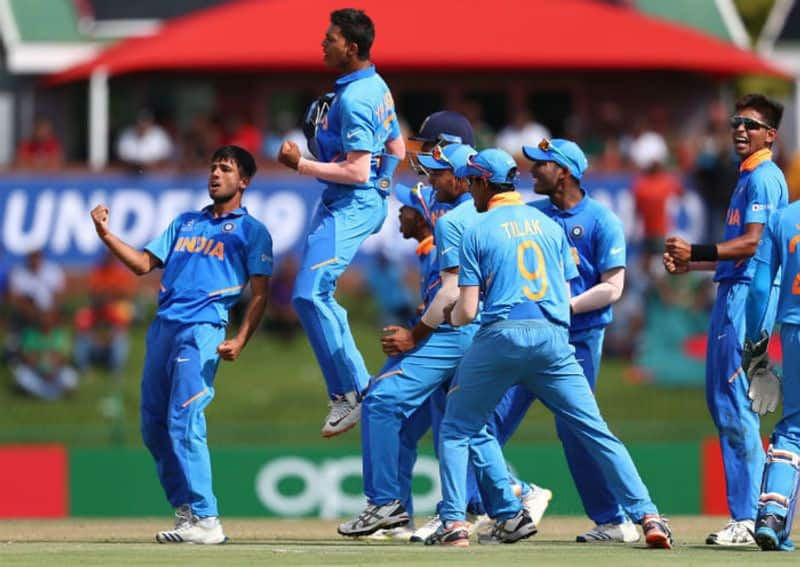 India players celebrate the wicket of Shahadat Hossain of Bangladesh during the ICC U19 Cricket World Cup Super League Final match between India and Bangladesh at JB Marks Oval on February 09, 2020 in Potchefstroom, South Africa. (Photo by Matthew Lewis-ICC/ICC via Getty Images)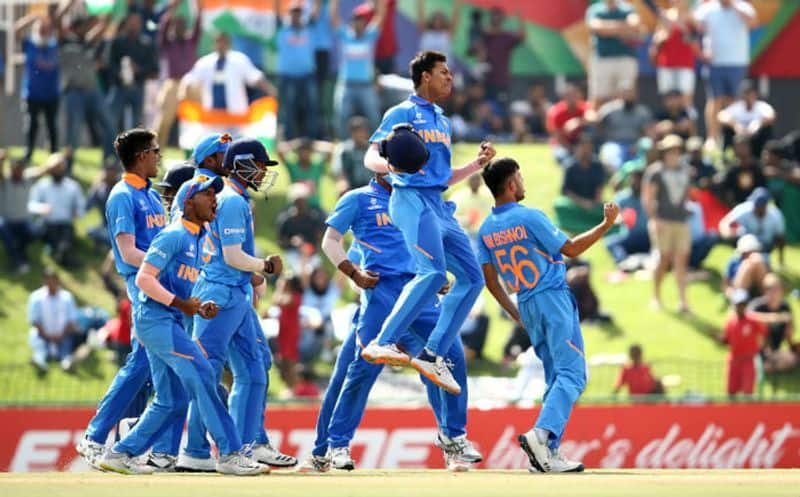 India players celebrate a stumping by Dhruv Jurel of India during the ICC U19 Cricket World Cup Super League Final match between India and Bangladesh at JB Marks Oval on February 09, 2020 in Potchefstroom, South Africa. (Photo by Jan Kruger-ICC/ICC via Getty Images)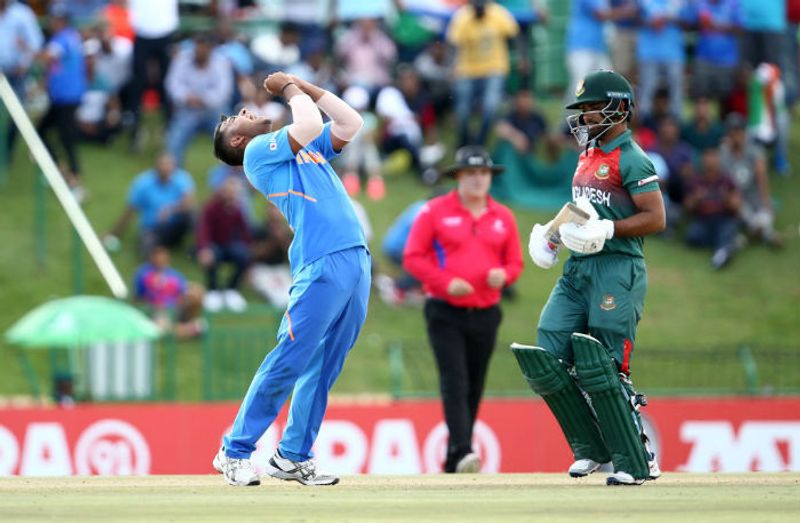 Sushant Mishra of India celebrates taking a wicket during the ICC U19 Cricket World Cup Super League Final match between India and Bangladesh at JB Marks Oval on February 09, 2020 in Potchefstroom, South Africa. (Photo by Jan Kruger-ICC/ICC via Getty Images)
India players celebrate a wicket during the ICC U19 Cricket World Cup Super League Final match between India and Bangladesh at JB Marks Oval on February 09, 2020 in Potchefstroom, South Africa. (Photo by Jan Kruger-ICC/ICC via Getty Images)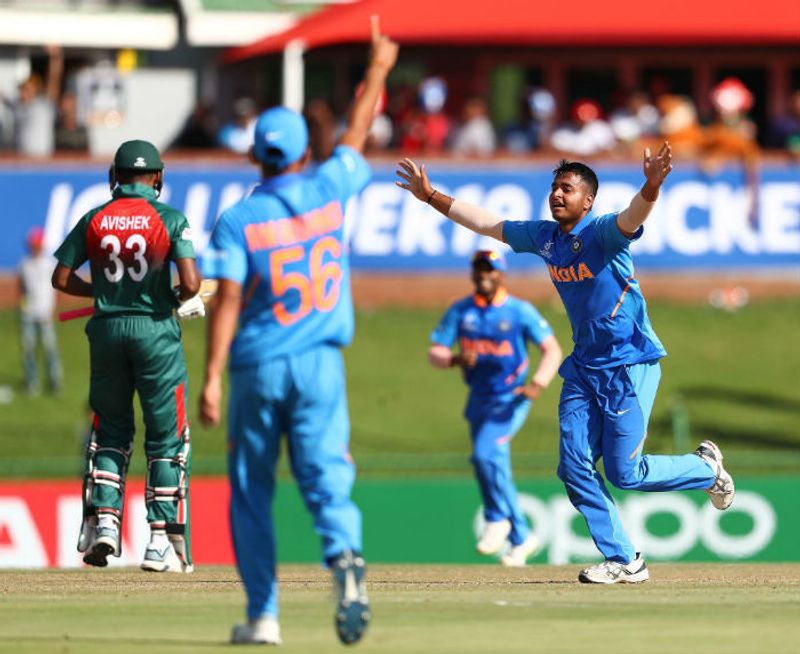 Sushant Mishra of India celebrates the wicket of Avishek Das of Bangladesh during the ICC U19 Cricket World Cup Super League Final match between India and Bangladesh at JB Marks Oval on February 09, 2020 in Potchefstroom, South Africa. (Photo by Matthew Lewis-ICC/ICC via Getty Images)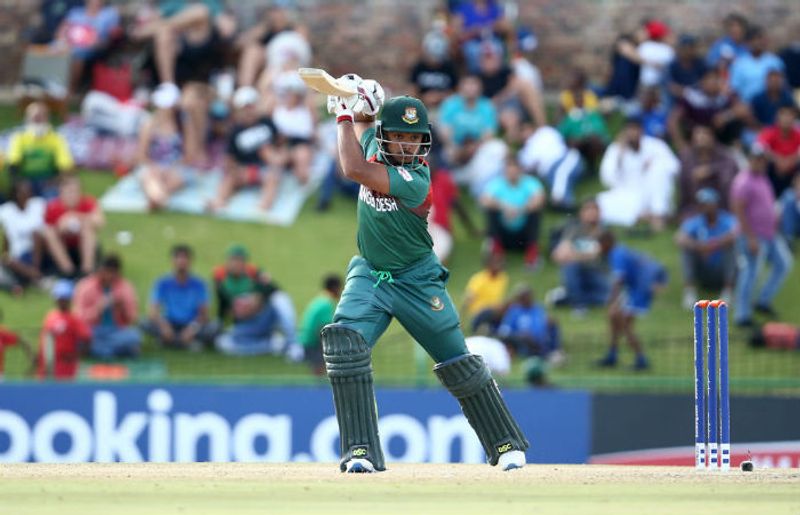 Mohammad Parvez Hossain Emon of Bangladesh bats during the ICC U19 Cricket World Cup Super League Final match between India and Bangladesh at JB Marks Oval on February 09, 2020 in Potchefstroom, South Africa. (Photo by Jan Kruger-ICC/ICC via Getty Images)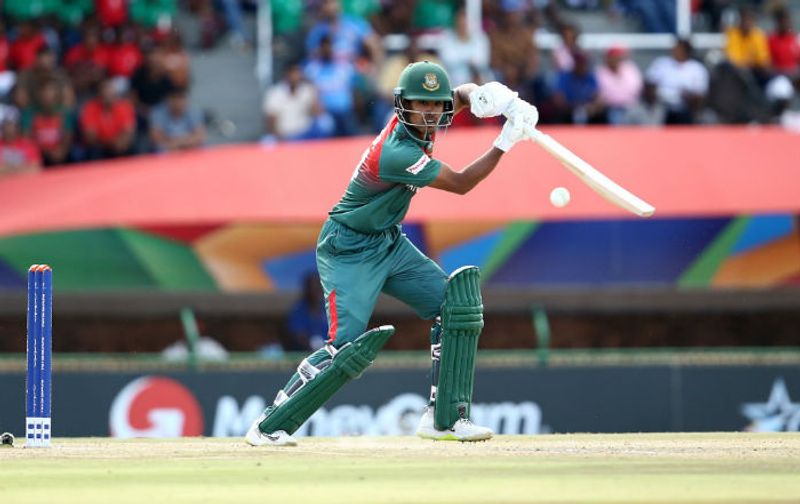 Mohammad Akbar Ali of Bangladesh bats during the ICC U19 Cricket World Cup Super League Final match between India and Bangladesh at JB Marks Oval on February 09, 2020 in Potchefstroom, South Africa. (Photo by Jan Kruger-ICC/ICC via Getty Images)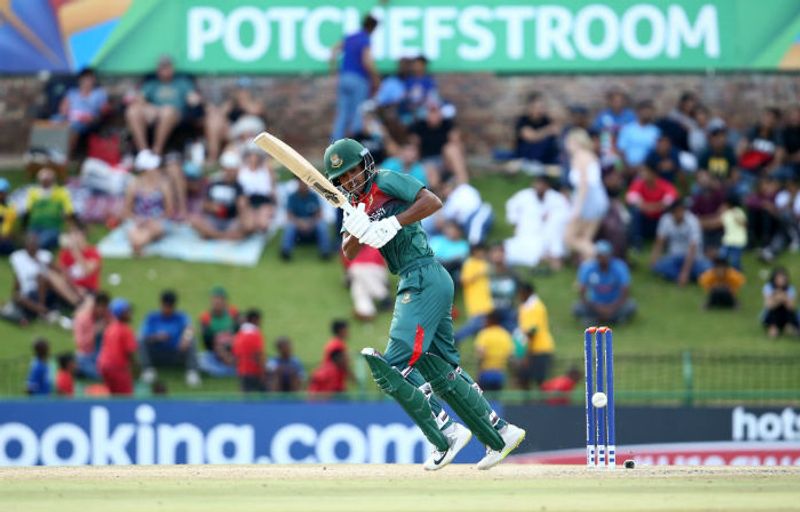 Mohammad Akbar Ali of Bangladesh bats during the ICC U19 Cricket World Cup Super League Final match between India and Bangladesh at JB Marks Oval on February 09, 2020 in Potchefstroom, South Africa. (Photo by Jan Kruger-ICC/ICC via Getty Images)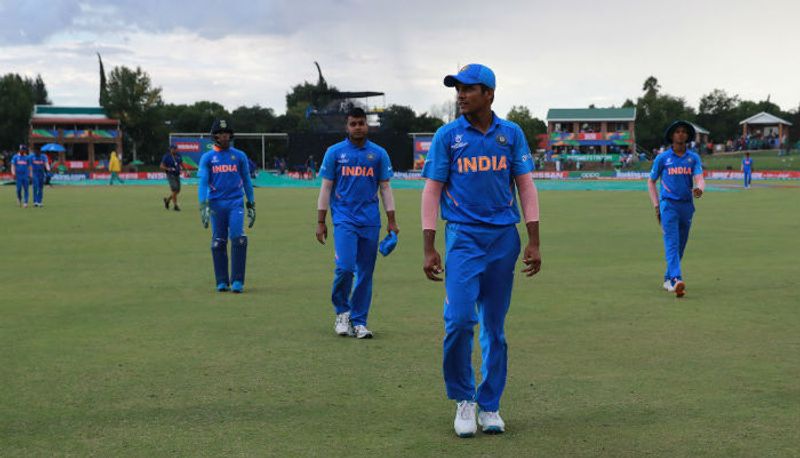 Priyam Garg of India leads his team off the field, as rain stops play during the ICC U19 Cricket World Cup Super League Final match between India and Bangladesh at JB Marks Oval on February 09, 2020 in Potchefstroom, South Africa. (Photo by Matthew Lewis-ICC/ICC via Getty Images)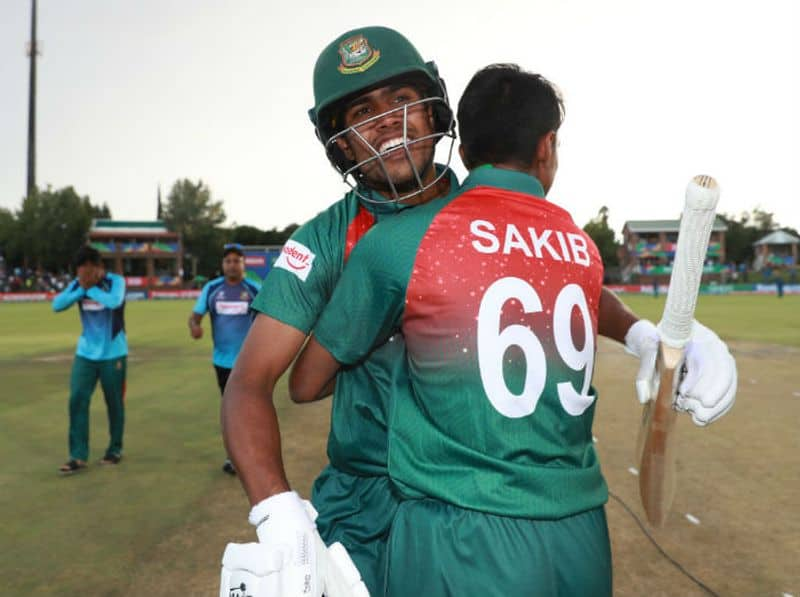 Mohammad Tanzim Hasan Sakib of Bangladesh congratulates Mohammad Akbar Ali of Bangladesh, after he hit the winning runs during the ICC U19 Cricket World Cup Super League Final match between India and Bangladesh at JB Marks Oval on February 09, 2020 in Potchefstroom, South Africa. (Photo by Matthew Lewis-ICC/ICC via Getty Images)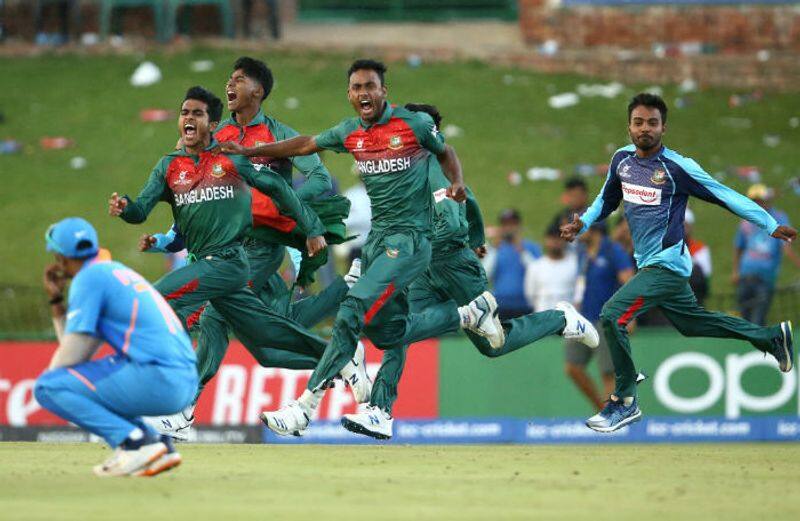 Bangladesh players celebrate following victory during the ICC U19 Cricket World Cup Super League Final match between India and Bangladesh at JB Marks Oval on February 09, 2020 in Potchefstroom, South Africa. (Photo by Jan Kruger-ICC/ICC via Getty Images)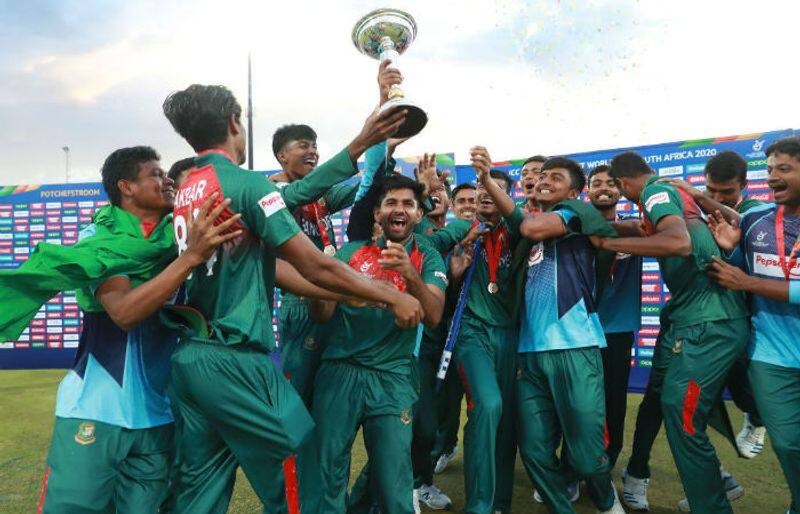 Mohammad Akbar Ali of Bangladesh pictured with the trophy during the ICC U19 Cricket World Cup Super League Final match between India and Bangladesh at JB Marks Oval on February 09, 2020 in Potchefstroom, South Africa. (Photo by Matthew Lewis-ICC/ICC via Getty Images)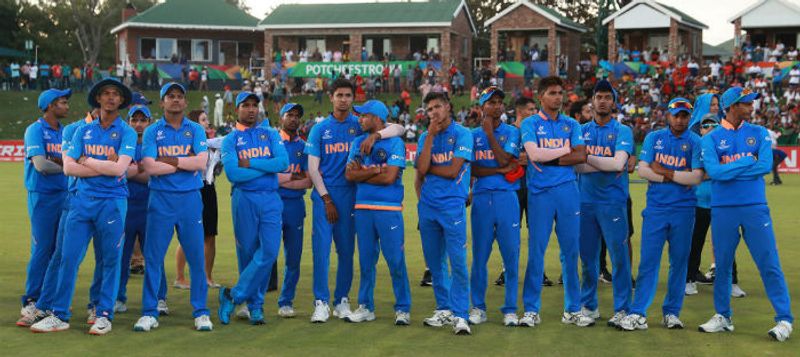 The India team look on, after losing to Bangladesh during the ICC U19 Cricket World Cup Super League Final match between India and Bangladesh at JB Marks Oval on February 09, 2020 in Potchefstroom, South Africa. (Photo by Matthew Lewis-ICC/ICC via Getty Images)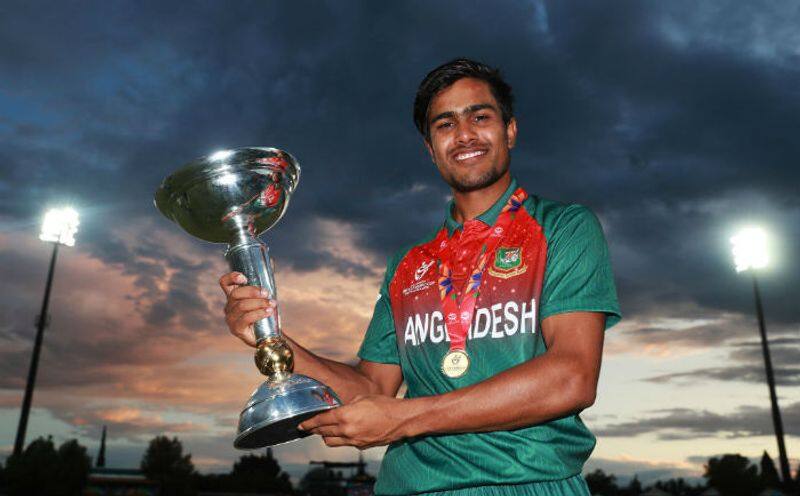 Mohammad Akbar Ali of Bangladesh pictured with the trophy during the ICC U19 Cricket World Cup Super League Final match between India and Bangladesh at JB Marks Oval on February 09, 2020 in Potchefstroom, South Africa. (Photo by Matthew Lewis-ICC/ICC via Getty Images)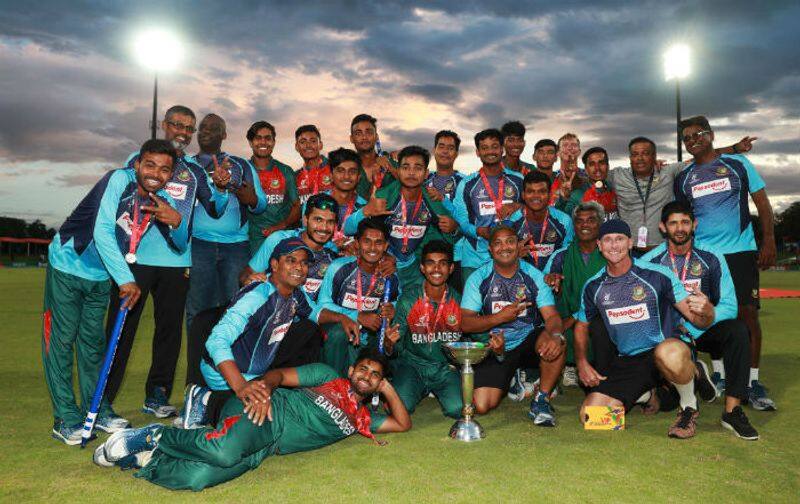 Mohammad Akbar Ali of Bangladesh pictured with the trophy during the ICC U19 Cricket World Cup Super League Final match between India and Bangladesh at JB Marks Oval on February 09, 2020 in Potchefstroom, South Africa. (Photo by Matthew Lewis-ICC/ICC via Getty Images)
Mohammad Akbar Ali of Bangladesh poses with the player of the match award during the ICC U19 Cricket World Cup Super League Final match between India and Bangladesh at JB Marks Oval on February 09, 2020 in Potchefstroom, South Africa. (Photo by Jan Kruger-ICC/ICC via Getty Images)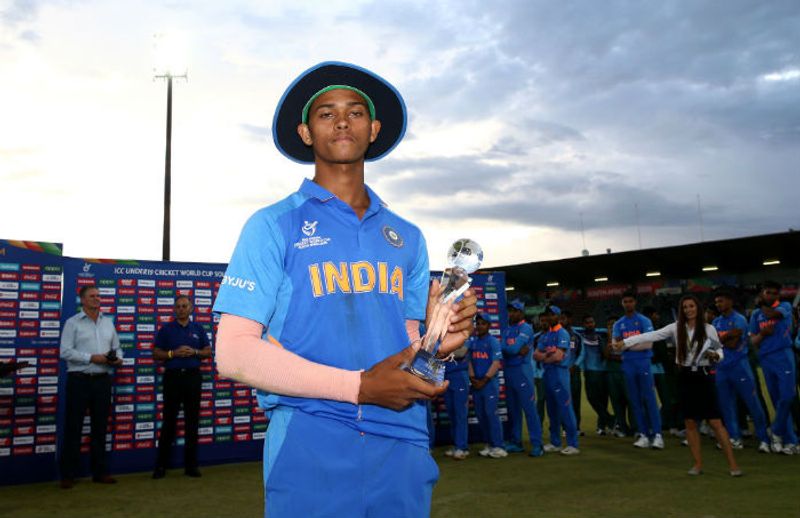 Yashasvi Jaiswal of India poses with the player of the tournament award during the ICC U19 Cricket World Cup Super League Final match between India and Bangladesh at JB Marks Oval on February 09, 2020 in Potchefstroom, South Africa. (Photo by Jan Kruger-ICC/ICC via Getty Images)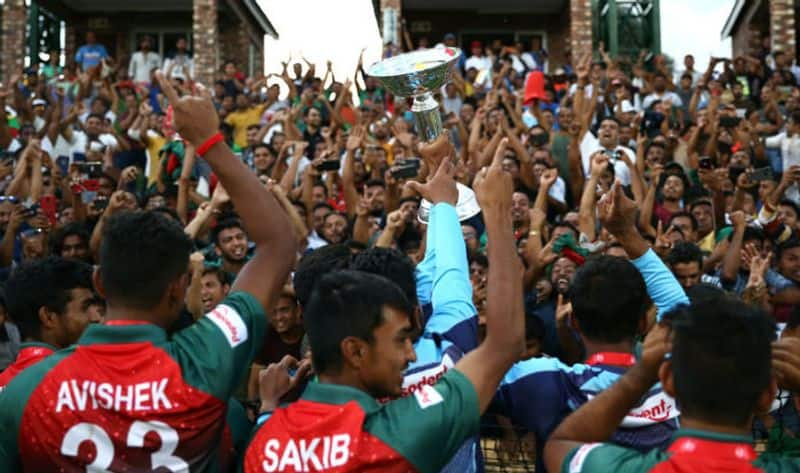 Bangladesh players celebrate with fans folowing victory during the ICC U19 Cricket World Cup Super League Final match between India and Bangladesh at JB Marks Oval on February 09, 2020 in Potchefstroom, South Africa. (Photo by Jan Kruger-ICC/ICC via Getty Images)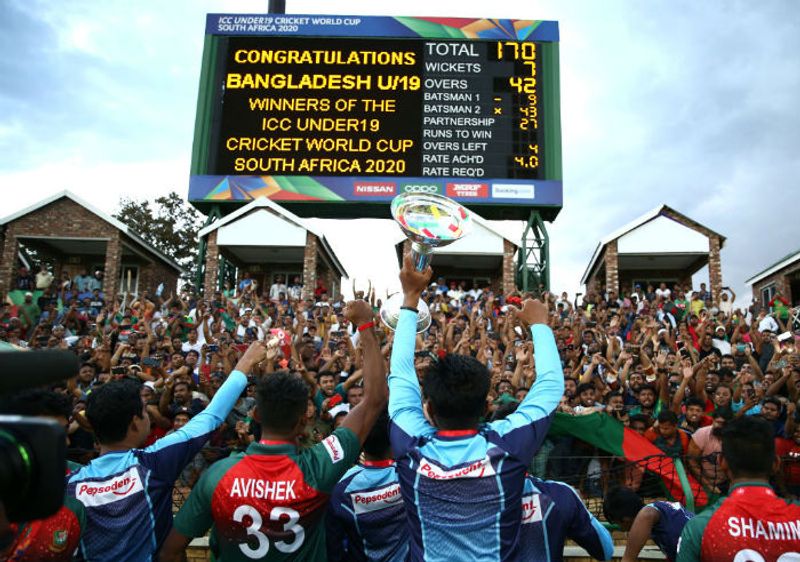 Bangladesh players celebrate with fans folowing victory during the ICC U19 Cricket World Cup Super League Final match between India and Bangladesh at JB Marks Oval on February 09, 2020 in Potchefstroom, South Africa. (Photo by Jan Kruger-ICC/ICC via Getty Images)