The comic was accused by an anonymous Twitter user who alleged that Grover sexually harassed her in 2001 on the pretext of giving her stage directions for a play
Mumbai: Days after comic Varun Grover clapped back at director Vikas Bahl of allegedly sexually molesting a former employee, he himself has been accused of the same. 
A female employee of Phantom Films had alleged that Bahl had molested her during an official trip to Goa. Grover took to Twitter to criticise the company for its failure to ensure women's safety. He tweeted: 
I am sorry. As somebody who has been a part of many projects with #Phantom in various capacities (lyrics/writer), I feel ashamed that they failed to provide safe working environment for women.

— वरुण (@varungrover) October 7, 2018
Meanwhile, a few days later similar allegations were levelled against him. An anonymous Twitter said that Grover sexually harassed her on the pretext of giving her stage directions while they were both students at the Banaras Hindu University, Varanasi.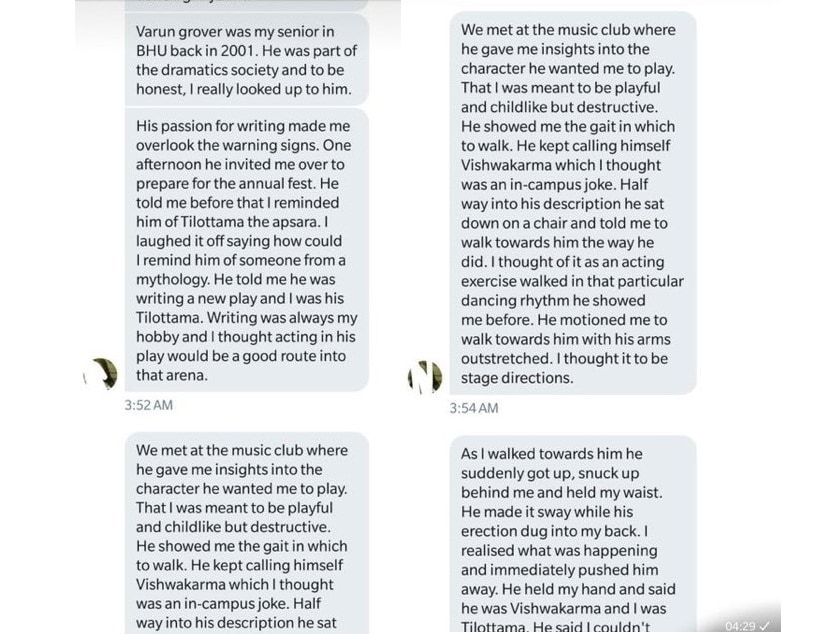 Grover has denied the allegations tweeting, "I completely, totally, categorically deny all the allegations being made. The screenshot in question is untrue, misleading, and defamatory to say the least. Issuing a detailed statement soon."