Aryan Khan, SRK's son, is yet again in the news, but this time not for his leaked pictures from his vacation but for a noble cause.
Superstar Shah Rukh Khan's sons Aryan Khan, AbRam and his daughter Suhana Khan are yet to make their Bollywood debut, but they have a fan following of their own. 
Shah Rukh Khan has always insisted that he wants his children, Aryan, Suhana and AbRam to be good humans and individuals, more than anything else. And it looks like these values are ingrained well in his children.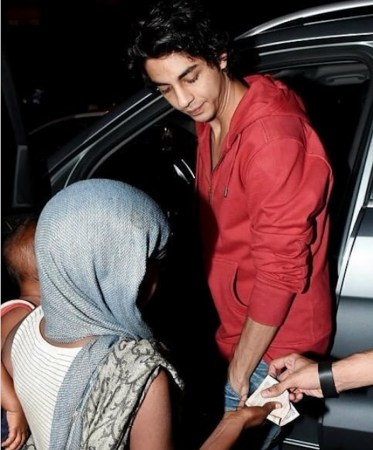 Recently, Aryan was seen coming out of a party at Bastian in Mumbai, wearing a red hoodie and jeans when he helped out a beggar on the street. Several videos and pictures have gone viral on social media showing Aryan helping out a beggar while he was getting into his car. However, some netizens say there's nothing unusual in the act except that it was a star kid did. 

In another video that hit the internet, SRK was seen coming out of a restaurant in Mumbai when a beggar went to him asking for food. Khan touched his head and asked his crew members to get him something to eat.