The star sister's latest blog is about her brother

Hrithik Roshan's sister Sunaina, who has been writing blogs since May this year to chronicle her struggle with diabetes, depression, cancer and divorce and her family has penned her latest blog on her star brother Hrithik Roshan. 

Sunaina tells us that like her family, Hrithik too reads all her blogs. "With each blog I have them telling me which is my best blog so I really don't know which is my best blog till now."
Her family has loved the blog on Hrithik. Sunaina adds, "They all said that this is my best blog till now because it is the love between a brother and sister which is a very special bond. My mother said that it was going down memory lane with Hrithik and me as kids, when she read my blog. While Hrithik has read this blog on him I still have to wait for his reaction as he's been busy with work. I am sure he will love it. On Rakshbandhan we usually go over to my paternal uncle's (Rajesh Roshan) home for lunch and tie rakhi but this year I could not go as I was unwell. While Hrithik could not come on Rakshabandhan but he made sure he came the next day before his shoot to tie rakhi."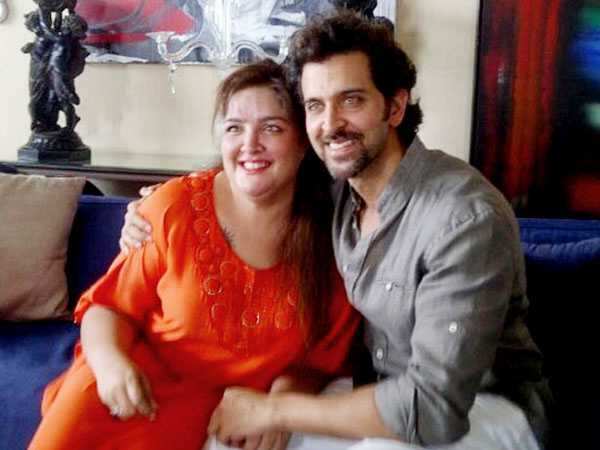 She says that she loves writing and finds inspiration from her family. "People tell me that my blogs are positive and written straight from the heart. If I get more topics I will definitely write more blogs.I have written 10 blogs till now and two more to go but I have to admit the response has been great! I am pleasantly surprised by how positively people have reacted to all my blogs and found it inspirational. They find my relationship with my parents and Hrithik inspiring. They find my courage to speak about depression and cancer honest and courageous. But my inspiration comes from my family – my father (Rakesh Roshan), mom (Pinky) and my brother (Hrithik) and all of them inspire me for different reasons and in their own ways. My dad inspires me to be a strong woman, Hrithik has taught me how to be dedicated towards fitness and my mother has taught me how to hold the family together. They are my three pillars of support and strength. Writing has always been my form of expressing my emotions. When my parents used to be upset with me, I would not say anything in return but go and pen my thoughts on paper. I am more expressive with a pen."
Here are excerpts from the blog:
"During his growing up years he disliked milk and was also not much of a foodie. He would literally live on fresh air. He always was and still is a dreamer- the kind that uses his imagination to manifest all that he wants in his own happy space and then in real life too. As disciplined as he is today, there was a time when we used to go to school together and he would take his own sweet time to get ready in the morning, and I would get hyper as I would want to reach on time. During lunch break too he was the last one to finish eating his food and even after the school bell rang at the end of the day, he would be the last one to come out while I would be waiting endlessly for him, in the car. 


During my teens, I was allowed to go out at night for a couple of hours with friends but, only if my brother accompanied me. So I would tell him way ahead about my plans but he would never reply immediately. He would take his own sweet time and give me his answer almost at the last minute. As a brother, Duggu was very protective of me during those growing up years and one day during my teens, he found out that I was dating one of his close friends and that was that. It changed his equation with that guy forever. Being the protective brother he would keep an eye on me and if I ever did anything which he thought was wrong for me, he would be the first one to tell Mom and Dad. He too got his share of scolding from Mom and Dad though, since he was a very stubborn kid... Duggu and I were never thick friends, but we shared a very strong connect with each other. "
Link to blog:
http://zindagibysunainaroshan.com/2018/08/31/my-brother-duggu/
Read Exclusive COVID-19 Coronavirus News updates, at MyNation.
Last Updated Sep 9, 2018, 10:39 AM IST