Bollywood actor Salman Khan wanted Aishwarya Rai to reunite with him in Sanjay Leela Bhansali's Hum Dil De Chuke Sanam which also featured Ajay Devgn as Aishwarya's husband
Salman Khan, Aishwarya Rai Bachchan and Ajay Devgn's Hum Dil De Chuke Sanam was one of the best movies made in Bollywood by Sanjay Leela Bhansali.
Now, 19 years after the release, it has emerged that Salman wasn't pleased with the climax of the film and wanted a different ending.
Yes, it is true. The superstar said he "did not agree" with the ending.
In an interview with DNA, Salman was quoted saying, "I did not agree with the ending in Hum Dil De Chuke Sanam. Bhansali told me that he wanted a depressive high. But frankly, I feel that love is above all traditions. But if you are making a traditional film, then f*** love (sic)."
"Nandini played by Aishwarya should have left her husband and gone with the guy she loved Sameer. Her husband Vanraj played by Ajay Devgn was like God to her for what he did. If I had made the movie, I would have let her go with the guy she loved."
Salman also mentioned, "I don't think that there is a word called love. There is a word called need. A girl will not reciprocate the love, till she feels the need for the guy. Even if he says that he wants to jump off the cliff, she will ask him to go ahead and do it."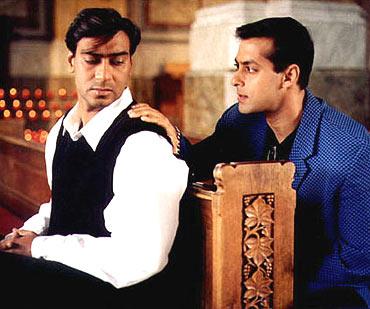 The film was a massive blockbuster in 1999 and was based on Maitreyi Devi's Bengali novel 'Na Hanyate'.
During the interview, Salman also talked about the book, "That is not love. It is a film about a loser. The writer of the book himself realised that he had destroyed an entire generation."
Meanwhile, Salman just finished the shooting of Bharat's first schedule in Mumbai and Malta will be the next location for filming.
"First schedule of @Bharat_TheFilm completed in Mumbai, two dramatic action sequences done …. thanks you cast & crew … Here we come Malta .. get ready for Desi rock n rolla (sic)," tweeted director Ali Abbas Zafar.
After Priyanka Chopra walked out of the film, Katrina Kaif was roped in to play the lead opposite Salman. Bharat also stars Tabu and Disha Patani.