As Maharashtra's political parties have not come to a conclusion with respect to who will be the chief minister, a Twitterati provided a solution and here is how actor Anil Kapoor reacted
Mumbai: Political parties in Maharashtra have not come to a consensus yet and the government is far from being formed. Though Maharashtra Assembly election results were announced on October 24 and the BJP emerged as the single largest party, no party got the necessary number sufficient enough for simple majority.
With BJP and Shiv Sena not ready to agree with each other's terms and unwilling to part with the chief ministerial chair, people have found a way out and Anil Kapoor is their answer to the current problem in Maharashtra.
"Let us make Anil Kapoor the chief minister of Maharashtra till they find a way out. The entire nation has watched his way of working on screen and he has been appreciated for it. What do you think @Dev_Fadnavis and @AUThackeray," tweeted Vijay Gupta.
To this, Anil Kapoor replied saying, Main Nayak Hi Theek hun (meaning "I am fine as a leader").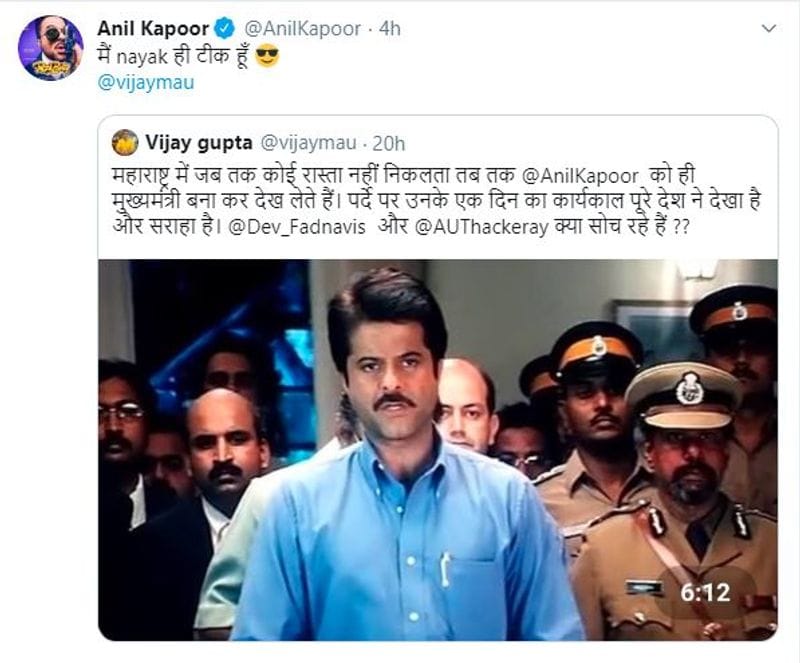 Maharashtra has 286 constituencies and any party will need 144 seats to form the government. But BJP government secured 105, it's alliance Shiv Sena got 56  seats, while NCP won 54 and Congress won 44 seats.
Thus, no party is in a position to form the government. Though BJP and Shiv Sena had announced the alliance, the CM's post and seat sharing formula has turned out to be a matter of prestige for both the parties as BJP wants to continue with Devendra Fadnavis as CM for the second term, whereas Shiva Sena wants Aditya Thackeray to be in the CM's seat.
Meanwhile, NCP and Congress together do not have the necessary numbers.
Thus, Maharashtra is still waiting for its chief minister and the new government even after a week of the results being declared.
Read Exclusive COVID-19 Coronavirus News updates, at MyNation.
Last Updated Oct 31, 2019, 2:29 PM IST