The actor got into an accident on the Nalgonda Highway near Narkatpally while on his way to a wedding
Harikrishna Nandamuri, the fourth son of actor, director, producer, founder of Telugu Desam Party and former Chief Minister of Andhra Pradesh NT Rama Rao passed away this morning after a tragic accident on NH65 in Nalgonda, Telangana. 
The accident took place at around 6:30 am today when Nandamuri was on his way to attend a wedding in Kavali in Nellore district of Andhra Pradesh. The actor was reportedly driving his Toyota Fortuner, at 150 km per hour as he wanted to reach the venue by 9 am. However, the car hit a divider on Nalgonda Highway near Narkatpally and flipped over, landing on its side while hitting another car. Three people in the car with him survived with injuries. 
The actor was rushed to the nearby hospital in a critical condition. He succumbed to head injuries at around 7:30 am.
Harikrishna is a big name in Telugu film industry right now. Kalyan Ram, the elder son of Harikrishna, is also an actor. The sudden death of Jr NTR's father Nandamuri has come as a rude shock for Tollywood celebs Mahesh Babu, Allu Arjun, Nagarjuna, Nani, Varun Tej, Rakul Preet and many others.
Soon after hearing the news, they took to Twitter to express their grievances over his sudden demise. Here are their condolence messages.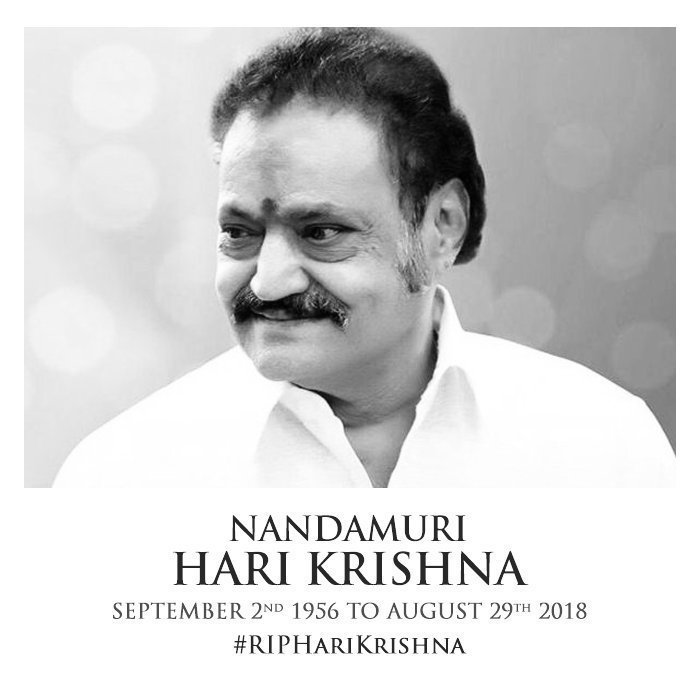 Nani: Shocked to know about the sudden demise of Harikrishna gaaru ..never got to meet him in person but it feels like I always knew him. My deepest condolences and strength to the family. This is really sad.Rest in peace Sir
Rana Daggubati: #RIPHariKrishnaGaru gone too soon. Love and strength to his entire family in these terrible times. #Tarak #KalyanRam stay strong my brothers.
#RIPHariKrishnaGaru #NandamuriHarikrishna pic.twitter.com/iYN68UWB9r

— P Pavan (@pavanmirror) August 29, 2018
Varun Tej Konidela: Sudden demise of Harikrishna garu is really shocking. Strength and courage to his family to bear this loss. My heart felt condolences..
Rakul Preet: Shocked to hear about Sri Harikrishna garu's demise in a tragic road accident !! He shall always be fondly remembered ! Strength to the family ! RIP sir ..
Lakshmi Manchu: Just not fair. This is shocking. My deepest condolences to the family. May his beautiful soul RIP. We loved him dearly. #Harikrishna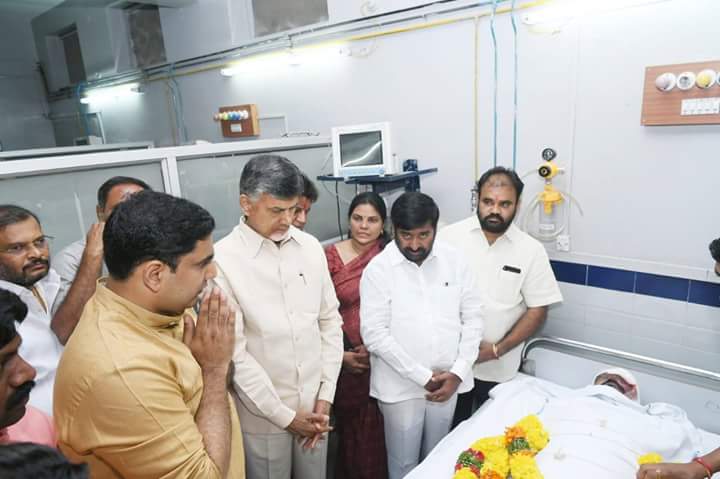 Pooja Hegde: Really sad to hear about the sudden passing away of Harikrishna Garu.Sending out loads of love and light to the entire family in these though times. RIP
Nagarjuna Akkineni: చాలా రోజులు ఐయింది నిన్ను చూసి, కలవాలి తమ్ముడు..that's what he said a few weeks ago and now he is gone.all I feel is a void,I will miss you Anna!!!!
Mahesh Babu: Deeply saddened by the news of Harikrishna garu's untimely demise. May his soul rest in peace. Strength and love to my brother @tarak9999 and his entire family in this time of grief.
Allu Arjun: I am out of country & just Heard the Bad News! Very very shocking ... Heartfelt Condolences to the entire Nandamuri Family , Near & Dear ones . @NANDAMURIKALYAN & @tarak9999 . Condolence Brother . RIP ! #RIPHarikrishnaGaru