Filmmaker Karan Johar is being massively trolled by the Twitterati for being a 'bad friend' to actor Shah Rukh Khan. Here are the deets.
New Delhi: Netizens are not ones with thick skin and the recent #ShameonKaranJohar hullaballoo proves just that. 
Turns out fans of veteran actor Shah Rukh Khan took offence when his longtime collaborator and almost bestie, Karan Johar shared a tweet comparing Khan's movie with Kesari. It all started when KJo retweeted a post talking about how the half day collections of Akshay Kumar starrer Kesari are significantly better than Zero's despite releasing close to Holi. The post further pitted the two stars addressing Khan as 'Gayrukh', a rather bad homophobic pun, we say. 
Also read: After getting trolled, Karan Johar apologises for anti-North East India comments
The original tweet has since been tweeted about 142 times and many netizens have left comments with their take on the poor comment. Johar has since deleted the retweet but nothing really gets deleted on the Internet, here's a screenshot of the same.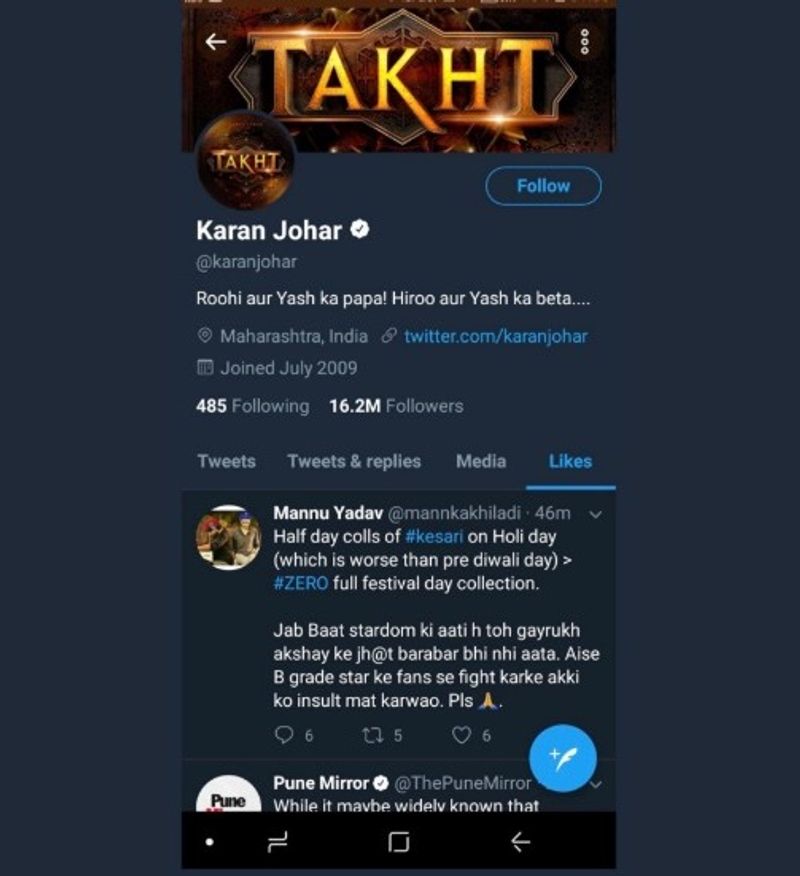 Incensed Shah Rukh Khan fans took over Twitter after this and started posting condemning messages for Karan Johar using this hashtag #ShameonKaranJohar. However, it seems that Karan Johar was on a spree retweeting Kesari-related posts and this could be just a harmless mistake. But, it was quite a glaring one considering he is one of the more famous advocate for LGBTQ rights. "Being a leading filmmaker, I can make movies on the subject. I would love to make a homosexual love story and would want to cast two leading actors in the film. I don't have in mind specific names of the actors I want to cast in the film, but I surely want to make such a film," he had once said.
Also read: Karan Johar's outfits from last week cost more than your rent for the whole year
None of the two, SRK and KJo, have commented on the issue yet.  
Salman & Srk had fallout in past but they never disrespected each other.

There's something called Level : But here @karanjohar being the most shameless person of Bollywood or we can say next level 'bezzat' how can you expect something like that from him.

" #ShameOnKaranJohar "

— Its Raj..! (@LoyalSalmanFan1) March 22, 2019
In the world full of fake friends like Karan and Rohit be someone's SRK and Salman.#ShameOnKaranJohar

— . (@Shab4SRK__) March 22, 2019
Karan Johar has lost all the respect today. Very cheap personality. Best example of the team "opportunist".

When SRK was at his peak , he used his stardom to make money , now he is using Akshay's good times to make money. No respect for such by-products
of Nepotism. #Kesari

— Siddharth Jha (@jha_siddhus91) March 21, 2019