De De Pyaar De, a movie themed on a 50-year-old man falling in love with a woman half of his age was released on May 17. So how have the fans reacted?
Mumbai: De De Pyaar De, a movie starring Ajay Devgn, Rakul Preet Singh and Tabu was released today (May17). The film is directed by Akiv Ali and revolves around a 50-year-old single father (Ajay) who faces disapproval from his family and ex-wife (Tabu) when he falls in love with a 26-year-old woman (Rakul).
According to the viewers, the first half of the movie is a mixture of a lot of funny moments, emotions and romance which keeps you hooked to your seats while the second half of the film keeps your interest intact in the narrative with a mix of emotions.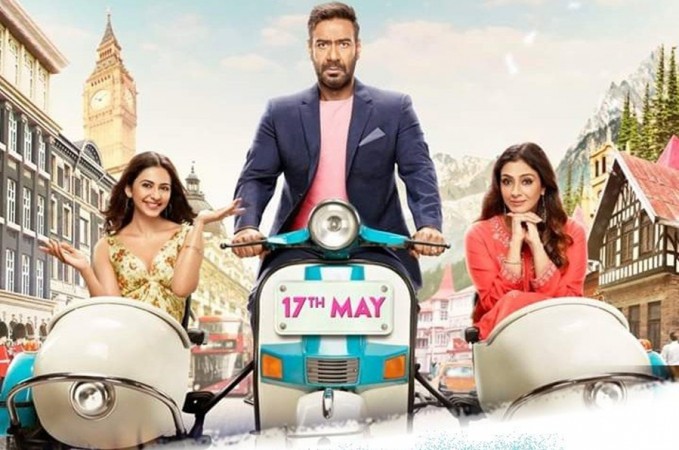 Many people have found it entertaining and value for money, while some people felt the movie was somewhere in the middle.
The plot revolves around 50-year-old Ashish who is having a midlife crisis of sorts after having been divorced for almost 18 years from his ex-wife, Tabu aka Manju. Meanwhile, he hooks up with a woman half his age Ayesha, played by Rakulpreet and the two decide to date amidst accusations of her being a golddigger and the usual 'log kya kahenge' spiel.

Here are the reactions of fans
#DeDePyaarDe ..this summer the coolest one..smart ,sassy and supremely sexy this romcom is a riot with @ajaydevgn and Tabu in full form.'4 and a half stars. #luvranjan

— SubhashKJha (@SubhashK_Jha) May 16, 2019
#DeDePyaarDe ~ Best Bollywood Rom-Com of this decade. Lovely 1st half & Hilarious 2nd half with good mix of emotions. @ajaydevgn, @Rakulpreet & Tabu in terrific form 👌 (4.5☆/5) pic.twitter.com/2aso3OrhLP

— Prince Prithvi (@PrincePrithvi) May 16, 2019
Aseem Arora @aseem_arora
#DeDePyaarDe is such a solid film. Behind those laughs is a sensitive and progressive take on relationships. Super stuff. Well written.
#DeDePyaarDe - A Movie 4 Every1.
Treat 2 watch @ajaydevgn Sir & #Tabu Mam together on screen @Rakulpreet u r gonna crush millions of youth.
Good 1st Half & very balanced 2nd half wid good mix of emotions&humour.
Credit Goes 2 AkivAli & Congrats 2 whole team f DeDePyaarDe (3.75⭐) pic.twitter.com/sDE2UN1yL7

— Gaurav Mishra (@Gaurav_5599) May 16, 2019
#DeDePyaarDe review : ⭐⭐⭐⭐..
All we can say is, this is the best Rom-Com movie of the year....@ajaydevgn @Rakulpreet and #Tabu are flawless, and @aloknath is super funny...
Best mixture of Comedy, Romance, & Sentiments..
Thoroughly enjoyable, strongly recommended..Go for it

— AlwaysBollywood (@AlwaysBollywood) May 16, 2019
#FreakyRJ @Freaky_rj
#OneWordReview #DeDePyaarDe4/5 Ajya Devgn's return to the romantic comedy genre after 8 years has turned out to be an entertaining affair. The second half has some funny as well as powerful moments. Overall, De De Pyaar De is filled with many laugh out loud moments".
My Review #DeDePyaarDe Film Story Direction Screenplay is well-done Comedy Romance .. Acting For Actors @ajaydevgn Acting Outstanding He is Comic Delivery Very Very Good #Tabu He is fine Actor He is fine job @Rakulpreet He is good job .. He is One World Of Super Masala Film !

— Patil Vishwajit (@PatilVishwajit6) May 16, 2019
Roshan Goswami @iRoshanGoswami #DeDePyaarDe #OneWordReview OUTSTANDING. Its an out an out entertainer. Direction, Performance, Storyline, Screenplay, Editing, Music, Background Score, Cinematography everything was excellent. It's a Winner. Must Watch.
Aditya Narayan Naik @adityannaik #DeDePyaarDe i a complete entertainer. Tabu is a sweetheart. I wish my eyes were as expressive as @ajaydevgn's. Laugh is a guaranteed everytime @jimmysheirgill is on screen. Watch out, @raulpreet she's here to stay for long.
Rajeev Ranjan @imrrajeev "Watched last night #DeDePyaarDe. Superb movie, excellent performance. Best #romcom movie of the year. If release date was better the movie would have crossed 200cr. These kinds of movie deserve holiday release".
#DeDePyaarDe 1st show Live review

Film starts with a decent comedy scene. #AjayDevgan impresses with his swag from the very 1st scene while #Rakulpreet tries hard to be comic !!

Btw nice start -- keep following for complete live review without any spoiler !!

— Crazy 4 Bollywood (@crazy4bolly) May 16, 2019
Reviews #Baadshaho ke bhi achhe aa rahe the. aur TD 50% Negative. Hope #DeDePyaarDe ke sahi ho aur wom achha ho.

— Ravi Jangid (@jangid_saab) May 16, 2019
Komal Maru @cakomalmaru
"I have really loved it. Vaise bhi light hearted logical movies are made so less. #DeDePyaarDe really brightened my mood."
Going by the reactions, one can totally vouch for De De Pyaar De.
#DeDePyaarDe-(4/5)@ajaydevgn acting was superb...and also his comedy timingg..@Rakulpreet looks so beautiful and her acting was simply superb....

First half- Mind blowing ....and comedy scenes were gooood..
Second half - good..

— Robinhood (@yaswanthsinha91) May 16, 2019
Read Exclusive COVID-19 Coronavirus News updates, at MyNation.
Last Updated May 17, 2019, 1:04 PM IST